October 16, 2003
Miami Thrice
By Mike Eidelbes
Life was great for Derek Edwardson last January. The Miami forward, who had scored 26 and 22 points in his first two seasons in Oxford, was well on his way to eclipsing his previous career highs with 9-15--24 in 21 games. The RedHawks were 13-6-1 overall, 7-4-1 in CCHA play and harbored legitimate NCAA Tournament hopes.

Then, during a game at Michigan Jan. 4, Edwardson suffered a season-ending knee injury. The RedHawks fell to the Wolverines in overtime that night and proceeded to post an 8-11-2 mark the remainder of the year.

"It was a shocker," said Edwardson, who missed all but 13 games in his final season of junior hockey after tearing a knee ligament, of the injury.

Shocking, too, was Miami's 8-3 win over Michigan Friday, which snapped the RedHawks' 14-game losing streak against the Wolverines. Leading the way was Edwardson, who scored three goals – one shorthanded, one on the power play and one at even strength – and added two assists. The junior from Morton Grove, Ill., who earned CCHA Offensive Player of the Week honors for his efforts, also scored Miami's lone goal in the team's 2-1 loss Saturday.
"[Against Michigan] I was more relaxed," Edwardson said. "I could concentrate on the game. During the [season-opening] Lefty McFadden Tournament, I was a little overexcited, just being back with the guys."

"We came out Friday night with a bit more of a rhythm," Edwardson said. "[Freshman goaltender] Brandon Crawford-West had a big game, we scored some clutch goals, our and our defensive game tightened up a bit."

With a 1-3 record heading into a pair of non-conference games at the Nye Frontier Classic in Anchorage, the RedHawks aren't where they want to be just yet. But thanks to Edwardson and friends, the outlook for Miami – which limped home from the Lefty McFadden Classic in Dayton, Ohio, two weeks ago with a pair of losses – is much brighter.

"We knew we were playing good teams, but we didn't expect to lose the first two games of the year," Edwardson said. "Last week in practice, we were gripping the sticks pretty tight."

Expect opposing goalies to react in a similar manner when they see Edwardson with the puck.
SEEN AND HEARD IN THE CCHA

Nanook Nailbiter – Remember the old Alcoa "Fantastic Finishes" vignettes that used to air on NBC's National Football League telecasts during the game's final two-minute warning? It usually featured the Raiders cheating to win a game against a more deserving opponent by "fumbling" the ball to a teammate or someother improbable act.

On a weekend in which defending national champion Minnesota was held scoreless for nearly five straight periods and Miami hung a snowman on Big Blue, Alaska Fairbanks gets the thumbs-up from Harry Kalas, the disembodied voice of NFL Films, for its 5-3 win against Alaska Anchorage Saturday in a game in which the Nanooks scored three goals in the final 28 seconds of the third period.

"I remember being on the bench and [senior forward] Ryan Campbell said, 'There's no way we're going to lose this game tonight,'" said UAF senior forward Cory Rask. "We were still down 3-2."

Campbell did his part. With goaltender Keith Bartusch pulled for an extra attacker, he corraled an errant Felipe Larranaga shot as he crashed the net to even the score with 28 second remaining.

"We were really excited," Rask said. "It gave the whole team energy. We went from having our spirits low to all of a sudden jacking them up."

Rask, who hails from Parkside, Sask., was on the ice for the ensuing shift. Shortly after the puck dropped, linemate Ryan Lang forced a turnover in the Seawolves' end and fed Rask for the go-ahead goal with 18 seconds left in regulation.

"When I first went out there, my first thought was not letting them get a goal and making sure we shut them down," Rask said. "I was going to the net and I yelled for the puck. I didn't have to do much. I put the stick on it and directed it to the net."

Lang scored and empty-net goal with one second left to provide the final margin of victory. The win provides Alaska-Fairbanks with a boost heading into a tough non-conference series at Colorado College this weekend. It also provided Rask with a goal he'll never forget...even though he doesn't have anything tangible to show for it.

"You know what," said Rask when asked if he kept the puck from the game-winning goal as a souvenir, "I don't. I've gotta try and track it down."

Banner Day in Big Rapids – Ferris State began its CCHA regular-season title defense last weekend with a home-and-home split against Western Michigan. The Bulldogs struggled Friday, losing to the Broncos in Kalamazoo 4-2 despite owning a 27-17 advantage in shots on goal.

We'll give FSU a mulligan, however, as coach Bob Daniels' team may have been looking ahead to Saturday's home opener and the pre-game banner-raising ceremony. Indeed, nearly 2,000 fans squeezed into Ewigleben Ice Arena to see the maroon-and-gold pennants commemorating the CCHA crown and ensuing NCAA Tournament appearance.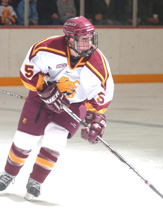 Ferris State's Brett Smith
"For the fans, the program and the university, (the ceremony) just kind of made the whole thing complete," said senior defenseman and assistant captain Brett Smith.

The Bulldogs' 5-2 victory over Western Michigan served as the icing on the cake. Goaltender Mike Brown was solid, making 27 saves, and the team earned a split despite a combined one point (an assist) from high-scoring forwards Derek Nesbitt and Jeff Legue. With a goal and an assist, Smith was one of Saturday's stars even though he was occasionally distracted by the recent additions to the arena rafters.

"During the game, I looked up a few times," Smith said. "Even this week during practice, some of the guys have looked up and seen the banners. It does remind us every day that we accomplished it last year and with this group of guys this year, we can do the same thing."
And You Are...? – He was a highly sought-after recruit last season as a member of the Green Bay Gamblers. He played for Canada's entry at the Under-18 Select Championships. He's a potential first-round selection in the 2004 NHL Entry Draft. Right now, defenseman Wes O'Neill is enjoying being just another freshman on the Notre Dame campus.

"He absolutely loves college," coach Dave Poulin reports. "He stops by and drags a baseball player in and says, 'Coach, you gotta meet this guy.'"

After spending so much time in the spotlight, O'Neill has managed to blend in, even when sidling up to the most-recognized newcomer at Notre Dame.

"Walking into class one day, someone pointed out the freshman starting quarterback, Brady Quinn," Poulin said. "So Wes went and sat beside him and (they) started talking and right away Quinn said, 'I'm Brady Quinn, freshman quarterback on the football team.' And Wes just smiled the whole way through and didn't tell him a thing. Didn't tell him he played hockey or anything. He doesn't get to do that very often."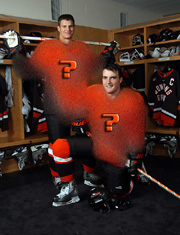 Fuzzy with question marks? Reminds me of every Saturday morning in my college career.
Orange Crush – In last week's national notebook, we mentioned Bowling Green's new uniforms for the upcoming season, a look about which the phrase "predominantely orange" is frequently mentioned. The school's athletic department released a photograph to tease fans prior to Saturday, when the sweaters debut as the Falcons welcome Notre Dame to BGSU Ice Arena. Based on the photo provided by the school - which apparently was shot by a guy named Zapruder - you're better off to just check the Falcons' Web site following Saturday's contest, when updated pictures will be displayed.

Head Games – Hockey fans in Marquette anticipated the day highly touted forward Darin Olver made his debut in a Northern Michigan uniform. Until last week, a shroud of uncertainty hung over when that day would come.

The freshman from Boise, Idaho, had not skated in practice this month due to recurring headaches. The headaches led Olver to eventually visit a neurosurgeon in New York City who helped correct the problem. Given the go-ahead to return to the ice, Olver played in both games of the Wildcats' series against Bowling Green at the Berry Events Center last weekend and scored his first collegiate points – both goals – in NMU's 6-3 win over the Falcons Saturday.

Bumps and Bruises – Among those on this week's CCHA injury report:
• Alaska-Fairbanks forward Jared Sylvester broke his ankle in the Nanooks' series against Alaska Anchorage and is sidelined indefinitely. Expect him to be out a minimum of six weeks, but it's more likely he won't return until after the New Year.
• Notre Dame goaltender Morgan Cey, who had knee surgery in the offseason, will miss this weekend's Bowling Green series. The Fighting Irish follow the BGSU weekend with a single non-conference game at Boston College, so Poulin may wait until the Oct. 30-31 series with Nebraska-Omaha to insert Cey into the lineup.
• Western Michigan forward Dana Lattery is questionable for this weekend's series with Nebraska-Omaha in Kalamazoo with a wrist injury. Lattery shared the Broncos' scoring title last season with 36 points.
• Michigan State will be without the services defenseman Chris Snavely and forward Lee Falardeau. Snavely sustained a shoulder injury during the Spartans' 4-3 loss to Findlay in the opening round of the Ice Breaker Tournament. Falardeau is out with a knee injury. A junior, Falardeau missed time because of knee problems in each of his first two seasons at MSU.
• Junior forward Jason Ryznar of Michigan is sidelined with a shoulder injury. He has missed each of his team's three games this season.
Great Weekend Getaway

Alaska-Fairbanks at Colorado College(Fri.-Sat.): The Nanooks are riding a wave of emotion after Saturday's improbable win against rival Alaska Anchorage and continue their WCHA tour with a pair against Colorado College in Colorado Springs. These aren't the Tigers of last season, but it should be a good measuring stick for Colorado College alum Guy Gadowsky's troops.


Stick Salutes

Notre Dame forward Rob Globke: Notched a hat trick – the second of his career – in Friday's season opener at Ohio State. Thanks for making me look like a genius. That's one for you folks scoring at home.

Northern Michigan: Yeah, they swept a young Bowling Green squad in Marquette this weekend, but the Wildcats were one of four teams in the nation to win two games last weekend. That's gotta count for something.

Bench Minors

Michigan State coach Rick Comley: In the back of your mind, you assumed the Spartans' game against Findlay in the opening round of the Ice Breaker Tournament would be the easiest of the weekend for MSU. For you to be quoted as saying such in Friday's Lansing State Journal wasn't a good move, however. Maybe the Oilers' 4-3 win was a measure of revenge exacted by the hockey gods.

Michigan hockey beat writer Antoine Pitts of the Ann Arbor News: The CCHA's ray of sunlight mentioned plans for a new hockey facility at Miami while bemoaning "antiquated" Goggin Arena. Now the Goggin is no Taj Mahal, but the salvo came from a guy who follows a team that plays its home games in a rink (Yost Ice Arena) that was allegedly built by Druids.
FRIES AT THE BOTTOM OF THE BAG
• Don't expect Michigan forward David Rohlfs to provide a detailed description of his game-winning goal against Miami Saturday. Shortly after tallying to give the Wolverines a 2-1 edge, the freshman from Northville, Mich., was leveled by a RedHawk defender and knocked unconscious after sailing into the end boards. "I really did not know what happened," Rohlfs told the Michigan Daily. "I didn't remember the goal or anything...when I finally realized it, I was in the locker room."
• Nebraska-Omaha seeks its first win of the season this weekend at Western Michigan. The Mavericks are also looking to snap a 10-game winless streak that dates back to Feb. 15, 2003, when UNO downed Bemidji State in a non-conference tilt. The 0-9-1 stretch matches the longest winless streak in school history.
• Most college hockey fans are probably not familiar with Nebraska-Omaha freshman forward Dan Knapp, but some may remember his father. Jim Knapp is best-known as a long-time assistant to Mike Sertich at Minnesota-Duluth. The younger Knapp, who hails from Hermantown, Minn., scored his first collegiate goal Saturday against Minnesota – a foe his dad knows quite well – in the Maverick Stampede third-place game.
• Tickets for Western Michigan home games are getting harder and harder to come by. Last season, the Broncos posted their best attendance totals since the 1988-89 season, and last Friday they filled Lawson Ice Arena to capacity for a game against defending CCHA regular-season champion Ferris State. Wins in Kalamazoo for ranked opponents are also getting scarce. By beating the Bulldogs last week, coach Jim Culhane's home record against ranked foes improved to 15-8-4.
• Athlete question-and-answer sessions can be a crap shoot. Some are insightful, others are vanilla and still others are downright funny. With that in mind, give Michigan State forward Mike Lalonde a nod for falling into the latter category. In a "20 Questions" feature on the CCHA's official Web site, the junior from Chetwynd, B.C., was asked who would portray him in a movie based on his life, and what the title of the film would be. Lalonde's reply: "The Fat Kid", starring Jack Black. It should be noted that Lalonde, who came to East Lansing as a portly 19-year-old, tips the scales at a well-defined 185 pounds.