November 13, 2003
Change for the Better
By Nate Ewell
Some things simply fail to hold up to logic, like losing weight while chomping on nothing but bacon. Take, for further example, Thomas Pöck's offensive production relative to his position. In just over two years when he played forward, Pöck produced less than a point every two games. Since he switched to defense early last year, he's averaged 1.14 points per game.
Along the way he has become one of the most dangerous weapons in Hockey East. And not to put too fine a point on it, but the senior from Klagenfurt, Austria, may have just turned around the fortunes of the Massachusetts hockey program.
"Moving Thomas to defense was the most significant single move we made last year to turn things around," said head coach Don Cahoon, whose team is 7-1-0 and atop the Hockey East standings entering this weekend's games against Boston College and Providence. "We really needed help back there in terms of coming out of our zone, and we thought, 'Let's put him back there and see how it goes.' It became an instant breakout for us, and the puck started going in for him."
Pöck leads the nation's defensemen in points per game by a wide margin, and even more impressively, leads all Hockey East players in conference scoring. Yet even he's at a loss when asked to describe why he's such a good fit on defense.
"It seems to work in my favor, but I don't know why," he said. "If I knew, I would have made the switch sooner. Maybe you can actually see the ice better from that position. And not too many (opposing) teams expect offense from defensemen, so maybe you can catch them off guard."
His days of surprising Hockey East teams are over (and the same could probably be said about his resurgent UMass team). Pöck uses his patience, stick skills, vision and heavy shot to his advantage from the defense position, in ways he wasn't able to as a forward.
It's a combination of skills that makes Pöck a very unique talent on the blueline. Cahoon can't think of anyone who reminds him of Pöck as a player, although he made note of a similar move he made with a player named Gary Connors when he was coaching at Norwich more than 20 years ago.
Pöck's attributes combine with a Paul Coffey-like appetite for offense. Even when he's using his 6-foot-1, 208-pound frame to fight off opposing forwards, he's thinking offense first.
"I definitely like playing offense," he said. "When I play in our defensive zone, I try to get the puck out of there as quickly as possible. I don't like it back there – you can't score in your own zone, and the other team can."
In addition to his skills and approach to the game, his added maturity probably helps explain his emergence the past two years. Unlike countryman Thomas Vanek at Minnesota – who Pöck played against a few times growing up – Pöck didn't spend any time in North American junior leagues before coming to Amherst, so there was a definite transition period once he got to college.
Compared to that move, perhaps changing positions is easy. And now Pöck, who speaks perfect English with a distinctive Austrian accent, even sounds like a defenseman.
"My main goal this year is to improve my plus/minus," he said. "I look at my plus/minus from my first two years (-14 combined), and that's one thing I want to get rid of. If I can be plus in every game, it shows I'm doing something right."
So far, so good. It may not get as much attention as his seven goals and 14 points through eight games, Pöck is plus-10 overall. Like his offense, that leads all Hockey East defensemen.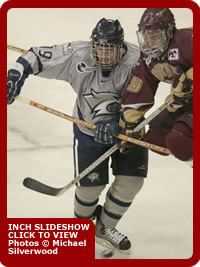 With the help of photographer Michael Silverwood, we've chronicled Wednesday's UNH-BC game in pictures. Click on the photo above to view the INCH Slideshow.
Summit Meeting – Wednesday's Boston College-New Hampshire game looked to be our last chance to watch two teams face off while they were unbeaten in Hockey East play.
Thanks to their scintillating 2-2 tie at Manchester's Verizon Arena, however, it could happen again on the next-to-last weekend of the season. And while the strength of the conference makes that incredibly unlikely, given the way the Eagles and Wildcats are playing it's certainly possible.
Both teams' strengths rose to the occasion again Wednesday, with Ben and Patrick Eaves leading the way for a tremendous effort by Boston College, only to have Mike Ayers save the day for New Hampshire. Ayers' save on Patrick Eaves' shorthanded bid in the third set the stage for Nathan Martz's game-tying goal.
"We battled back in the third period," said UNH head coach Dick Umile, whose team took five out of six points in a three-game run against BU, Maine and BC. ""It's a good team we just played here tonight. We had an emotional weekend ... and the guys found a way to come back. It was a good effort. We'll take the point."
BC head coach Jerry York felt like his team played well enough to win, but was impressed with both teams.
"I thought our team played well," York said. "We played a strong New Hampshire team. These are two teams that if they continue to improve will certainly contend for championships."
Looking for No. 1 – After their 2-2 tie Friday night at Matthews Arena, Northeastern and Providence head coaches Bruce Crowder and Paul Pooley shook hands and noted how tough Hockey East is, top to bottom.
Crowder saw his team come up just short in its bid for its first win of the year, as the Huskies led 2-0 before the Friars came back. Still, he was encouraged.
"Hockey East is a tough league to get points in, and we had a good opportunity tonight with a two-zip lead," Crowder said. "But overall this was our best game of the year. We just have to find ways to score goals. We're going to be OK."
The goal scoring should come around, with the likes of Jason Guerriero and Mike Morris up front and the emergence of Brian Swiniarski (1-1—2 vs. Providence). Against the Friars, Keni Gibson's play in net was particularly encouraging, as he stopped 25 of 27 shots (.926) after Husky goalies had just an .824 save percentage in their first six games.
One of these days, it will all come together. Of course, the schedule maker wasn't kind to Crowder this weekend—his team heads to Maine to face the Black Bears, winless in their last two and hungry to get back on track.
Great Weekend Getaway

Massachusetts at Providence (Sat.)
It's a light slate Saturday night, with only two games on the schedule, so plenty of people have free time to take in this one. Unbelievably, it's already the third and final meeting of the season series for these two teams, as they split a home-and-home two weeks ago, with both teams winning in the other's barn. Both have tough tune-ups Friday night as well, with Providence hosting New Hampshire and Massachusetts hosting Boston College.

Stick Salute

Four games and almost three minutes ago, Boston University scored against New Hampshire goaltender Mike Ayers. This unbelievable streak is just one reason he'd be the Hockey East Player of the Year if the award was voted on today (which, of course, it's not – he'll have two more chances to shut out the Terriers before the ballots are accepted).

Bench Minor

To the silly penalties towards the end of both the BU-UNH and BC-Maine games. It's tough because tensions run high (as you learn even in meaningless beer league games), but the late-game scrums took away from what was a fantastic night of Hockey East action.
FRIES AT THE BOTTOM OF THE BAG
• Boston College alum Brian Gionta returned to his hometown of Rochester for Wednesday night's New Jersey Devils-Buffalo Sabres game, held there as part of Buffalo's effort to reach out to fans throughout Western New York. But Gionta's dad, Sam, couldn't be in attendance, since he was in Manchester to see current Eagle Stephen play against UNH.
"Of all nights to have a scheduling conflict," the elder Gionta told the Rochester Democrat and Chronicle. "But we went to all of Brian's games in college, so we thought it only right that somebody be at Stephen's game.
"I wish I could be there in Rochester, but Brian will have plenty of support. There should be about 100 Giontas at the War Memorial. It should be some night for hockey in Rochester."
Neither Gionta had a point Wednesday night, as both games finished in 2-2 ties.
• Merrimack will unveil a new logo Friday night against Boston University. They will remain the Warriors, but a new design with replace the old Indian head.
• Former Boston College head coach Len Ceglarski was in attendance at Friday night's BC-Maine game as Jerry York tied Ceglarski with his 673rd career victory.
• New Hampshire alumnus Ty Conklin made back-to-back starts this week for the Edmonton Oilers (and was expected to play again Thursday at Minnesota, with Tommy Salo still on the shelf). Conklin won in New York and looked good vs. Boston at the FleetCenter, despite suffering a 4-3 loss.
• New Hampshire sophomore forward Eddie Caron – already struggling offensively with just one goal (no assists) through seven games – had a rough stretch Wednesday night. Referee Scott Hansen whistled Caron for three penalties in just over six minutes of the second period. Caron leads UNH with 10 penalties and 31 penalty minutes.
• Massachusetts head coach Don Cahoon signed a contract extension to coach the Minutemen through the 2008 season.
• Boston University – 0 for its last 16 on the power play – is just 2-for-26 with the man advantage this year. The Terriers rank 53rd out of 58 Division I teams on the power play. Then again, it might not matter too much, since the team in 52nd is none other than No. 1 North Dakota, which hadn't scored a single power-play goal until last weekend.
• Jason Tejchma – a proud member of INCH's recruiting all-name team – has goals in back-to-back games for UMass Lowell and has earned high praise from head coach Blaise MacDonald. "He's a player that is very well-rounded," MacDonald said after Tejchma's first goal, against Boston College. "He does everything well, from the way that he moves his feet to how close he is to the puck, where he's most effective. Tejchma brings a nice level of grit, skill, and speed to our team. He's had some good opportunities right from the first game of the season, and it's nice to finally see him put one home. He's trustworthy and dependable, and he's only going to get better as he gets older, and I think those are attributes that every player should aspire to have."
• Speaking of MacDonald, his wife, Carol, gave birth to a baby girl this week. Just one more and he'll have a defense pair to play along with his forward line of three boys, Cameron, Joseph and Jacob. Congratulations to the whole family.