February 18, 2004
Match Game
By Nate Ewell
You can forgive Maine center Michel Léveillé if, after last weekend's series against Northeastern, he felt like it was time to introduce Husky defenseman Tim Judy to the family.
After all, the two had spent an awful lot of time together. In a pair of tight defensive struggles, head coach Bruce Crowder made every effort to get his top defense pair – Judy and freshman Steve Birnstill – matched up against Maine's top line of Léveillé, Colin Shields and Greg Moore. For about 20 minutes of ice time Friday night and even more in Saturday's 0-0 tie, the two groups hopped over their respective boards at the same time.
It's the time of year when matchups take on more and more significance, and it's up to the league's best defensive defensemen, like Judy, to quiet the big scorers. They have difficult and often unheralded jobs – but when you hear a coach say that he needs players beyond his leaders to step up and score, that's because the defensive defensemen are doing their jobs.
The coaches also face a challenge in getting the right matchups, one exacerbated by the hurry-up faceoff rule added last season. Playing on the road – when your opponent has the last change – can make matters even more difficult.
"I think matchups are very key at this time of year," Northeastern head coach Bruce Crowder said. "We've got six games left, but only two of them are at home, so I'm not sure how much we'll be able to control those matchups."
The Huskies are at Merrimack Friday, and if Crowder can control it, you can be sure that Judy will see a lot of Marco Rosa and Brent Gough.
"I don't know if I've had a guy who just competes, competes, competes, the way Timmy Judy does," Crowder said. "He plays like he's 6-2, when he might be 5-11 if he has heels on. But he comes to play every day. He's been very good with our younger kids, not necessarily vocally, but in setting an example for them of how to play."
While Crowder will do his best to get Judy and Birnstill on the ice against Merrimack's top line, you can be sure that Chris Serino will match up Bryan Schmidt against Jason Guerriero at every opportunity.
With an eye on matchups to watch over the last three weeks of the regular season, here's a quick tour around the league at some other elite defensive specialists on the blue line:
• Andrew Alberts at Boston College has shown more of an offensive touch this year, but he's still at his best in his own end. He pairs with J.D. Forrest to provide a terrific offense-defense combination.
• Massachusetts offers a similar look on its first defensive unit, where the offensively gifted Thomas Pöck is paired with unheralded Nick Kuiper. That gives head coach Don Cahoon a luxury – match Kuiper against an opponent's top line without limiting Pöck's ice time.
• BU, Maine and Providence have all-in-one packages. They get their best defensive work from their best offensive defensemen – Ryan Whitney, Prestin Ryan and Stephen Wood, respectively.
• It's a balanced blueline at New Hampshire, although Mike Lubesnick probably stands out as the top defensive defenseman.
• Expect Matt Collar and Cleve Kinley to see a lot of Patrick Eaves and Tony Voce this weekend. UMass Lowell will try to get its top defensive pair matched against BC's top line as much as possible.
SEEN AND HEARD IN HOCKEY EAST
And the Nominee Is ... – In informal polling of the Hockey East coaches, Tony Voce's name is discussed a lot as a conference Player of the Year candidate. His teammate, Ryan Shannon, gets some mention as well.
Thing is, neither player's name will be on the ballot that Hockey East coaches receive. Boston College head coach Jerry York plans to nominate his captain, Ben Eaves, for the award.
Eaves, who shared Hockey East Player of the Year honors last year with New Hampshire's Mike Ayers, undoubtedly is one of the most talented players in the conference and the country. Injuries have kept him from the forefront of voter's minds, however. He has missed more than one-third of his team's games and York considers him doubtful for this weekend's series against UMass Lowell as he continues his recovery from a fractured knee cap.
"He's our glue," York said of Eaves. "He's our guy who makes us go. Without any question, I feel that he is the best hockey player in college. His leadership skills for us, even when he's hurt, make a great contribution."
York recognizes that Eaves' impact has been limited by injury, and knows that players like Massachusetts' Thomas Pöck and New Hampshire's Steve Saviano will get plenty of support for Player of the Year honors. He's just hopeful that his fellow coaches don't forget about Eaves.
"We think it should be Ben Eaves," he said. "For him to win it, he's got to get back and start playing, but if he gets back when we think he will, he'll have a series with New Hampshire and a series with Maine before the playoffs. He's got a lot of hockey in front of him."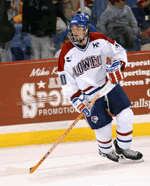 Elias Godoy (37 points) is just five points shy of Ed McGrane's team-leading total for UMass Lowell last season.
Elias Stats Bureau – Anybody expecting Elias Godoy's numbers to tail off as the season progressed probably wasn't watching the UMass Lowell sophomore closely enough early on. Or recognizing the pattern among Godoy and his teammates under head coach Blaise MacDonald – these young players keep getting better.
For Godoy, that's meant 4-4—8 totals in his last six games, with four multiple-point games in that time. It's allowed him to keep pace with the conference scoring leaders, as only New Hampshire's Steve Saviano has more points (39 to Godoy's 17-20—37).
"Godoy plays with everything happening in front of him," MacDonald said. "He's dangerous every time he's on the ice; he has that sixth sense where he can find people. He just keeps getting better and better."
Godoy accounted for half of UMass Lowell's six goals in last weekend's series against UNH and chipped in an assist as well. Two of his three goals came on the power play – a unit that was bolstered by the healthy return of Ben Walter. The two play on separate lines at even-strength, and Walter's return helps take some focus off of Godoy.
"Whoever we put on his line, that line is continually one of our top lines," MacDonald said. "I think Elias makes that happen."
FRIES AT THE BOTTOM OF THE BAG
Great Weekend Getaway

Providence at Maine (Fri.-Sat.)
You may not see a lot of free-wheeling hockey in this series, but you're almost assured of two close games. The Friars play an ugly style when they're winning, and they make no apologies about it. Lately they've been executing that style to perfection, allowing two goals or fewer in each of their last four games (all wins). Maine, meanwhile, has some more offensive weapons but it's still a team defined by goaltenders Frank Doyle and Jim Howard.

Stick Salute

Since my colleague Joe Gladziszewski took a shot at some Hockey East uniforms a couple weeks back, I've got to stick up for our sweaters. I'm partial to two-color designs, so in my mind, it's tough to beat those sported by Providence, UNH, BU and UMass. When it comes to color schemes, Maine's is the best in hockey and BC isn't far off. UMass Lowell has this year's best new sweaters east of Miami of Ohio. All in all, Hockey East fans have got nothing to complain about – we both play and dress better than Gladdy's ECAC teams.

Bench Minor

NESN's done a great job with its Friday Night Hockey broadcasts, but I've got one miniscule complaint: it's tough to tell if the yellow dots they use to indicate the period are "lit up" or not, so it always looks like the third period. Not worth complaining about, to be sure, but as I flipped between Maine-Northeastern and three other games on the dish Friday night, I was confused enough as it was.
• Boston College head coach Jerry York returned to Bowling Green last week for a 20th anniversary celebration of the 1984 Falcon team that he led to a national championship. He flew out Thursday morning and returned early Friday for the Eagles' series against Massachusetts.
"It was a tough trip, but that was something I wouldn't miss for the world," York said. "They had 19 players back, and I had a chance to renew a lot of old acquaintances. It's strange, for me, because I still picture those guys as 20, 21-year old kids. Now they're telling me about their kids and their jobs. I really had to shift gears."
• The Eagles were dominant in their sweep of UMass – especially in a 4-0 first period Saturday night that York said could have been their best period of the year. They now hold a commanding five-point lead in the standings. The biggest gap between first and second place in the last 10 years was BC's seven-point edge in 2000-01.
• UMass Lowell is in the midst of a grueling stretch, with two against Boston College this weekend followed by a home series against Maine. But how's this for motivation, courtesy of John Connolly's notebook in the Boston Herald: if the River Hawks, who got two points against UNH last weekend, can get three more points from their next four games, head coach Blaise MacDonald has pledged to shave his head.
• Scoring troubles continue for Boston University, as the Terriers were held to one goal in each game last weekend. That's 17 times that BU has posted two goals or less, and they've only got one win in those games (1-13-3). The Terriers have been held to one goal or shutout in six of their last seven games.
Confidence can be a big factor when it comes to goal scoring, and head coach Jack Parker seems to be doing his best to infuse his team with positive thinking. While he was often critical of the Terriers' effort earlier in the year, here's what he said after Saturday's 2-1 loss at Providence: "I have never been involved with a team with a record like this (8-14-6 overall, 4-12-2 Hockey East) that is playing so well. It's not because of a lack of effort. We were undermanned tonight. We played just three lines for the most part. And, everyone played well. I like how my team played tonight. It's just that I don't like the outcome of the game."
• Maine's Jim Howard made a career-high 40 saves in Saturday's scoreless tie with Northeastern, the third time in five weeks he has allowed one goal or less but not gotten a win.
"It seems to be a trend when Jimmy's in the net, we aren't putting the puck in the net," Todd Jackson told the Bangor Daily News. "That's got to change. We've got to help him out and get some goals."
Howard and his goaltending partner, Frank Doyle, have combined for a school-record eight shutouts on the season (Howard has three, Doyle has five). The Black Bears have shut out their opponents in five of their last 11 games.
• Allen Lessels of the Union Leader brings up a great point to demonstrate New Hampshire's inconsistency this season: the Wildcats haven't won more than four games in a row all season. Of course, four straight is all it takes to capture the big prize that's eluded UNH to this point; their ability, and the fact that the Northeast Regional is in Manchester, are two reasons why UNH is the lowest-ranked group on many people's list of teams with a legitimate shot at the national title.
A variety of sources were utilized in the compilation of this report.