February 18, 2004
Keeping Busy in Mankato
By Jess Myers
Equipment managers for college hockey teams are busy guys. And goalie coaches for college hockey teams are busy guys. With that in mind, former Minnesota State, Mankato goalie Des Christopher might be the busiest guy in the sport, serving as both the equipment manager and men's and women's goalie coach for his alma mater.
INCH asked Des to keep a diary of two days last week, for a look at the life of the hardest working man in the WCHA:
Wednesday, February 11
9 a.m. I'm on the ice at All Seasons Arena, near the MSU campus, for a one-on-one goalie session with Kyle Nixon. Kyle and I spend 20 minutes covering different drills, answering questions and providing information about what's working and what's not.
10 a.m. Another one-on-one on-ice goalie session, this time with Laura Brennan, a freshman on the women's team.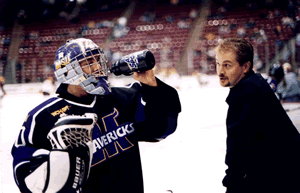 Des Christopher (right) counsels former Minnesota State, Mankato, goaltender Jason Jensen.
10:30a.m. Laura skates off as Jon Volp hits the ice for his own 20-minute session. This trio will be it for the day, as women's All American Shari Vogt and freshman Chris Clark from the men's team had their sessions earlier in the week.
Noon to 4 p.m. When I'm not on the ice, I'm in the equipment room getting sticks, shafts, blades, sweaters, supplies and the skate sharpener ready for the trip to Denver. The airlines all have weight restrictions that I've gotten to know quite well, and I have to pack accordingly. I have two assistant managers in Mankato, Matt Sartor and Matt St. Marie, who help out a great deal with preparation for the trip.
1:30 p.m. to 2:30 p.m. The men's team has a full practice. Most of the time I'm on the ice with the team, working with all three goaltenders.
4 p.m. to 6 p.m. I'm back in the equipment room sharpening skates, making minor repairs to skates, doing laundry, and finishing up whatever needs to be done for a Thursday morning departure from the rink for Minneapolis. By 6 p.m., I'm about done for the day save for Goalie Club inquiries, which is a seemingly never-ending process.
I am an instructor with the Goalie Club (www.thegoalieclub.com; 866-NO-GOALS), which has locations in eight states. I work at our 10 locations in Minnesota, as well as in Iowa and Florida. My partner is former UMass Lowell goalie Craig Lindsay, who partnered with Minnesota Wild goalie Dwayne Roloson while in college.
Together, we offer classroom instruction, Video analysis, visualization techniques, theory, dryland training specific to goaltending, as well as full on-ice instruction. We are a year round program that follows the successes of our students and offers advice to parents whose goalies are part of the club. Our motto is "You'll never be alone between the pipes again!"
Thursday, February 12
7 a.m. I arrive at All Seasons Arena. I have everything ready for the departure, but I double check everything one last time.
7:45 a.m. We load bus with our team and support staff.
8 a.m. We depart for Minneapolis/St. Paul International Airport (MSP), and have breakfast on the bus. During the bus ride I make and return phone calls that apply for The Goalie Club and take in parts of "Top Gun," which has been supplied by freshman Travis Morin.
9:30 a.m. We arrive at MSP and transport all extra equipment, along with a selected group of players, to check in. I have keys available for anything that is locked for airport security to screen if need be.
11:50 a.m. We're wheels up en route to Denver. In flight I take notes for The Goalie Club and do some reading.
2:30 p.m. We arrive at DIA, get the equipment and load the bus for Magness Arena.
3:00 p.m. At the rink, we meet Lee Greseth, the Denver equipment manager. From him we get a locker room key and pucks for our skate that day. Lee does a great job setting up the visitors' locker room for our arrival. They supply anything we need (tape, shampoo, soap, towels, etc.) and he has a skate riveter available if I need it. This is consistent with every road trip we make. The host equipment manager sets the room up for the visiting team. We unpack gear, set up the sharpener and the sticks.
3:15 p.m. We bus to the hotel for an hour of rest. We stay at the Marriott in Denver, which is a very nice place. They have the best breakfast and best beds in the league. It's about 10-25 minutes from the rink depending on traffic. On Thursday and Friday we face more traffic than Saturday, of course. While the team rests, I work on finishing my mailings for The Goalie Club that I will send out on Monday.
4:30 p.m. We bus to rink for the evening skate.
5:30 p.m.-6:30 p.m. During the team skate, I take the ice to work with the goalies and the team.
7:00 p.m. I align skates for morning sharpening and fix any stick issues that need attention before the Friday morning skate. I drop off team laundry at DU laundry services a few doors down from our dressing room and team and support staff departs for supper at a nearby Outback Steakhouse.
8:30 p.m. We board the bus for a short ride from the restaurant to the hotel.
9:00 p.m. We arrive back at hotel and check and return e-mails from Goalie Club clients.
During the entire day I have my phone available answer any calls from equipment suppliers, Greseth or anyone pertaining to MSU or The Goalie Club with questions about camps, locations, fees, etc. At long last, my day is complete.
Great Weekend Getaway

St. Cloud State at Wisconsin (Fri.-Sat.)
Both teams are seemingly back on track after January swoons. The Huskies have snapped off four in a row (albeit against somewhat lesser competition in Michigan Tech and Bemidji State) while the Badgers are coming off an emotional home sweep over North Dakota. But the Badgers have had a week off which was either a chance to get rested and healthy, or a momentum killer. The Huskies beat Wisconsin twice in October. With the Badgers playing much better of late, it'd be hard to predict the Huskies matching that feat this time. But with playoff positioning well underway and these points vital if either team hopes to avoid that Thursday night play-in game in St. Paul, the outcome of these two is anyone's guess.

While You're There: When you think of the state of Wisconsin, things like beer, cheese and sausage come to mind. They've got all three in abundant quantities at State Street Brats. For those of you that are geographically (or otherwise) challenged, it's located on State Street, not far from the foot of Bascom Hill.

Stick Salute

To Minnesota Duluth's power play. In the 60 seasons of varsity hockey at UMD, the Bulldogs had never beaten arch-rival Minnesota four times in one campaign. Last weekend, UMD's special teams scored six power play goals in 10 man-advantage situations, en route to 6-1 and 4-1 wins. Of such efforts is history made.


Bench Minor

To the UMD Penalty Box (the student fan section at the DECC) for getting, ahem, swept up in the excitement a little too early. On Saturday, Luke Stauffacher's empty net goal with less than 12 seconds to play clinched a 4-1 win for the Bulldogs, and brought a rain of cheap brooms down onto the ice from the student section. Apparently, the students picked up more than 30 brooms at a local dollar store only to discard them onto the ice. While we're not against a good celebration, waiting another 12 seconds to celebrate the season sweep over Minnesota would have been a more prudent idea. An additional thumbs down to Gopher defenseman Keith Ballard, who threw one of the brooms back over the glass. And kudos to referee Don Adam, who dropped the puck and had the teams play the final seconds with the brooms still on the ice, instead of making players wait for a lengthy cleanup.
PUCKS TO PICK UP AFTER PRACTICE
• If Minnesota hopes to move up from its current fifth-place spot in the final weeks of the regular season, the Gophers may have gotten a big break recently. On Wednesday, a full two weeks ahead of schedule, team captain Grant Potulny got medical clearance to return to full-contact practice and worked out with the team. There are reports that he may make his return to the team lineup for the weekend series with Alaska Anchorage. After Minnesota scored just two goals last weekend, an offensive boost might be just what the Gophers need.
• It was Sioux vs. Sioux in Syracuse a few nights ago, when former North Dakota offensive star Lee Goren scored a pair against former North Dakota goaltending star Karl Goehring. Goren, the MVP of the 2000 Frozen Four, skates for the San Antonio Rampage of the AHL, while Goehring minds the net for the Syracuse Crunch. Goren's team won the game 6-3, but afterward Goren told reporters he was taking his former teammate out for dinner. It was, apparently, the least he could do.
• Fans are apparently quick to snap up tickets in the State of Hockey. With three weeks left in the regular season, both Minnesota and St. Cloud State are averaging more than 100% capacity at their respective arenas. The Gophers have seen an average crowd of 10,068 in the 10,000-seat Mariucci Arena, while Huskies fans have packed the 5,763-seat National Hockey Center to the tune of 6,156 per game.
• In four games versus Minnesota State, Mankato this season, Denver came away with a 2-1-1 mark, but getting to above .500 vs. the Mavericks was a wild process. The teams combined for 47 goals in their four meetings (a 4-4 tie, an 8-7 Mavs win, a 7-1 Pioneers win and a 9-7 Pioneers win). By contrast, in the 1998-99 season, Alaska Anchorage scored a total of 45 goals in 28 WCHA games.
• Despite their current last-place standing, Michigan Tech apparently towers over Alaska Anchorage. After last weekend's sweep at Sullivan Arena, the Huskies have now won six in a row versus the Seawolves, which is UAA's longest current losing streak versus any WCHA team. So they've got that going for them in Houghton, which is nice.
• Alaska Anchorage visits Minnesota this weekend. The Seawolves haven't won there in a long time. In fact, they haven't even played there in a long time. The Seawolves last visit to Mariucci Arena for a game was in October of 2000, when Seawolves coach John Hill was behind the Gophers bench as Don Lucia's top assistant. Their last win In Minneapolis was on Valentine's Day 1999, in Doug Woog's final season as the Gophers' coach. Of course, earlier this season the Seawolves spent the week in Minneapolis between series at Minnesota Duluth and Minnesota State, Mankato, and practiced at Mariucci Arena, so it's not like they'll be in unfamiliar surroundings on Friday.
• Minnesota freshman goalie Kellen Briggs, a native of Colorado Springs, has gotten a lot of attention since assuming his team's top spot between the pipes at mid-season. But don't be surprised if he gets edged out as the top freshman goalie in the WCHA by another kid who knows a thing or two about Colorado Springs. Colorado College freshman goalie Matt Zaba is currently the only netminder in the conference with a goals-against average below 2.00. Zaba, who is from Yorkton, Sask., heads into the Tigers' final six games with a 1.87 GAA, which places him in the top six in the nation. More importantly, after CC won in Grand Forks for the first time since 1998, the Tigers are only three points behind Minnesota for the fifth and final home playoff spot.