It happens to Red Berenson every off-season. He loses a key player to the National Hockey League or the major junior ranks. From Mike Comrie to Jeff Jillson to Mike Cammalleri to Mike Komisarek, it's become a rite of summer in Ann Arbor.
You can now add Danny Richmond's name to that list.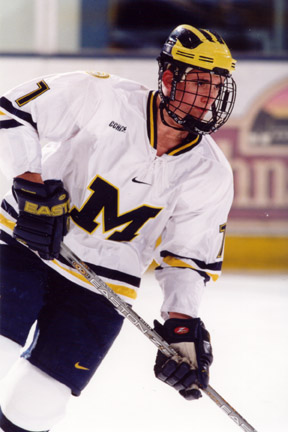 Danny Richmond: the newest London Knight
Richmond, who would have been a sophomore with the Wolverines this season, will instead join the Ontario Hockey League's London Knights. A 6-foot-1, 185-pound defenseman recorded three goals and 19 assists in 43 games as a freshman and was named to the 2003 CCHA all-rookie team. In June, he was chosen by the Carolina Hurricanes with the first pick in the second round of the 2003 NHL Entry Draft. 'Canes general manager Jim Rutherford told reporters on draft day that he envisions Richmond to anchor the team's power play in the future.
"This is a pretty big moment for us," said Knights co-owner and general manager Mark Hunter to the London Free Press. "When you get a guy of Danny Richmond's caliber, it's going to be exciting for the fans...and for us because he's going to win hockey games."
Both Berenson and Michigan associate head coach Mel Pearson were out of town Friday and unavailable for comment.
The Knights took a flier on Richmond, selecting him in the 15th round of the 2002 OHL draft even though they felt chances were slim to none that the Buffalo Grove, Ill., native would ever suit up for the team. But London coach Dale Hunter – yes, that Dale Hunter – is a friend of Danny's father, Steve, a four-year letterwinner at Michigan and a former NHLer who is now a scout with the Washington Capitals. According to Mark Hunter, the elder Richmond told the team, "Go ahead and draft him because you never know."
"He wanted to play a lot more games than 42," said Mark Hunter, who called Danny Richmond a Chris Chelios-type player with enormous offensive skills and an edge to his game. "And I think the relationship Dale had with (Steve), and the fact they liked the way Dale coaches, had a lot to do with it."
Buckeye Bye-Bye, Part II?
Admit it. When you heard an Ohio State player was leaving the Buckeye program earlier this week to start his professional career in the Vancouver Canucks' organization, R.J. Umberger's name immediately came to mind. So when you found out Ryan Kesler was leaving Columbus after just one year, you were surprised, but not shocked. The obvious question then popped into your head.
When's Umberger leaving?
According to media reports in Vancouver, that day could come soon. The Vancouver Sun indicates that, based on how quickly negotiations with Kesler progressed, Umberger is expected to be under contract before training camp opens next month. Canucks general manager Brian Burke told journalists attending June's NHL Entry Draft that he feels his team's first round pick in 2001 is ready to take the next step, a statement Vancouver assistant general manager Dave Nonis echoed...to a point.
"R.J. is ready to play skill-wise," Nonis said at the Monday press conference announcing Kesler's signing, "but consistency has been a question mark for him at times."
Umberger led the Buckeyes in goals, assists and points last season, scoring 26-27--53 in 43 games as Ohio State made its first NCAA Tournament appearance since 1999. But despite racking up 129 points in three seasons at OSU, the Pittsburgh native often appears bored on the ice and becomes a non-factor for long stretches of the game.
Kesler, by the way, signed a three-year, two-way deal with the Canucks. Although Nonis didn't rule out the possibility of the 19-year-old forward starting the season in Vancouver, he said it's more likely Kesler will play his first professional game with the American Hockey League's Manitoba Moose.
Back in Columbus, OSU coach John Markell filled the void left by Markell's departure by bringing in forward Mathieu Beaudoin, who spent last season with the Cowichan Valley Capitals of the British Columbia Hockey League. Beaudoin had originally committed to the Buckeyes for the 2004-05 season.
Schooley in Session
Derek Schooley was named head coach at Robert Morris Thursday as the institution prepares for its first season of NCAA Division I hockey in 2004-05.
Schooley comes to the Colonials from Air Force where he spent five seasons, four as an assistant coach before being named the Falcons' associate head coach prior to the start of the 2002-03 campaign. A four-year letterwinner at defense for Western Michigan from 1990-94, he was also an assistant at Cornell for the 1997-98 season.
"The reason you get into coaching is to become a head coach at some point in your career," the 32-year-old Schooley said. "Starting a new program is going to be a great challenge, but it's something that I look forward to."
The addition of ice hockey is one part of a massive expansion of the athletics program at Robert Morris, located in suburban Pittsburgh. At a time when most universities are cutting sports, the school is adding men's and women's lacrosse and women's field hockey, building an on-campus football stadium and negotiating the purchase of Island Sports Center, a multi-purpose recreational facility that would serve as the hockey team's home.
Minnesota-Duluth fans have reason for optimism this season, returning all but two letterwinners from last year's squad that posted 22 wins. The Bulldogs, however, nearly suffered a loss before the campaign even started because of dangerous conditions on Lake Superior last weekend.
Forwards Junior Lessard and Evan Schwabe and their girlfriends were swimming in Lake Superior Sunday when the group encountered a strong current that pushed them away from the shoreline and into deeper water. Schwabe managed to get to safety on his own, but the others needed assistance from two men who happened to be nearby – and happened to be experienced swimmers.
"I was in big danger," Lessard told the Kevin Pates of the Duluth News-Tribune earlier this week. "I didn't want to think about what might happen. I was just hoping so bad that someone would come."
The rescuers – two educators who were on the lake on boogie boards – swam out to Lessard and the others with the aid of swim fins and flotation devices and towed trio back to safety on their boards. The 23-year-old Lessard, who led UMD in goals last season with 21, was taken to a local hospital to receive intravenous fluids, but was otherwise fine.
"I'm so happy that someone was there to help," said Lessard. "I'm just so thankful."
Dodging the WCHA
You may have missed a recent transaction that sends yet another college hockey prospect packing for a professional career. But it's not what you think.
Jamie Hoffmann, a forward from New Ulm, Minn., who was set to begin classes at Colorado College last week, instead signed a free-agent contract with the Los Angeles Dodgers earlier this week. He was chosen by the Carolina Hurricanes in the eighth round of last June's NHL Entry Draft.
"Hockey presented a better opportunity to pay for college," Hoffmann said in the New Ulm Journal. "But now baseball has come forward with some money and also will pay for college...if things don't work out."
Hoffman, who told Colorado College coach Scott Owens of his decision Wednesday, was Minnesota's Class AAA baseball player of the year in 2002. He'll start his baseball career with the Dodgers' Instructional League team in Vero Beach, Fla.
"Usually, I went with whatever season I was in," Hoffmann said. "Now, I went with whatever offer was better. This is seemingly better than hockey would have been."
The 6-3, 190-pound Hoffmann recorded 39 points and 120 penalty minutes in 60 regular-season games with the Des Moines Buccaneers of the United States Hockey League last year.
Virtual Dany
He was the 2002 NHL Rookie of the Year. He was named MVP of the 2003 NHL All-Star Game. Those, however, pale in comparison to the honor former Wisconsin star Dany Heatley received Tuesday.
Heatley, who now plays for the Atlanta Thrashers, reached an agreement with video game giant Electronic Arts to be the cover athlete and spokesman for the company's EA Sports NHL 2004 video game. Among the players who have served in the same capacity in the past are Jarome Iginla, Owen Nolan and Jaromir Jagr.
"Being named a cover athlete for an EA Sports game is quickly becoming one of the biggest honors in sports today," Heatley said. "I've been a fan of (the) NHL series for years."
NHL 2004 is the 12th installment of the best-selling EA Sports hockey series. The game will be available for Sony PlayStation2, Microsoft Xbox, Nintendo GameCube and personal computer platforms next month. There's no word whether "virtual Dany" will have an unstoppable on-ice move, a la Joe Sakic's backhand in NHL '96 for the Sega Genesis.