November 19, 2003
Illin' on the Front Range
By Jess Myers
Early in Jon Krakauer's amazing book "Into Thin Air," about an ascent of Mount Everest that turned tragic in March 1996, the author details all of the nasty stuff
that happens to the human body during prolonged stays at high attitudes. While Krakauer is generally referring to elevations 20,000 feet or higher, there seems to be some trouble for hockey players at the 5,000 to 6,000 feet range these days.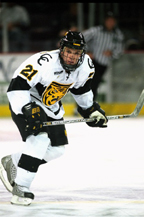 Brett Sterling isn't expected to return to the CC lineup until next month.
Both Colorado College and Denver find themselves significantly banged up as they head into important weekend series. Denver, which is coming off getting
three points at Alaska Anchorage, may be without the services of two regular defensemen when the Pioneers host top-ranked North Dakota this weekend. And the Tigers come off a bye week with more problems than they had before the rest, after it was revealed on Monday that top goalie Curtis McElhinney will miss a month with mononucleosis.
It's just the latest challenge for CC coach Scott Owens, who's dealt with key players out of action due to a fractured hand (Brett Sterling), a separated
shoulder (Colin Stuart) and a lacerated spleen (Brandon Polich) already this season.
"Combine that with nine guys that have the flu right now, and away we go," said Owens, who's trying to remain upbeat as his team travels to face red-hot
Wisconsin this weekend. "With all of that, we've been able to stay afloat with a 6-1-1 record, but we know it'll definitely get tougher."

An hour or so north of Colorado Springs, near the junction of I-25 and South University Boulevard, there's similar concern about the health of the Pioneers with the Fighting Sioux coming to town. Highly-touted Denver freshman defenseman Matt Carle will miss the North Dakota series after spraining his
ankle in the Friday night tie in Anchorage. And two more defensemen, Adrian Veiderman and Nick Larson, are questionable with a sore knee and a sprained ankle, respectively.
"We're not looking for excuses, because everyone's banged up," said Pioneers coach George Gwozdecky. "We're not going to spend a lot of time lamenting. Instead, you spend all of your time preparing the guys that you'll have step into those positions."
As for Colorado's higher elevation, Gwozdecky scoffs at the notion that thinner air has anything to do with a team's health.
"Minnesota's gone through a few injuries, and they don't seem to be at very high altitude," he said.
For the record, Minneapolis is 840 feet above sea level.

SEEN AND HEARD IN THE WCHA
Great Weekend Getaway

North Dakota at Denver (Fri.-Sat.)
If there's a book called "Road
Trips For Dummies" available at the Barnes & Noble right next to Ralph Engelstad Arena, a few members of the Sioux might be wise to grab a copy before they
head to Denver this weekend. That's not to say that the Sioux are of lesser intelligence, it's just that they're a little green when it comes to travel. In fact, the weekend series in Colorado marks the only Sioux road trip between the start of the season and New Year's Day.

There were some questions about whether North Dakota deserved to keep the top ranking in the nation after a home loss to St. Cloud State last weekend. A pair of wins in Denver, versus the powerful Pioneers, would answer those questions in no uncertain terms.

While You're There: If you can get to Denver a day early, try to finagle tickets to Thursday's Avs-Rangers tilt at the Pepsi Center, and start the evening with dinner at The Denver Chop House & Brewery located in the shadow of Coors Field in LoDo. Make sure you make a reservation, and order the garlic mashed potatoes.

Stick Salute

To the Denver Pioneers, for their spirited comeback in Anchorage last weekend. As much of the rest of the nation was in slumber, things looked plenty bleak in the second period of Friday night's game, with the home-standing Seawolves ahead and in command, 4-1. All Denver did was rattle off seven unanswered goals, grabbing a come-from-behind 4-4 tie (due in large part to Connor James' short-handed goal in the final two minutes) and an impressive 4-0 win on Saturday.

"That was a very important step for our team," said Pioneers coach George Gwozdecky. "On Friday we didn't play that badly, and even down 4-1, I never got the sense that the team was ready to cash in and prepare for Saturday. Getting that point, I think, is going to be very important."

Three points on the road look good no matter how you get them, but this was an impressive showing for a team that should factor into the home playoff picture.

Bench Minor

To the Alaska Anchorage Seawolves, for letting that one slip away last weekend. Listening in via the magic of Internet radio late last Friday night, one could've gotten the impression that it was finally all coming together for the pride of the Knik Arm. The Seawolves blasted out of the gate versus Denver, scoring twice in the first 3:19. When Ales Parez added two more in the second to open up a 4-1 Anchorage lead, this reporter went to bed, secure in the knowledge that the Seawolves had arrived, and could realistically compete with the best of the WCHA this season. But while the Lower 48 slept, bad things were happening to the home team, to the tune of two Denver short-handed goals which helped snatch a tie from the jaws of victory. Let's hope coach John Hill finds a way to turn this letdown into a source of inspiration rather than a source of disappointment.
A Bus of a Different Color for the Huskies – With their team still on a high after their upset of top-ranked North Dakota last weekend and their star rising fast in the national polls, the St. Cloud State Huskies apparently know not to judge a bus by its color. (Sure, you're thinking that last sentence makes no sense. Read it again, then read on, and you'll understand.)
The Huskies normally travel throughout Minnesota, Wisconsin, North Dakota and the Upper Peninsula of Michigan in a pretty sweet ride. Their regular team bus, operated by Voigts Motorcoach of St. Cloud, is black and red with big Huskies logos on the sides and all of the bells and whistles on the inside. All was well for the boys on the bus until the team traveled to Minnesota Duluth a few weeks back and driver Lenny Moen noticed an ominous-looking warning light ("Track Steering") on the dashboard.
While the team was never in any danger, Lenny sent the bus in to be serviced as soon as the Huskies returned from their sweep in Duluth, just to be on the safe side. The red bus was still in the shop when the time came for the team to head to Grand Forks for their date with the Sioux, so Lenny picked out his favorite bus, a white number, and drove the Huskies to Dakota Territory and back in an unfamiliar vehicle.
Now, which bus is better is a matter of some debate. For those of you scoring at home, the Huskies are 2-0 in the red bus and 1-1 in the white bus this season. Lenny still likes the white bus, as it's the one he normally drives and he knows how it handles. Some claim that the white bus also has better seats, bigger TVs and cup holders, unlike the red model. But Craig Dahl still likes the red coach better. Why? We think it has something to do with those giant recruiting billboards for Dahl's team painted on the sides.
Dahl brushed off questions related to bus color this week, saying that the bus switch was never mentioned by players to and from Grand Forks.
"The red one has better seats, but I have more important things to worry about than the color of the bus," said Dahl, noting that top goalie Adam Coole, who suffered a groin pull at North Dakota, will miss the team's trip to Rensselaer this weekend.
Whatever the case, the Huskies don't have another bus trip on their schedule until February (when they travel to Michigan Tech), so it's likely that Coole, and their red bus, will both be off the injured reserve list by then.
PUCKS TO PICK UP AFTER PRACTICE
• Heading into this weekend's showdown in Madison, the Badgers are winless in their last seven games versus Colorado College (0-5-2), but Bucky's not about to be scared by a little seven-game winless streak. Especially not after last weekend, when Wisconsin snapped a similar seven-game winless streak versus archrival Minnesota. The Badgers' 4-3 win on Saturday night (thanks to rookie Adam Burish's short-handed goal with 6:01 to play) was coach Mike Eaves' first victory over the Gophers. Wisconsin had last beaten Minnesota on Jan. 11, 2002 – an 8-3 drubbing in Madison in the first game after Jeff Sauer announced his impending retirement.
• Blink and you might have missed the Michigan Tech power play last Saturday in Mankato. The Huskies had the man-advantage for just 14 seconds in their 6-3 loss to the Mavs (compared to 10:06 of power play time for MSU). The bad news snowballed when the Huskies high-powered line of Chris Conner, Taggart Desmet and Colin Murphy was held without a point for the weekend.

"They were still getting scoring chances, but Mankato did a nice job of shadowing that line all weekend," said Tech coach Jamie Russell. "That's something those guys are going to have to get used to. They're not a secret any more, they're elite players in college hockey, so a little more attention from the opponent is natural."

And if Tech fans are looking to rebound this weekend, Minneapolis might be a bad place to look. The Huskies are winless in their last 16 games versus Minnesota (0-14-2) and last beat the Gophers on Jan. 31, 1998. That was two Tech coaches ago.
• Kudos to Minnesota Duluth senior defenseman Jay Hardwick, who will play in his 100th game for the Bulldogs on Friday when they visit Union. Hardwick was one of Scott Sandelin's first recruits when he took over the UMD program in 2000 and, apparently, comes from some solid hockey bloodlines. Jay's sister, Maureen, was the leading scorer for the University of St. Thomas (a D-III school in St. Paul) women's team last season as a freshman, and is atop the team's leader board again this year after three games. Their younger brother, Kyle, helped lead Warroad (Minn.) High School to a state championship last season as a sophomore and is being quietly yet actively recruited by a number of WCHA schools.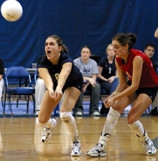 • Speaking of small colleges in St. Paul, tiny Concordia University is hosting the NCAA North Central Division II Volleyball Regional this week, and the Golden Bears are the top seed in the tournament with a 28-3 record. One of their better players is a 5-9 freshman outside hitter named Jessica Lucia (pictured at right in blue uniform). Her father is a hockey coach at another Twin Cities college.
• It's apparently a time of famine or feast in Mankato. Last Friday, the Mavericks skated to a 0-0 tie with Michigan Tech, marking the first scoreless deadlock in the MSU hockey program's history. (By contrast, Alaska Anchorage seemed to record a 0-0 tie about once a month during the Dean Talafous days.) On Saturday, the Mavericks offense finally found its legs, scoring a season-high six goals to get three of four points on the weekend.
• If you hear the theme music from "Shaft" (the classic 1970s blaxploitation TV show, not that crappy movie remake from a few years ago) blasting from the Gophers locker room this weekend, don't be surprised. Isaac Hayes' soul classic was the No. 1 song in the nation about this time in 1971, when the Gophers last started a season this slowly. The '71-'72 squad was 2-8-0 after 10 games, compared to this season's 2-7-1 mark. Gopher fans should hope that history doesn't repeat itself. That '71-'72 squad finished 8-24-0, and
dead last in the WCHA. Along those lines, only one team in the nation (American International at 0-9-1) has more losses than the Gophers right now.