November 19, 2003
How to Win in Hockey East
By Nate Ewell
Hockey East Notebook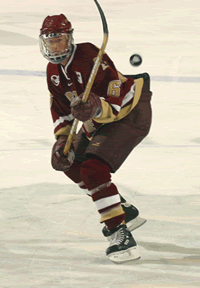 John Adams, who leads BC defensemen with a +5 rating this year, matched his freshman and sophomore goal totals combined with two against UMass Friday. (Photo by North Dakota Athletics Photographer Scott Gaddini)

In a conference that features headline-grabbing goaltenders and highlight-reel offensive stars, Hockey East coaches know there is usually one thing that separates winning and losing: defensive intensity.
"It's always defense," said New Hampshire head coach Dick Umile. "If you don't play good defense, you don't have a chance to win in Hockey East. Everyone's good offensively, and everyone can hurt you down low. You have to be able to neutralize that, or you're in trouble."
Defensive intensity is a concept that manifests itself all over the ice – from forechecking to shot-blocking to battles in the corner and in front of the net. The sum of those battles is much more meaningful than simply a coaches' words to motivate his team. The fact is, in a closely-matched league where almost every team has solid goaltending and talented forwards, passionate attention to defense can make the difference between winning and losing.
Boston College head coach Jerry York recognizes that. His team boasts a wealth of offensive talent, but still held opponents to a conference-best 21.7 shots per game last season, when they shared the league title with New Hampshire. The Eagles are off to an even better start in that respect this year.
"We were pretty tenacious defensively," York told the Boston Herald after his team beat Massachusetts, 4-1, last weekend. "We've been getting better and better that way. Teams are having trouble getting 20 shots against us (an average of 18.0 in Hockey East games)."
"The coaches work a lot with us on maintaining our gaps and stick positioning," said Boston College defenseman John Adams. "We really try to get our sticks in the shooting lanes and deflect a lot of shots that way, and we work on staying tight in our defensive zone coverage."
When the Eagles don't win, Adams and his teammates get an up-close look at the reasons why.
"If we lose a hockey game, we go over the entire tapes with the coaches," he said. "You can tell, when we lose, they are getting opportunities offensively. It's pretty easy to see."
Massachusetts head coach Don Cahoon – whose team is second to York's in shots allowed, at 20.7 per league game – saw that tenacity first-hand against the Eagles. And although he hasn't faced them yet, he's quick to join a chorus of coaches praising the effort of Umile's team at New Hampshire, which is allowing 25.9 shots per game.
"I watch a team like New Hampshire, and that team is absolutely tenacious in their own zone," Cahoon said. "As good as Mike Ayers is, they play great team defense around him. It's a real testament to the job that Richie (Umile) has done there."
Those are words of praise that Umile loves to hear – because he knows it's the key to winning hockey games.
"We take a lot of pride in where the program has come in terms of our commitment to defense the past few years," he said. "You have to play that way in this league."
Making a Name – John Adams, a two-goal scorer in Boston College's win over Massachusetts last weekend, wasn't always recognized as the namesake of our second president.
"It's a pretty popular name around here," said the Eagles' junior defenseman, a native of Wayzata, Minn., "but it's not so much in Minnesota. We had the whole Addams Family thing there. A couple of kids called me Gomez."
Once Adams – who, speaking of family, is the son of John and Ronda Adams – joined a growing number of Minnesotans on the Eagles roster, he heard a lot more about one of Boston's original patriots.
Expect Adams to earn additional attention for his offense – not his name – moving forward. He's been a very good defensive contributor for the Eagles for his first two-plus seasons, but the third-round draft pick of the Buffalo Sabres thinks his strengths lie more in his abilities to contribute to the offense.
"I think my biggest strength is making a good first pass on the breakout," he said. "I pride myself on making smart decisions with the puck, moving the puck quickly and not getting out of position, then jumping in and helping out the offense when I can."
Battle of the Backups – In the ongoing quest for an edge between BC and BU fans, this week may provide the Terrier faithful with a new chant: "Our Backup's Better!"
That was certainly the case in the past week at least, as Jerry York and Jack Parker each opted to give their second-string goaltenders a start against Merrimack. At BU, Stephen Siwiec stopped 30 shots and earned the win in his first appearance – not just first start, but first appearance – since last November.
Things didn't go as well for Joe Pearce in Chestnut Hill, as the Eagles' backup allowed three goals on eight shots before giving way to regular starter Matti Kaltiainen in a game that ended tied, 3-3.
Not that any of this would amount to much more than a fun fan chant, however – Kaltiainen and his BU counterpart, Sean Fields, are sure to see the bulk of the work the rest of the way. Maine, with Jim Howard and Frank Doyle, is the only Hockey East team without a clear-cut No. 1 goaltender at this point.
Wildcat Heritage – New Hampshire head coach Dick Umile has been following Ty Conklin's tremendous run while filling in as the starter for injured Edmonton Oilers goaltender Tommy Salo. Conklin, who checked in recently with Umile by phone, is the reigning NHL Defensive Player of the Week and Saturday should start in the Heritage Classic, an outdoor game against Montreal expected to draw close to 60,000 people at Edmonton's Commonwealth Stadium.
"That will be awesome," said Umile. "How often do you get a chance to be a part of something like that?"
Conklin's Oiler teammate, ex-BC Eagle Marty Reasoner, is out indefinitely and will miss Saturday's game. Ron Hainsey, a UMass Lowell product, could get a chance to face Conklin, although Hainsey was a healthy scratch Tuesday night for the Canadiens.

FRIES AT THE BOTTOM OF THE BAG
• Merrimack unveiled its new logo Saturday night against Boston University, along with a new mascot, Mack the Warrior. For those scoring at home, that's four new logos – Massachusetts, Merrimack, Northeastern and Providence – in the league this year, or 44 percent of Hockey East's teams.
• Think Maine will put last year's first-round Hockey East Tournament loss to Massachusetts behind them and simply focus on the games when the two teams meet for the first time this season on Friday?
Think again. The Black Bears already went out seeking revenge in one game this year, and that worked out well for them.
Great Weekend Getaway

Brown at Providence (Tues.)
Yes, we're skipping ahead of the weekend, but this Mayor's Cup matchup has the making of a terrific game. The Friars feature a balanced offense that put up six goals against Hockey East's best goaltender, Mike Ayers, last weekend. Torry Gajda led the way and earned the conference's Offensive Player of the Week honors. He'll face Yann Danis, INCH's reigning player of the week and the best goaltender the ECAC has to offer.

Stick Salute

To the conference's defensemen. As strange as it seems to see Thomas Pock and Brian Yandle standing 1-2 in conference scoring, how about the fact that John Adams and Andrew Alberts are carrying Boston College's potent offense right now?

Bench Minor

To the conference's forwards, with a few exceptions (Luciano Aquino, Torry Gajda, Ken Magowan). We all know it's a tough league to score in, but last week – in which no player had more than two goals – was particularly bereft of offense.
"The (2002) national championship game was still in the back of our minds," head coach Tim Whitehead said a few weeks back about his team's season-opening win over Minnesota. "Your team tends to be a little more focused in that situation."
• Playing Maine has a little extra charm for Massachusetts head coach Don Cahoon as well. In an extensive early-season interview with Dick Baker of The Republican, Cahoon noted how his Princeton team really made its mark with a mid-season upset of Maine in 1994-95. The turning point in UMass hockey history, as long as the program continues its current upswing, may well be remembered as last year's series in Orono. (We'd link to the interview, but their archives only go back two weeks.)
• Maine's Prestin Ryan bounced back after a late-game altercation against Boston College earned him a game disqualification and forced him to sit out the Black Bears' loss at New Hampshire. Ryan, who has been Maine's best defenseman in the early going, scored a goal and finished +5 in wins over Northeastern and UMass Lowell last weekend.
• UMass Lowell has been outscored 8-1 in its last two Hockey East games after outscoring its first three conference opponents, 12-7. The River Hawks have two tough ones against Boston University this weekend, followed by a Tuesday visit to New Hampshire.
• Just days after we raved about his skills on defense, Massachusetts captain Thomas Pöck moved up to forward against Boston College in the absence of high-scoring Greg Mauldin. Of course, the versatile Pöck also played defense in the game, and scored the Minutemen's lone goal on a shot from the point.
• Merrimack's rotten luck with injuries continued this week with the loss of forward Matt Johnson for the season with a broken jaw. Johnson had shared the team lead in points and assists (seven each) at the time of his injury, in Saturday night's 6-1 loss to Boston University. The Warriors have posted ties against BU and BC in two of their last three games, but are winless in their last eight (0-5-3) entering a Saturday-Sunday series with Bemidji State.
• Boston College's injury woes continue as well. Tuesday against Merrimack the Eagles were without Patrick Eaves (knee), Peter Harrold (flu), Ty Hennes (ankle) and Dave Spina (ankle).
• Hockey East announced that tickets for championship weekend at the FleetCenter will go on sale Monday, Dec. 1, at 11 a.m. Championship tickets can be purchased through Ticketmaster and at the FleetCenter box office. Ticketmaster can be reached online at
www.ticketmaster.com
or by calling (617) 931-2000.
A variety of sources were utilized in the compilation of this report.