November 25, 2003
Bazin Crash Has Other Travelers Thinking Safety
By Jess Myers
Colorado College assistant coach Norm Bazin remains hospitalized in Spokane, Wash., after a car accident on Friday, Nov. 21, has left him fighting for his life.
Bazin, who is in his fourth season with the Tigers, left Spokane in a rented car Friday afternoon and was heading north on U.S. Highway 395 en route to scout players in British Columbia. His trip came to an abrupt halt when his car collided head-on with a SUV. There were reports of freezing rain and snow in the area.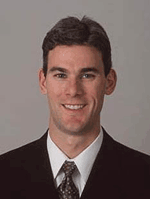 Norm Bazin
After undergoing a number of emergency surgeries, Bazin remains in critical condition in a Spokane hospital. His wife, Michelle, who is pregnant and expecting their first child in January, has joined him in Spokane.
While the college hockey family prays for his recovery, the accident has some fellow WCHA coaches in a reflective mood, considering how common it is to travel in less-than-idea conditions while doing their jobs.
When he was an assistant coach, Minnesota State, Mankato's Troy Jutting did plenty of driving in bad weather, in the dark, down the slippery, winding roads in B.C. and Washington. He said he's relieved that accidents like this aren't more common.
"(Bemidji State coach) Tom Serratore and I talked this week and we said we're surprised that in all of the bad weather, night time driving we've done, somebody hasn't been more seriously hurt," Jutting said. "A lot of the time, you realize that you probably shouldn't be driving, but you need to get to a game to see a kid, and it's a lot of money to get there. To travel all that way and then not see the game isn't really acceptable. So you go."
Jutting noted that as coaches get older, they seem to travel less because of the job perks and the wisdom that come with seniority.
"That's another reason why coaching is really a young man's game," he said. "As you get older, you start to understand the dangers a little bit better. But there's really nothing you can do. Dangerous roads and late night driving are part of the game. Over-the-road truckers do it 10 or 12 hours a day."
Cards and other wishes for a speedy recovery can be sent to Michelle Bazin at: Double Tree Inn, 322 N. Spokane Falls Court, Spokane, WA 99201, Fax: 509-456-6285.
SEEN AND HEARD IN THE WCHA
A Decade Later, it's Still a Showcase – About a dozen years ago, Ron Mason (then the head coach at Michigan State) and Doug Woog (then the head coach at Minnesota) envisioned a yearly tournament between the Big Ten's four traditional hockey powers. In 1993, Woog and Mason's teams, along with Michigan and Wisconsin, met at the Palace of Auburn Hills outside of Detroit for the first College Hockey Showcase. This weekend, in Ann Arbor and East Lansing, those four teams will meet again in what has become one of the better early-season traditions in the college game.
While watching his granddaughter take skating lessons at an arena in Inver Grove Heights, Minn., this week, Woog talked about a decade of the Showcase, and why they wanted to do it in the first place.
"We really wanted to keep the rivalries that had been started in the WCHA and in the Big Ten together," said Woog. "And there are different athletic rules in the Big Ten, so every now and then it's fun to match up against a team that you know is playing by the same rules, with the same compliance issues as you."
The first four tournaments were held at neutral sites, with the Palace, the St. Paul Civic Center, Milwaukee's Bradley Center and Joe Louis Arena in Detroit playing host. Since then, the series has rotated between campus sites, with Minneapolis and Madison hosting games every other year. While some saw the move to campus as a step backwards, Woog notes that the home arenas at Minnesota and Wisconsin hold 10,000 and 14,000 fans, respectively, so there's not real attendance gap.
"This format is much better for the fans," said Woog, who will call Minnesota's Showcase games for Fox Sports North this weekend. "You're back home every other year, instead of being gone for three years. And our fans love the Big Ten rivalries."
Most important, he says, is the fact that with between two and four of these teams making the NCAAs seemingly every year, the on-ice results are interesting and important.
"These usually turn out to be really significant in the NCAA seedings and in the power rankings," he said. "And they're kind of 'measure games.' It's fun to see where you are against these teams a third of the way through the season."
Great Weekend Getaway

Minnesota State, Mankato at Minnesota Duluth (Fri.-Sat.)
Neither team is currently in the national rankings. MSU has only made the NCAAs once in school history, while UMD hasn't been there in a decade. Both teams are 2-3-1 in their last six. So what makes this a great matchup? Desperation. If the Mavericks or Bulldogs (or both) are going to get home ice this March, making a statement (and getting four points) a series like this one could go a long way in determining the league's hierarchy come spring. A sweep, and somebody heads into December having won two of their last eight. MSU scored a season-high six in its last game, while UMD put seven on the board last Saturday at Union. And if desperate times really do call for desperate measures, this should be an entertaining series.

While You're There: After the Saturday night game, head to Old Chicago in Canal Park (on Lake Avenue, in one of the neighborhood's cool renovated warehouses) for big beers, great pizza and seemingly every Bulldog player dining with their families and girlfriends. On Sunday morning, after three aspirins and several large glasses of water, have the brunch at Top of the Harbor (the revolving restaurant atop the Radisson Duluth). The food is fine, and the price is reasonable, but the view is stunning. Make sure you linger over coffee, so you get to see the entire 360-degree panorama of downtown Duluth, the Central Hillside, the Harbor and Lake Superior.

Stick Salute

To the North Dakota Fighting Sioux. Any questions about their validity as the top team in the nation and their ability to play on the road were answered pretty clearly last weekend in Denver. Rumor has it that the rink manager at Magness Arena still can't get the red light turned off after North Dakota pumped in 14 goals versus a Pioneers team that had been considered one of the league's better defensive crews. The Sioux now have two light weekends (with a bye weekend and a game versus the USA U-18 Team) before hosting Minnesota Duluth Dec. 12-13. Enjoy the time off, fellas. The WCHA's opposing goalies will.

Bench Minor

To the St. Cloud State Huskies. Just when we're ready to believe that you're for real, the Huskies much-publicized team bus hits a pretty big speed bump somewhere in Troy, N.Y. Yes, we know that RPI is pretty good, and yes, we know that not even Craig Dahl expects this team to score a lot. But when you manage to win a game at Ralph Engelstad Arena just a few weeks ago, we should expect at least one win in Houston Fieldhouse, right? Now the Huskies get Alaska Anchorage, which is the hotter team. The Seawolves are 1-1-1 in their last three, while St. Cloud State is on a 0-3-0 run.
PUCKS TO PICK UP AFTER PRACTICE
• If the WCHA is short of men in stripes at any point this season, don't expect to see the league's Supervisor of Officials, Greg Shepherd, filling in on the ice anytime soon. A long-time league referee himself, Shepherd is undergoing surgery for a torn Achilles tendon in his right foot this week and will be in a cast for up to three months. Shepherd hurt the foot after falling in a hole while working for Xcel Energy. It's the latest event in a terrible year for the Shepherd family. In June, Greg's mother Shirley, 79, was found beaten to death in a suburban St. Paul park. A 20-year-old former co-worker and two others have been charged with second-degree murder in the woman's death and are awaiting trial.
• The Gopher hockey team showed that it's up on current events last Friday, when "Billie Jean" and other cuts off Michael Jackson's classic 1982 album "Thriller" were heard blaring from the stereo in their locker room after a 6-2 win over Michigan Tech. Asked if they always play the recently-arrested King of Pop's tunes after wins, defenseman Keith Ballard said that the music was a quite recent addition to the Gopher songbook. "Tyler Hirsch just went out and bought the CD earlier today," said Ballard. "I'm pretty sure he got it on sale."
• When the first College Hockey Showcase was played a decade ago at the Palace, it was hoped by some that the tournament would be a way for college hockey to show off four of its big-time programs to the sports world. Well, in the 10 years that Minnesota, Wisconsin, Michigan and Michigan State have gotten together, it's been anything but a showcase of the power of Badger hockey. In 20 Showcase games, Wisconsin is 2-17-1. And that's after a 1-1 start. The Badgers beat Michigan in Auburn Hills that first season, and are 0-8-1 versus the Wolverines since then. Their only Showcase win versus Michigan State came in 1999, en route to Bucky's most recent MacNaughton Cup.
• After years of being mysterious about his unconventional choice of sweater numbers, Michigan Tech junior goalie Cam Ellsworth finally explained why he wears number 17 recently. When he was a bantam, playing in his hometown in Ontario, the team's coach said any player could wear any number. "I didn't like either 1 or 30, so I asked for 17, just for something different," Ellsworth said. "A bunch of guys wanted 17, so we started flipping a coin to see who'd get it. I think I won about 12 coin flips, and I've worn it ever since." Ellsworth said that the biggest problem is that you don't usually see 17 on the larger jerseys that are built to accommodate goalie pads. He said that the Huskies equipment manager, Roy Britz, special orders bigger sweaters with 17 on them to comfortably cover his extra padding.
• Here's a bad sign for hockey fans in Houghton-Hancock: While the Huskies keep playing sound defensive hockey (Ellsworth stopped 27 of 28 shots in the first period alone versus Minnesota last Saturday) the once-renowned forward line of Colin Murphy, Taggart Desmet and Chris Conner has now managed just one goal in the team's last four games. Speaking of that line, INCH suggested to Michigan Tech assistant athletic director Dave Fischer (who handles all of the school's marketing, promotions and sports information) that the trio needs a snappy nickname (like the Red Wings' famed Production Line or the Soviets' nearly unstoppable K-L-M Line). With the names Desmet, Murphy and Conner skating together, this reporter suggested "Run DMC" for a handle. Fischer is, reportedly, mulling it over.
• Gophers coach Don Lucia was nowhere to be found after Friday's win versus Michigan Tech. As soon as the final horn sounded, Lucia bolted to the locker room, grabbed his coat, and was in his car before the on-ice fracas between his team and the Huskies had been sorted out. Lucia rushed to St. Paul and managed to catch the end of the NCAA Division II regional volleyball game between Augustana (S.D.) College and Concordia University. Concordia, as you may recall from last week's notebook, features a talented freshman named Jessica Lucia. With her parents watching, Jessica helped the Golden Bears rally to win. One night later, Jessica led the way with six kills and three aces as Concordia beat North Dakota State to advance to the NCAA Elite Eight. The tournament will be played in San Bernadino, Calif., Dec. 4-6. Unfortunately for Don, the Gophers have a trip to Alaska Anchorage that weekend, so he'll be unable to attend.
• Those 14 goals allowed by Denver last weekend as they were swept by North Dakota was the highest two-game total scored by a DU opponent in more than a decade. In February 1992, when the Pioneers were headed for a ninth-place finish and Northern Michigan was the defending national champion, the Wildcats scored 20 in a two-game set versus Denver in Marquette. The sweep included a 14-2 win by Northern Michigan in the Friday night game. So take heart Pioneer fans. Surrendering 14 in a weekend is a step up from surrendering 14 in a game.