Feb. 4, 2004
Party Time, Crunch Time on Portage Lake
By Jess Myers
Michigan Tech's famed Winter Carnival will be held in Houghton this weekend, and as always, ice is the focus of the weekend revelry, with student groups working together to create ice sculptures that are quite impressive. The other place that ice is a part of the fun is inside MacInnes Student Ice Arena, where a two-game college hockey series takes center stage.
Recruiters routinely bring in several prospects to visit the school, the arena and the community during carnival weekend, hoping that Tech's mix of big-time college sports in a small-town, small school atmosphere will be a winner. The Huskies were once all but unbeatable during Winter Carnival, but like much about Tech's hockey program, that's changed. The Huskies enter their home series versus St. Cloud State with a 1-8-1 mark in their last 10 Winter Carnival games. And with Tech assured of another lower-division WCHA finish this season, one might think that the hockey is near-meaningless this weekend.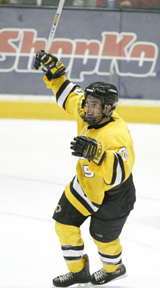 An all-too-familiar sight for Michigan Tech opponents this season: Sophomore Chris Conner's stick raised in celebration.
But there's much more at stake for Tech than might readily be apparent. The question of whether there's really hope for a hockey resurgence in Houghton may be answered in the coming weeks, based on the ability of sophomore forward Chris Conner to keep scoring, and based on the ability of Tech's athletic department to raise funds.
On the ice, Conner's magic is becoming old news, in the style of a John Elway-led comeback or a Bush Administration policy that favors a Cheney corporation. Last Saturday's 5-3 Husky win over Colorado College came on the strength of two goals and an assist by Conner, as he tied the school's all-time mark for short-handed goals in a season with six. Conner's 22 goals have him tied (with North Dakota's Brandon Bochenski and New Hampshire's Steve Saviano) for tops in the nation. And according to the school, Conner currently leads fan balloting for the Hobey.
While the school's second Hobey finalist would boost recruiting, the other big boost the school is seeking is financial in nature. School officials announced recently that an anonymous donor will match up to $900,000 in donations raised by the school as part of what's being called the "Hockey Enrichment Campaign." Their overall goal of the campaign, which is being coordinated by former Tech goalie John Rockwell, is to raise $3 million in the next 18 months.
In a more geographically isolated community like Houghton, travel expenses have always been higher for the Huskies, causing budget-related decisions like the one that had the team taking a bus to a series at St. Lawrence (816 miles away) last season. It is hoped by many that a successful fund-raising campaign can prevent such bus trips in the future.
Great Weekend Getaway

North Dakota at Wisconsin (Fri.-Sat.)
Last weekend, former Badgers coach Jeff Sauer admitted that despite all of the hype about the "Border Battle" between Minnesota and Wisconsin, he always considered the Fighting Sioux to be the Badgers' biggest rival. More than two decades ago, these teams locked horns in the 1982 NCAA title game, won by NoDak before a crowd that was three-fourths Wisconsin fans at the Providence Civic Center. One year later, the Badgers cost the Sioux a NCAA playoff invite, then won the NCAA title on North Dakota's home rink. This year the Sioux are on top of the college hockey heap, while Wisconsin is 1-5-1 in their last seven. But Bucky should be a desperate animal when these two tangle at the Kohl Center.

While You're There: Trying to find a good bar in Madison is like trying to find a rock with a reddish tint on Mars. The athlete and frat crowd is partial to the Kollege Klub, on the corner of Lake and Langdon, at the end of frat row. They've got drink specials and deep fried cheese, which are really the two necessary ingredients for a good time anywhere. Just watch where you're driving. A block past the KK, Lake Street becomes a boat ramp sloping into Lake Mendota. Even when the lake is frozen solid, you don't want to discover that fact the hard way.

Stick Salute

To Minnesota State, Mankato. We were all but ready to write the Mavericks off and pencil them in for last place. With Alaska Anchorage leading 3-1, at home, in the third period last Friday, the Seawolves resurgence looked like a lock. But MSU rallied for a 4-3 win after Brad Thompson assisted to tie the game, then scored the game-winner with 38 seconds to go. No, there won't be playoff games at the Midwest Wireless Civic Center this season, but two consecutive road wins have sent the message that things might not be as bleak as they seem in Mankato.


Bench Minor

To Alaska Anchorage fans. We understand why you left last season. A no-win WCHA season would be a little tough for any of us to sit through, especially when the natural wonders of the Last Frontier are beckoning. But, to quote the Beatles, it's time to "get back to where you once belonged." The resurgence of the Seawolves is the best story in the league this year, and having 2,000 empty seats for a Saturday night home win (versus MSU, Mankato, which the WCHA has designated as the Seawolves' "arch-rival") is a disappointment. Heck, they're even offering a free shuttle to games now. Get out there!
PUCKS TO PICK UP AFTER PRACTICE
• The most touching review of the new movie "Miracle" that we've heard so far comes from long-time Gopher hockey secretary Patti Bjorklund. While critics and hockey fans are raving about Kurt Russell's outstanding portrayal of Olympic coach Herb Brooks, Patti (who has been with the Gopher program since 1980) said it best after viewing the film: "The ending was really tough, because Russell did such a perfect job, it was like saying goodbye to Herbie again."
• No members of the Denver hockey team attended class last weekend, but the student-athletes got lessons in physics and meteorology anyway during their trip to North Dakota. According to Denver Post writer Mike Chambers, Pioneers coach George Gwozdecky gave his players a demonstration about the effects of extreme cold weather on the North Dakota prairie before Friday's game. With the actual air temperature (not wind chill) hovering near -40, Gwozdecky tossed a glass full of water into the air. Most of the water evaporated before hitting the ground. Friday's overnight low temperature in Grand Forks was -43, which was the coldest temp ever recorded in the city.
• Recently retired from coaching minor league hockey, former Minnesota tough guy Scott Bell is working with fellow ex-Gophers Kevin Hartzell and Doug Woog to better organize a Gopher hockey alumni group. Bell and Woog said that in addition to organizing reunion events, they hope to establish a scholarship fund and a business network to hope players find jobs when their playing days are done. "Gopher hockey is something special, and former players are a real family in Minnesota," said Bell. "We should do more things like a family."
• After getting swept at Minnesota last weekend, Wisconsin has now been beaten by the Gophers in eight consecutive road games. But the pair of defeats actually gave Wisconsin nine consecutive losses at Mariucci Arena. Although Badger fans would surely like to forget it, the Gophers' home rink was the site of top-ranked Wisconsin's 4-1 loss to Boston College in the 2001 NCAA playoffs.
• It should come as no surprise to learn that WCHA players dominated the recently-named 25th Anniversary Team from the United States Hockey League. Current Minnesota players Keith Ballard and Thomas Vanek made the list, along with Bob Mason (Minnesota Duluth), Gary Suter (Wisconsin), Brian Rafalski (Wisconsin), Scott Swanson (Colorado College), Greg Johnson (North Dakota), Jason Blake (North Dakota) and Peter Sejna (Colorado College).
• Something's got to give this weekend when red-hot Minnesota Duluth visits Minnesota State, Mankato. The Bulldogs own the nation's longest current winning streak, having reeled off eight consecutive victories (Nine, if you count beating the Latvian National Team. We don't.). But UMD has never played well in Mankato, sporting a 1-4-1 record in the Mavs' building. If the Bulldogs are serious about catching North Dakota for the WCHA lead (the Sioux have a three-point lead, but still must play two games in Duluth), a pair of wins this weekend are going to be a requirement.
• Congrats to St. Cloud State alum Joe Motzko for recently making his NHL debut with the Columbus Blue Jackets. Motzko, who had a solid college career and was not drafted by a NHL team, was in the lineup and got 10 shifts at Phoenix last Monday as the Jackets and Coyotes skated to a 3-3 tie. Afterwards, Motzko told Kevin Allenspach of the St. Cloud Times that the game had fulfilled a life-long dream. "I can die a happy man now, no matter what happens," Motzko told the paper. "This is what you always dream of. I don't even know how it can get any better."
• At last Friday's Gopher Blueline Club meeting, Don Lucia asked former Gopher and Badger coaches Doug Woog and Jeff Sauer to stand for a round of applause. While the pair were standing, Lucia turned to current Badgers coach Mike Eaves and said, "Mike, in 10 or 15 years, that's what we're going to look like."