February 4, 2004
Conferences Set...For Now
By James Jahnke
Is it over? Are we done? Was that it?
Well, maybe. Following last week's announcement that Robert Morris
intends to join College Hockey America next season, some people are saying that the college hockey landscape is set for 2004-05.
No mass conference swapping. No chaotic upheaval. Just a clean replacement: Robert Morris for Findlay.
"I think this is how it'll look (next year)," said Air Force coach Frank Serratore, who has been vocal in predicting a significant conference restructuring. "Robert Morris is the Band-Aid on the situation right now — something that needed to happen for the CHA. I think this alignment will stand pat for the
year."
The addition of Robert Morris preserves the CHA's automatic bid to the NCAA Tournament because the league will keep its bid-minimum six-team enrollment. Likewise, Atlantic Hockey hasn't been raided by the CHA or ECAC (yet), so it still has its automatic bid with six core Division I schools.
So, unless a team folds or jumps ship for another league between now and next season, everything appears settled. Of course, it's far from a sure thing that everybody will stay where they are, what with rumors about Holy Cross (to the ECAC), Canisius (to the CHA), Quinnipiac (to the CHA or ECAC) and Connecticut (to Hockey East) continuously circulating. But the sea is much calmer than it was two weeks ago.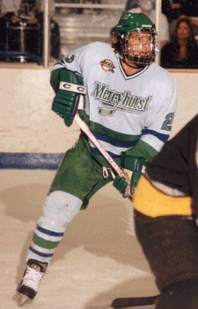 Mercyhurst: In Atlantic Hockey now, but moving in the future?
"I guess the million-dollar question is whether things will be set through next year," Mercyhurst coach Rick Gotkin said. "It seems that way. Who knows? No one would be surprised if Holy Cross did go to the ECAC and no one would be surprised if they didn't. We're watching before our eyes the landscape of college hockey change, but I don't think it will change quickly. Hopefully, at the end of all of this, our sport will emerge bigger and better than before."
Gotkin's Lakers, members of Atlantic Hockey, have themselves been rumored to potentially be looking elsewhere — most likely to the CHA. Mercyhurst's women's hockey program will join the league next year, and the men's program has made no secret it would like to escape Atlantic Hockey's limit of 11 scholarships. And with geographic rival Robert Morris (120 miles away in Moon Township, Pa.) joining the CHA, it seems the Lakers would have even more incentive to consider a switch. But that's not necessarily the case, Gotkin said.
"Our stand hasn't really changed," he said. "We're happy where we are, unless the complexion of college hockey were to change dramatically. We're looking forward to starting a good rivalry with Robert Morris. We have them on our schedule next year. But we haven't even thought about (switching to the CHA because they joined)."
Serratore believes the biggest changes lie ahead, perhaps after legislation passes allowing single-sport conferences to be exempt from the NCAA rule stipulating that leagues must have at least six full-time Division I institutions to get an automatic bid into the national tournament. Apparently, the ball is rolling in that direction right now.
"Then the ADs and conference commissioners could look at realigning for geographic sense," Serratore said. "You can't realign conferences if you lose the automatic qualifier in the process. What good would that do?"
So maybe the major shakeup is still a year away. Any wagers?
SEEN AND HEARD IN THE LEAGUES

The Billy Goat lives at INCH World Headquarters — Hey, this isn't fair! INCH certainly seemed to be cursed last week, but we never got the prestige of being on the cover of SI first! I demand a recount.

Here's a partial list of the missteps in last week's AHA/CHA notebook, as exposed by the ensuing games:

• We trashed Army for not being able to score, and the Black Knights responded with nine goals in a weekend sweep of Canisius — the same team we lauded for sneaking back into Atlantic Hockey's upper echelon. Ugh.
• We also ragged on Sacred Heart for its 10-game winless streak (0-7-3), but the Pioneers then came out and took a pair from Connecticut. Kudos to us, eh?

As an aside, we really did believe Auburn was going to claim the national title in football last year and Howard Dean would win the Democratic nomination. But that's neither here nor there.

It's Tricky — There was no shortage of individual standouts on the ice last weekend, as Bemidji State's Brendan Cook, Sacred Heart's Garret Larson and Holy Cross's Jeff Dams each registered a hat trick and more.
Cook, a junior with 18-11—29 this season, had a hattie Friday and added
another goal Saturday. One goal each night was short-handed, giving him five SHGs this year. That ties the CHA single-season record set by Wayne State's Billy Collins last season.
Larson, another junior, notched a pair of tallies Friday and then a hat trick Saturday against UConn. The five goals bumped his season total from four to nine.
Finally, Dams, a senior, picked up a hat trick Friday and tacked on an assist on the game-winner against Bentley on Saturday. Dams leads the Crusaders with 10-16—26 this season.
FRIES AT THE BOTTOM OF THE BAG
Great Weekend Getaway

Bemidji State at Minnesota (Fri-Sat.):

Not only does this intrastate tussle pit two of the hottest teams in the nation, but it might not be as lopsided as people think. The Beavers have won 11 of their last 13 games (including five in a row) in opening up an eight-point lead in the College Hockey America standings. It's the biggest lead of any first-place team in the nation, although second-place Niagara (four) and Alabama-Huntsville (two) do have games in hand.

Meanwhile, the Golden Gophers have emphatically bounced back from a snail-paced start, going 14-2-2 in their last 18 games and climbing into a third-place tie in the WCHA. Having played (and split with) Minnesota Duluth already this season, the Beavers have an idea of what Minnesota's speed and talent level will be like. But unlike against the Bulldogs, Bemidji must play on enemy ice both nights this weekend, which will be difficult to overcome. The Gophers have won all four of the teams' previous meetings (by a combined score of 28-7, no less).

While you're there: When Beavers fans think NHL, they envision Joel Otto hoisting the Stanley Cup with the Flames in 1989. When Gopher fans think NHL, they think of Neal Broten hoisting the Cup with the Devils in 1995. Either way, the Cup and the best of the NHL will be on display this weekend in St. Paul as part of the NHL All-Star Weekend festivities. Sounds like the perfect Saturday afternoon distraction for the hockey die-hard. And if you have REALLY good connections, or lots of money for the scalpers, the All-Star Game is Sunday afternoon. My colleague Jess Myers will be there. If you see him, give him a hug.

Stick Salute

Some will tell you that the only criterion for admittance into Bemidji State is a pulse. But the Beavers took a step toward dispelling that notion with a solid academic semester this past fall. Bemidji posted a team grade-point average of 3.38, with 19 of 25 skaters finishing at 3.0 or above. Defensemen Peter Jonsson and Bryce Methven and forward Bill Methven coasted along at a perfect 4.0. Assistant coach Bert Gilling oversees the team's academic performance, and under his guidance the last five years, the Beavers have raised their team GPA from a laughable 2.58 to the current mark.

"This is quite a feat for our players, and I'm proud of them," coach Tom Serratore said. "It is indicative of the character of the people on this hockey team. They're consummate student-athletes." Take that, major juniors!

Bench Minor

If last week was any indication, whoever or whatever I would criticize in this space would probably go on to their best weekend of the season. So, in the interest of not playing favorites, I'll bypass Atlantic Hockey and the CHA to take a shot at the NHL (and the CCHA and whoever else is in on this): I don't like teams wearing their dark jerseys at home and their white ones on the road. Maybe I'm closed-minded. Maybe I'm a stick in the mud. But I think fans in Edmonton should get to enjoy the Oilers' lovely whites and fans in Ottawa and Atlanta should be spared of seeing those ugly darks in person.
• If the Hobey Baker Award winds up in either Atlantic Hockey or College Hockey America this year, it will likely be under the arm of Alabama-Huntsville junior forward Jared Ross or Niagara junior
forward Barret Ehgoetz. Ross is currently second and Ehgoetz 11th in the online vote for the Hobey at hobeybaker.com.
Validating their candidacies, Ehgoetz ranks second in the nation with 38 points (18-20) and Ross is tied for third with 37 (14-23). Ross continues to lead the country in points per game with 1.85, even after a slow two-point weekend against Northern Michigan.
• You'd have to assume Rand Pecknold is petitioning Atlantic Hockey to switch the league tournament site from West Point to the Hamden area as soon as possible. It would be worth Pecknold's effort, seeing as his Bobcats would almost be a shoo-in for the Big Dance if he were successful. Quinnipiac is 8-0-0 at home this season, but is just 2-10-3 on the road after taking one point from a series at Mercyhurst last weekend.

Fortunately for the Bobcats, they have a home date Friday — a rescheduled game against Canisius. The original contest was snowed out on Dec. 6. To make room on the schedule, Quinnipiac bumped a home game vs. American International from Friday to Tuesday. So now, the Bobcats-Yellow Jackets home-and-home series will be Saturday-Tuesday starting in Springfield.
• According to Bemidji State's sports information department, the Beavers are tied with Minnesota and Wisconsin for the most road wins (eight) in the nation this year. So you would have to think Bemidji is the prohibitive favorite at Mariucci this weekend, right? Right?
• Alabama-Huntsville must have taken a page out of the Michigan State basketball scheduling textbook. A week after hosting Northern Michigan for a pair down south, the Chargers are headed to Orono for a deuce this weekend. After finishing up against Maine, back-to-back conference series against Bemidji State and Niagara await. Sounds like fun, don't it? To their credit, the Chargers managed a tie against the Wildcats last weekend, and nearly had another before a last-minute goal was waved off in a 3-2 defeat Friday.

If the Chargers are to have a chance in Maine this weekend, they will likely have to rely on the top line of Ross, Craig Bushey and Bruce Mulherin. The trio has posted 30 points in its last six games.
• Here are a few more tales of woe from Detroit (it's been this way all season): Wayne State has lost 59 man-games to injury this year. The Warriors are also 0-7-0 in conference home games.
• Sacred Heart coach Shaun Hannah reached career win No. 100 with a 4-2 triumph over UConn on Friday. The eighth-year bench boss from Cornell recorded No. 101 the following night.
• Army senior defenseman Mike McLean tied a school record by playing in his 127th-straight game for the Black Knights on Saturday. Former cadet Leif Hansen set the mark in 1997. McLean (0-1-1) will look to break Hansen's record Saturday in the Black Knights' annual grudge match against Canada's Royal Military College (Army counts exhibition games in its records).
• Serratore confirmed that Air Force will play in next year's Q-Cup along with host Quinnipiac, Bentley and American International.
• One of the major stories at Sacred Heart this year has been the stranglehold junior goalie Kevin LaPointe has had on the starting job. Many thought that freshman Jason Smith, a New Jersey Devils draft pick, would be the Pioneers' No. 1 tender by this time of the year, but he has played just four games so far. LaPointe has played 19, and his goals-against average is more than a full goal better than Smith's (3.27 to 4.47).

"It's a combination of experience and us having young defensemen this year," Hannah said. "Kevin came in and played very well for us at the beginning of the year. We've given Jason an opportunity to see some action, and he's made a lot of progress. We feel we have a good tandem in net."