February 5, 2004
The Rob Report
By Mike Eidelbes
How well is Rob Globke playing this season? So well that he's grabbed the attention of more than one just one person in the Poulin household, as evidenced by a conversation between Notre Dame coach Dave Poulin and one of his twin daughters while driving home from the Joyce Center following his team's 3-2 win against Alaska-Fairbanks on Friday.
"She said how Robbie had scored a shorthanded goal and how NHL-like it was," Poulin explained. "I said, 'Why do you say that?' And she said, 'Because he created his own space.' I was in awe that somebody who is not a hockey aficionado could appreciate that."
Appreciation for Globke, a senior wing, is spreading across the CCHA. Always a talented scorer – he entered the year with 49 goals and 84 points – the 6-4, 204-pound native of West Bloomfield, Mich., has done more than just produce points this season. Globke leads Notre Dame in goals (16) and points (29), but with a league high five game-winning goals, has been a clutch performer for an Irish team that finds itself involved in close games on a routine basis.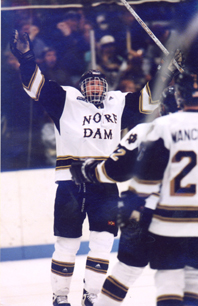 Rob Globke leads the CCHA with five game-winning goals.
"I like situations like that and I feel comfortable," said Globke, whose NHL draft rights are owned by the Florida Panthers. "When you're comfortable in those situations, things kind of come naturally."
Some aspects of the game, however, didn't come naturally. Getting Globke to play a well-rounded game was a lot like asking a home-run hitter to lay down an occasional sacrifice bunt.
"It was hard to explain to Robbie the little things," Poulin said. "He is so capable of big plays…he wanted everything to be big, rather than just a simple chip off the wall or something of that nature. But he is doing everything right now."
Doing everything includes being a team leader – "I try to lead by example," Globke stated – and controlling his emotions, which had previously got the better of him on more than one occasion.
"In the past, I would get frustrated after a bad shift and I would carry that throughout the rest of the game or the weekend," Globke said. "This year, I'm kind of letting go after each shift and preparing for the next one."
Preparation, Poulin says, has been instrumental in Globke's growth as a player this season. It's something he's reminded of on a daily basis.
"He's even grown in his routine," Poulin said. "He's got his pre-game prep and his practice day prep and his post-practice routines down. He's doing a really nice job of looking after all the little details that make you a better player."
With series against Miami, Ferris State and Michigan on the horizon, Globke must continue his stellar play if the Irish continue to harbor hopes of advancing to the CCHA Super Six and remaining in the mix for an NCAA Tournament berth. Poulin believes Globke is up to the challenge.
"We've seen a lot of good teams this year," Poulin said, "and Rob is as explosive and as capable as anybody I've seen."
SEEN AND HEARD IN THE CCHA

LATE NIGHT AT UAF – When a reporter asked if his team's home series with Michigan – complete with a national television audience courtesy of College Sports Television Friday – ranks among the most important in school history, Alaska-Fairbanks coach Guy Gadowsky concurred with the assessment.
"You're right," Gadowsky stated. "Until next weekend."
Coaches are required by law to publicly avoid hyperbole, so we'll supply the superlatives on Gadowsky's behalf. Outside of the Nanooks' sweep of Ferris State in the first round of the 2002 CCHA playoffs and subsequent appearance at the Super Six in Detroit, this is as big as it gets.
Of course, Gadowsky recognizes this weekend is a little different than usual. And he's happy to have the opportunity to play on national TV. Not only is it great exposure for the UAF program, but it also gives the rest of the country the opportunity to see first-hand how important Nanook hockey is to the community.
"One of the things I'm very proud of is that the TV audience will get to see the kind of fan support we have and the atmosphere in the Carlson Center," Gadowsky said. "We certainly want to show well against the fourth-ranked team in the nation."
Interestingly enough, Gadowsky believes his team is well prepared to deal with the out-of-the-ordinary weekend, thanks to the prolonged logjam in the CCHA standings.
"It's been so tight for so long that I think you're almost used to the pressure of how big these points are and how important the weekend is," Gadowsky explained. "You already have so much pressure on you every weekend."
AND THE WINNER IS... – Last week's look at potential Hobey Baker Award candidates from the CCHA got us thinking. Who, we wondered, are the favorites for the league's Player of the Year and Rookie of the Year honors?
It's a question we posed to a sampling of coaches and media members on the condition of anonymity. A total of eight people took part in our inquiry and the responses, like everything in this league this season, were widely varied and impossible to predict.
Eight people participated in our poll. For Player of the Year, we got six different responses. Leading the way with two votes apiece were Michigan goaltender Al Montoya and Western Michigan forward Dana Lattery.
"With the number of wins and what he's done recently," one coach said, "it's tough not to pick Montoya."
Also receiving mention: Rob Globke of Notre Dame, Michigan State's Jim Slater, Miami's Derek Edwardson and Bowling Green goaltender Jordan Sigalet. Nearly everyone we polled mentioned Sigalet as a top candidate for Player of the Year.
"I shudder to think where Bowling Green would be without [Sigalet]," said one coach, likely echoing the sentiments of many Falcon supporters.
Our participants came forward with six Rookie of the Year honorees. Again, just two players received two votes – Michigan's T.J. Hensick and Notre Dame goaltender David Brown. Others receiving votes were Miami's Matt Christie, A.J. Thelen and Dominic Vicari from Michigan State and Northern Michigan's Darin Olver.
Clearly, front-runners for the league's Player of the Year and Rookie of the Year won't emerge for some time, adding a little spice to the last five weeks of the regular season. Just what CCHA fans need – even more drama down the stretch.
Great Weekend Getaway

Michigan at Alaska-Fairbanks (Fri.-Sat.): We don't expect you to drop a couple grand on a last-minute flight to Fairbanks. Still, the two-game set at the Carlson Center is arguably the biggest series in Nanook history, what with a national TV audience tuning in via CSTV Friday night and UAF making a bid to host a first-round playoff series for the second time in three years. The Wolverines are in the midst of a seven-game winning streak and rarely lose in Fairbanks – they're 11-1-0 all-time there. But UAF is 10-2-0 at home and you can bet the UAF faithful will be revved up for the weekend.

While you're there: First, an apology to the people of Fairbanks. Not long ago, I said that Fairbanks is an outpost, and it is an incredibly long, arduous trip. But once you get there – and your body clock adjusts – it's a good time. Wanna make it even better? Then head to the Pump House, which is arguably the best restaurant in the CCHA. Located a couple miles from downtown, its menu boasts chicken, steak and pasta selections (all of which are excellent), but the fresh seafood and wild game options are terrific. And if you're lucky, you might get a glimpse of the Northern Lights. The odds are in your favor: If you spend three nights in Fairbanks, you've got an 80 percent chance of seeing them.

Stick Salute

So he's not a CCHA guy. Still, how nice was it to see former Wisconsin standout Dany Heatley return to the Atlanta Thrashers' lineup last week? And since we're discussing ex-Badgers, goaltender Mike Richter had his uniform number retired by the New York Rangers at a pre-game ceremony Wednesday. He's the third Blueshirt to have his number in the Madison Square Garden rafters, joining Ed Giacomin and Rod Gilbert.


Bench Minor

Miami's weekend sweep in East Lansing wasn't enough to convince MSU forward David Booth that the RedHawks are for real.

"I don't see how they're a first-place team," Booth said following Saturday's loss. "Michigan's better than them. Once we get going we can beat them."

Perhaps Booth should get his eyes checked. Miami is 13-4-2 since Halloween; the Spartans are 12-10-1 during that same span. Among the RedHawks' 13 wins are three against Michigan State.
FRIES AT THE BOTTOM OF THE BAG

• Don't be surprised to see Michigan State junior Matt Migliaccio get a start or two in goal over the next five weeks. Coach Rick Comley – who asserted that freshman Dominic Vicari was "clearly our number one goalie" following a lackluster effort by Migliaccio against Northern Michigan Jan. 3 – noted that Vicari hasn't been as sharp in the second game of weekend series.

"He's struggled in back-to-back nights," Comley said after Vicari made 29 saves in Saturday's loss. "We might have to look at splitting a little bit more."
• Making your National Hockey League debut in your hometown is an expensive proposition. Just ask former Western Michigan standout Mike Bishai.
The Edmonton native, who was summoned by the Oilers from the team's AHL affiliate in Toronto last week, spent roughly $3,700 to obtain 40 tickets for family members and friends for Thursday's game against Chicago at Rexall Place.
Said an unidentified Oiler teammate when learning of Bishai's largesse: "You're playing [tonight's] game for free."
• More on the homecoming front: Miami freshman Marty Guerin, a Lansing, Mich., native, thrilled a 30-member contingent on hand at Munn Ice Arena to witness his first trip to Michigan State as a RedHawk. The forward, who wasn't recruited by the Spartans, scored a goal and an assist in Friday's 2-1 Miami win and added an empty-net goal in his team's 3-1 victory Saturday.
"I've been looking forward to this since I was still playing junior hockey last season," Guerin told the Lansing State Journal prior to the start of the series. "The last time I skated at Munn was when I was 11 years old."
• Three former CCHA players – well, more like 2.25 – were honored as members of the United States Hockey League's 25th anniversary team earlier this week.
Named to the 14-member squad were former Nebraska-Omaha goaltender Dan Ellis, ex-Ferris State forward Rod Taylor and forward Jason Blake, who started his collegiate career at Ferris State before transferring to North Dakota following his freshman campaign.
The team was announced in conjunction with the USHL's Prospects/All-Star Game, which took place Tuesday in Lincoln, Neb.
• The CCHA contingent participating in the American Hockey League All-Star Game in Grand Rapids, Mich., Monday grew by two, then shrunk by one.
Former Michigan State defenseman Andrew Hutchinson was added to the PlanetUSA roster earlier this week after the Nashville Predators sent him to their AHL affiliate in Milwaukee. Similarly, ex-Ferris State forward Chris Kunitz was named to the Canadian roster after he was sent to Cincinnati by the Mighty Ducks of Anaheim.
Scratched from the PlanetUSA team was blueliner Mike Komisarek. The former Michigan star was summoned from Hamilton of the AHL by the Montreal Canadiens.
• This week's Bowling Green Note is anything but obscure. Junior goaltender and INCH favorite Jordan Sigalet injured his shoulder midway through the first period of the Falcons' 4-3 loss to visiting Ohio State Saturday, forcing coach Scott Paluch to insert sophomore Bob Frazee into the game. Frazee, making his collegiate debut, acquitted himself nobly – he was named the game's third star after making 25 saves on 28 shots.
A variety of sources were utilized in the compilation of this report.

Send this to a friend
About Us | Advertiser Info | Site Map | Privacy Policy
© 2004 Inside College Hockey, Inc., All Rights Reserved