March 3, 2004
Lucia Looks to Put Back Troubles Behind Him
By Jess Myers
Minnesota's Mariucci Arena has one of the more spacious press boxes in college hockey and commands a great view of the ice and of both team benches. Golden Gophers coach Don Lucia might be enjoying that view this weekend, after undergoing a mid-week surgical procedure.
On Tuesday, some of Lucia's cervical vertebrae were fused by doctors at Fairview-University Medical Center's Riverside Campus in Minneapolis. The surgery, performed by spine specialist Dr. Timothy Garvey, was done in hopes of relieving and preventing permanent numbness and weakness in Lucia's right arm and hand.
"It was a lingering problem, and Don thought he might be able to wait until the end of the season, but the problem was getting worse," said Gophers assistant coach Bob Motzko.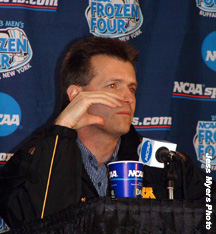 Minnesota's Don Lucia, in Buffalo at last year's Frozen Four.
After discussing his symptoms with Gopher team doctor Robert LaPrade and Dr. Garvey, the decision was made to go forward with the operation sooner rather than later. According to the school, Lucia will be restricted from skating for the next few weeks but is expected to be back coaching the team prior to their weekend series with St. Cloud State, and will likely be in the press box for both games. Motzko, who formerly coached at St. Cloud State, and fellow Gophers assistant Mike Guentzel will handle things on the bench.
"If there's any good time in the season for something like this to happen, the end of the season is best, because it's up to the kids now," said Motzko. "If we're going to play better, it's up to the captains and the seniors to step it up."
After entering February on a 16-2-2 run, Minnesota is 2-4-0 in its last six and needs to sweep the Huskies to ensure home ice in the WCHA playoffs.
SEEN AND HEARD IN THE WCHA
One Way to Break Out of a Slump – Denver star forward Connor James had been in a bit of a scoring slump in February, but the senior broke out of the funk in a big way last weekend. James had three of his team's dozen weekend goals and he added an assist as Denver climbed back into the race for home ice in the WCHA.
But it was James' final goal of the weekend that has folks buzzing. The Pioneers led 5-3 on Saturday with less than 90 seconds remaining when Minnesota coach Don Lucia motioned to goalie Justin Johnson to come to the bench for an extra attacker.
Johnson took off for the Gophers bench just as James got the puck deep in the Denver zone and headed up ice. Johnson saw, a bit too late, that the puck had fallen into enemy hands and began to retreat back to the net. He only made it to about the hash marks before James fired.
But instead of blasting a low shot or trying to deke around the retreating netminder, James launched one of the more bizarre shots we've seen. From the center ice circle, James flipped a pop-fly puck high into the air. Johnson made a desperate flail at the puck with his stick and blocker hand as it sailed overhead, then watched in horror as the puck dropped into the net.
"It was an amazing shot," said Minnesota State Senator and former Pioneers defenseman David Tomassoni, who was watching on TV. "The puck was four feet over the goalie's head, and then it dropped so it was three feet under the crossbar when it crossed the goal line."
It was James' 11th goal of the season, and does not count as an empty-net goal, as Johnson was still on the ice at the time.
Great Weekend Getaway

Minnesota Duluth at Wisconsin (Fri.-Sat.)
In Madison, the series between Wisconsin and Minnesota Duluth will determine second place in the WCHA. (Yes, UMD fans, we know that if the Bulldogs sweep and Michigan Tech wins twice in Grand Forks, UMD would win the MacNaughton Cup outright. If that scenario came to pass, the trophy would likely be handed to the Bulldog captains by James Bond, Happy Gilmore and Andre "Poodle" Lussier. It's that far-fetched.) The Badgers are on a roll (5-0-1 in their last six) while the Bulldogs are licking their wounds after their 14-game unbeaten streak (and their realistic shot at the WCHA title) disappeared last weekend. But the time to build playoff momentum is now, and the place to do so is at the end of Mifflin Street, where 15,000 red seats surround a clean white sheet of ice.

While You're There: Start on Bascom Hill, and walk the length of State Street, all the way to the steps of the Wisconsin State Capitol. Then, after a brief respite, walk all the way back. Along with getting some great exercise, you're guaranteed to see all manner of bustling life and commerce in the heart of one of America's great college towns. And if you get thirsty along the way, it is widely rumored that beer and other spirits are available for sale in the area.

Stick Salute

To North Dakota goalie Jake Brandt. The guys between the pipes were supposed to be the weakest link for the Fighting Sioux, but apparently Brandt didn't get that e-mail. Last weekend he held Minnesota Duluth's formerly high-powered offense (which had been averaging better than five goals per game) to just two goals on 51 shots. Everyone knew the Sioux could win with offense. Apparently, now they can win with defense too.


Bench Minor

To the Bulldog Shop at the DECC. With one of the biggest crowds of the season on hand last Friday, the folks that run UMD's official team merchandise stand closed up shop less than three minutes into the third period, leaving countless fans hoping to buy a Bulldog shirt or hat out of luck. It doesn't take a PhD in business or marketing to know that with 5,000 potential customers on hand, having stuff for sale after the game is a wise move.
PUCKS TO PICK UP AFTER PRACTICE
• Hockey fans in Colorado's largest city have headed home disappointed from a lot of home games this season. Remember how Denver couldn't win at home a month or so ago? The Pioneers have won their last four home games, but started the season with a 0-6-1 mark in WCHA games at Magness Arena. Well, just in time for the NHL playoff push, it appears that the home ice woes have moved a few miles north on I-25. After getting shut out by the Lightning earlier this week and tying Vancouver Wednesday, the Avalanche are 0-4-3-1 in their last eight games at the Pepsi Center.
• Congratulations to 1984 Hobey winner Tom Kurvers for making a return of sorts to the NHL. When the Coyotes made a coaching change last week, the former Minnesota Duluth star defenseman was named an assistant coach on new skipper Rick Bowness' staff in Phoenix. Kurvers, who has been a Coyotes scout for the past six years, played 11 seasons in the NHL with the Canadiens, Canucks, Maple Leafs, Devils, Sabres, Mighty Ducks and Islanders. He won a Stanley Cup in 1986 with Montreal.
• On the final weekend of the WCHA's regular season, Colorado College faces Denver in a home-and-home series, St. Cloud State visits Minnesota for two and Michigan Tech visits North Dakota for two. The first round of the WCHA playoffs could be a virtual repeat if the proper scenario comes to pass. Loyal INCH reader Joe from St. Cloud points out that if the Pioneers, Gophers and Sioux all sweep this weekend, the first round of the playoffs would have CC visiting Denver, St. Cloud State visiting Minnesota and Michigan Tech playing at North Dakota. One wonders if Tech coach Jamie Russell and his charges relish the thought of making that 20-hour round-trip bus ride between Houghton and Grand Forks two weekends in a row.
• In theory, the Fighting Sioux need a win over Michigan Tech this weekend to get their hands on the MacNaughton Cup. In reality, team officials have had possession of the big silver chalice since Sunday. WCHA officials had brought the Cup to Duluth last weekend to have on hand in case Minnesota Duluth swept that weekend series and clinched the title. Instead, North Dakota won twice and moved to the brink of clinching. WCHA commissioner Bruce McLeod was in Duluth last weekend and wasn't interested in paying to have the Cup shipped to Grand Forks (to have on hand this weekend for the Sioux to hoist if they somehow manage to beat Tech once). So McLeod gave North Dakota the crate containing the Cup and had them haul it back west. However, Blais refused to allow the crate on the team bus until the Siuox had won it fair and square, so equpiment manager Mike Shepp put the Cup in the back of his pickup truck and drove it back to Grand Forks himself. They've promised not to open the crate until one of this weekend's games ends with a Sioux victory, which would give North Dakota its fifth WCHA title in the past eight years.
• Alaska Anchorage heads into a season-ending homes series with Alaska Fairbanks on a eight-game losing streak. But there are signs of optimism on the horizon as the Seawolves hope to be a formidable first-round playoff opponent (UAA is likely to visit Wisconsin or Minnesota Duluth in the playoffs). While there was little offense during last weekend's 3-1 and 3-0 losses to the Badgers, the Seawolves held Wisconsin to less than 30 shots on both nights. It was the first time this season that UAA has held a WCHA opponent to 30 shots or less on consecutive nights.
• As (bad) luck would have it, this season's home-and-home series between Minnesota State, Mankato and Nebraska-Omaha features one of the WCHA's worst teams versus one of the CCHA's worst teams. But there's a decent rivalry brewing between these sets of Mavericks, who have closed the last three regular seasons with a home-and-home series. With UNO playing in a large market, in a new building before large crowds, and with Omaha being geographically much closer to Mankato, Denver and Colorado Springs than it is to Marquette, Ann Arbor and Oxford, one wonders how often the WCHA higher-ups ponder the thought of adding an 11th league member.
• Congratulations are due to former Wisconsin star and current Badgers women's hockey coach Mark Johnson on recently being named the 2004 recipient of the Vince Lombardi Award of Excellence. The award is presented annually to a person that the Lombardi Charitable Funds feels "has made a 'Hall of Fame' contribution to a sport, profession, business or community in a manner that exemplifies the highest qualities of leadership, positive influence and an appreciation of God, country, family and self – not only to the sport, profession or business involved – but to the men, women and children whose lives are enhanced by striving to emulate those standards." Past recipients of the award include Hank Aaron, John Wooden, Bart Starr, Don Shula, Jack Nicklaus, General H. Norman Schwarzkopf, Dan Jansen, Bob Hope and President George H.W. Bush.