March 3, 2004
Among the Best Ever
By Nate Ewell
Conventional wisdom tells you that Boston College heads to Orono this weekend with very little to play for beyond ratings percentage index points few of us care to understand and playoff momentum they might not even need.
There's a little bit more at work, however, and it's fitting that the Eagles, on the cusp of the best Hockey East season in a decade, are playing in Maine. It's the 1992-93 Black Bears, after all, who are brought up most often in comparison to Boston College. Oddly enough, that edition of the Black Bears has seemed to be mentioned more this year, in relation to BC, than last year, when they celebrated their 10th anniversary.
Are the Eagles worthy of such lofty comparisons?
"No question," said Maine head coach Tim Whitehead, whose team faces BC this weekend. "They've got elite players at all three positions. They are excellent on special teams, they've got good team speed and real good team defense. There aren't a lot of holes there."
Other coaches tend to agree.
"Boston College is as good of a hockey team as I've seen in a very long time," said Blaise MacDonald – before his UMass Lowell River Hawks were swept by 4-1 and 5-0 scores by BC. "Boston College is a team that the more you watch them on film you see that they put so much pressure on a team, it forces a team to beat itself."
"I think they are just a terrific hockey team," Massachusetts head coach Don Cahoon said. "It's made things really difficult for the rest of the league. New Hampshire beat them last week and Northeastern beat them earlier, but for the most part, they've just had their way with the rest of the league."
In terms of style and makeup, this year's Eagles are much different than the '92-93 Black Bears, a high-flying group that got big contributions from freshmen (the Ferraro brothers and a guy named Kariya). BC's freshmen get their minutes on the fourth line – one of the three sits out each game, on a rotating basis – and, while they have offensive stars, the team's success is rooted in its puck-possession, defense-for-200-feet game.
Best Hockey East Records, All-Time

Maine, 1992-93

22-1-1, .938
BU, 1993-94
21-3-0, .875
Maine, 1991-92
17-2-2, .857
BC, 2003-04
17-2-3, .841
UNH, 1998-99
18-3-3, .813
BC, 1986-87
26-6-0, .813
Maine, 1987-88
20-4-2, .808
BU, 1997-98
18-4-2, .792
Record-wise, the Eagles could end up with the fourth-best season in Hockey East history, and the best since Boston University in 1993-94 – the year after the oft-mentioned Maine team. BC enters the weekend with a .841 winning percentage, which could climb as high as .854 with two wins.
Eagles head coach Jerry York, naturally, sees room for improvement.
"It's so hard to stay at a plateau all year," he said last week. "We're always trying to get better, and you should get better as you practice – that's what the coaches are here for.
"I think each month as I've looked at our team, we've gotten better in a lot of categories. We've still got ways to improve. I'd like to see our special teams get better, our 4-on-4 needs to be better, and our faceoffs could be better."
He'll have a final regular season opportunity to work on those facets this weekend, while wrapping up one of the best seasons this league has seen.
SEEN AND HEARD IN HOCKEY EAST
Dreamy Matchups – Jack Parker doesn't care who he faces in the playoffs – he just wants in. But to fans of the sport in the Boston area, there's certainly some appeal in the possibility of a BC-BU first-round series.
With the league champion and all the home ice spots locked up, we're left with this in the final week of the regular season: learning who plays where. Other than revealing who gets the eighth and final playoff spot – BU or Northeastern – the matchups are all the intrigue that's left. Lucky for us, in addition to the chance of a BC-BU meeting, there are a few other interesting possibilities, led by these two:
UMass Lowell at Massachusetts: If the Minutemen can hold off New Hampshire for the No. 3 spot, they might end up against their Alumni Cup rivals. As the River Hawks remember well, their two-game sweep of UMass in early January seemed to signal a turning point in their season – they were poised to challenge for home ice in the playoffs. Since then, they learned that Paul Falco was ineligible for those games and had to forfeit them, plus three other victories. That news sent the River Hawks into a bit of a tailspin, but they snapped a seven-game winless streak with a 3-2 victory over Maine on Friday. Think they'd be motivated to take on UMass again?
Merrimack at Boston College: Headed into this weekend, the Warriors are one of only two teams in the conference that BC didn't beat twice (UNH is the other, while Maine could make it three). Chances are very slim that Merrimack would fall to eighth, since BU would have to sweep New Hampshire, but it could happen. With ties in their first and third meetings, Merrimack gave the Eagles some trouble, even though they never came out with a win. Not to mention this potential series would be a rematch of last year's first-round series in which Exter was injured.
FRIES AT THE BOTTOM OF THE BAG
Great Weekend Getaway

Northeastern at Massachusetts (Sat.)
There's no question that the best hockey in the league this weekend will take place in Orono, where Boston College visits for two. But those teams aren't playing for their hockey lives. Such is the case for the Huskies, who have been a good but not great team since the start of December (9-7-5). If they win at home Friday, they just might sneak into the playoffs with another win at the Mullins Center.

Maine and BC will play on, and odds are they'll even play each other again in a couple of weeks. But it's worth watching junior Jason Guerriero (10-16—26 in the 21 games since December began) and company now, in case they are done until next October.


Stick Salute

Senior Nights are an important college tradition, but they can be overdone and repetitive at this time of year. BC's tribute of painting the players' numbers on the ice is a nice, unique touch.

Bench Minor

I'm not above serving this one myself, for last week's suggestion that Boston College and Maine could enter this weekend's series with the two longest active winning streaks in the nation. The Black Bears saw their run end Friday, while BC lost Saturday. The longest current unbeaten streaks in Hockey East? Northeastern and Providence, at two games each.
• Northeastern is alive in the race for the eighth spot in the standings, but just barely. The Huskies are two points behind Boston University, and in all likelihood need to pass the Terriers to get in. The first tiebreaker, head-to-head, won't come into play because the teams finished their series 1-1-1. BU currently holds an edge in the second tiebreaker, conference victories, five to three.
In the unlikely event that Northeastern gets two wins this weekend and BU ties twice, the two teams would finish with identical records and go to the third tiebreaker: record against the first-place team. Northeastern would win that one, based on its 1-2-0 mark against BC.
• The turning point of Friday's Providence win over Merrimack was unquestionably the Friars' ability to kill of a five-minute major assessed to Torry Gajda in the first period. Gajda is the team's fifth-leading scorer with 10-10—20, but has been held without a point since Jan. 17 (12 games).
• As the season has progressed, there's a growing sense that Matti Kaltiainen's 1.69 goals-against average and .912 save percentage for Boston College are more than just products of the team's outstanding defense. Instead of "solid" you're hearing words like "exceptional" and "elite;" one coach went so far as to call Kaltiainen a Hockey East Player of the Year contender.
• UMass can finish third with a win in either game against Northeastern this weekend. Regardless, the Minutemen are certain to improve on their previous best finish in Hockey East (sixth in 1998-99 and 2002-03).
• Merrimack has only one game left (Thursday at UMass Lowell), but the Warriors could still finish anywhere from sixth to eighth. Holding on to sixth, where they stand now, could be key, as it would mean avoiding Boston College or Maine in the first round.
• Mike Ayers enters this weekend's home-and-home with BU one win shy of Ty Conklin's New Hampshire record for career wins (57).
• New Hampshire center Nathan Martz, who has missed four games due to injury, is expected back for Thursday night's game at Boston University. His return bumps red-hot Preston Callander back to the wing on the second line. They are joined on the left side by freshman Jacob Micflikier.
• Thomas Pöck and Ryan Whitney both lead their teams in scoring as defensemen, but neither can claim the conference scoring lead among blueliners. That honor belongs to Providence's Stephen Wood, who has 19 points in conference games – one better than Pöck and UNH's Brian Yandle. Wood has been fantastic of late, with 4-6—10 in his last eight games.
• Friday night's win over Maine was a first in a lot of ways for UMass Lowell. It was the River Hawks' first win at Tsongas against Maine and Blaise MacDonald's first win over the Black Bears since he took over at Lowell. Finally, it was UMass Lowell's first win in February, as the River Hawks had gone 0-3-3 to that point.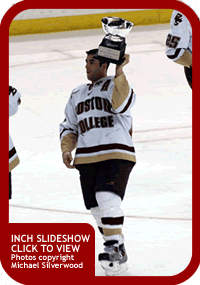 • If you haven't had a chance yet to check out Michael Silverwood's INCH Slideshow from the night Boston College clinched the Hockey East regular season title (at right), I suggest you do so. I can tell you that shot No. 7, of Steve Saviano breaking in on Matti Kaltiainen, makes a great desktop wallpaper.
• Be sure to check out Hockey East's salute to its "Top Fans," released this week. The honorees, who receive two tickets and accommodations at the Hockey East championship weekend, are Pierson Van Raalte, Stephen Sullivan and Michael Raymond Walsh.
• While I said at the beginning of the year that I wouldn't be surprised to see three BC players atop the Hockey East scoring chart, I didn't expect one to by junior Ryan Shannon. Shannon enters the final weekend of play with a three-point edge on five players tied for second, including his teammates Tony Voce and Patrick Eaves. Also within striking distance for the league scoring title, with a big weekend, are New Hampshire's Justin Aikins and Steve Saviano and Maine's Colin Shields.
• Boston University (eight), Northeastern (seven) and Providence (seven) have all set or tied school records for ties in a season. Ten-minute overtimes, anyone?
A variety of sources were utilized in the compilation of this report. Next week's Hockey East Notebook will feature a look at the regular season in review, plus the quarterfinal matchups.