July 3, 2004
Postcard: Welcome Home
Becoming a college coach means a lot of things for Ted Donato, but mostly it means he's home
By Joe Gladziszewski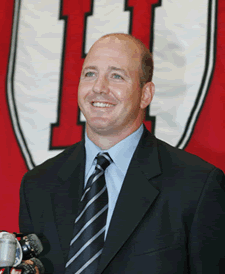 Harvard introduced Ted Donato, who was skating for the Bruins just three months ago, as its new coach Friday.
Mark Mazzoleni left Harvard for the Green Bay Gamblers of the United States Hockey League and based his reasoning on issues such as stability, family life, and loyalty. Many of those same reasons led Ted Donato to succeed Mazzoleni as the head coach at Harvard.
Donato, a 13-year National Hockey League veteran of eight teams, is one of the great players in Harvard's history and a born-and-raised Bostonian. In what he admitted to being the twilight of his NHL career, and with a potential work stoppage looming in the fall, Donato's ears perked up when he heard the news of Mazzoleni's departure.
All of a sudden, Donato saw an opportunity to give himself and his family a permanent home in the Boston area and an association with the university that means so much to him. He's a former captain of the Crimson and was named Most Valuable Player at the 1989 Frozen Four, the year that Harvard won its only national championship.
"In the big picture it was a life decision for me. I don't look at it as a stepping stone. I have a chance to to bring some stability to the lives of my wife and my four children and to stay close to home. I feel very fondly about this place and this program," Donato said.
Born in Dedham, and now residing in Scituate, Mass., Donato's mind never wandered far from Harvard, even as his professional playing career crossed from coast-to-coast. Being able to wrap up his career in a Boston Bruins uniform allowed him to get closer to the program. Donato said that he attended three or four Harvard games last season and watched others on television.
Of course, there is the matter of changing gears from the sometimes glamorous life of the NHL and shifting to the tedium of amateurism. Charter flights to LAX and nationally-televised games are replaced by bus rides to Schenectady, N.Y. and lonely recruiting trips in the Canadian prairies.
"It's a matter of different life challenges for me," he said. "I think the NHL is the end result of amateur hockey and now I've jumped back into the developmental level of hockey."
Donato was able to consult with close friends and colleagues in formulating his decisions regarding NHL retirement and college coaching.
"That's the great part of not being separated from hockey. I was able to speak with people that I respected and trusted," Donato said.
Among them were Bill Cleary, Bruins coach Mike Sullivan, and Dave Poulin — people that have earned Donato's loyalty and respect. Those same things that Donato will look to instill in Harvard's hockey program in the coming seasons.