July 9, 2004
Postcard: Meet the New Boss
By Jess Myers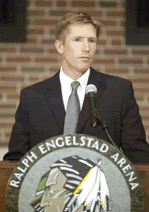 Dave Hakstol is North Dakota's 15th head coach.
The biggest laugh in the press conference introducing Dave Hakstol as the 15th head coach in North Dakota hockey history came when a reporter asked about how Hakstol differed in terms of hockey philosophy from the man he's replacing, Dean Blais.
"Are you asking me if we're still going to pull the goalie with four minutes left every night?" Hakstol asked, as the assembled media erupted in laughter.
The new Sioux boss was referring to the final game of the 2000-01 season, Hakstol's first campaign as Blais' assistant. Students of college hockey history will recall the Sioux trailing Boston College 2-0 in the latter stages of the NCAA championship game in Albany. That's when Blais, displaying what some would call "testicular fortitude," lifted his goalie with more than four minutes to play. Like clockwork, North Dakota tied the game 2-2, and sent it to overtime. For Sioux fans, the story has a sad ending, as the Eagles, who had been unable to score into the empty net, found a way to beat North Dakota goalie Karl Goehring in the extra session, and denied Blais back-to-back NCAA titles.
But the untold story of what happened on the Sioux bench during the final 10 minutes of regulation play that night says much about some philosophical differences between Hakstol and Blais.
"Dean wanted to pull him with eight minutes to go, and we said no," Hakstol said, noting that the head coach was overruled by his assistants. "To this day, Dean swears that if we would've pulled Karl with eight minutes left, we would've tied it and won it in regulation. And he's probably right."
It may be appropriate that North Dakota is currently celebrating 200 years since Lewis & Clark (backed by the best men and equipment available at the time) spent a harsh winter in the state during their trip to find the Pacific. Much like those explorers, Hakstol seeks to guide the good ship Sioux into some seemingly smooth, yet uncharted, waters, but he's got some of the best men and equipment available at his disposal.
"You can either come in when a program needs rebuilding, or come into a situation like Dean left this program, where we've probably got the top-end situation in the country," he told INCH an hour or so after meeting the North Dakota media for the first time as a college head coach.
But before anyone looks at North Dakota's rink and its wealth of talent and views Hakstol as college hockey's spoiled rich kid, a check of his coaching record will reveal a guy who knows a little about rebuilding too. After spending parts of five seasons playing defense in the IHL, his first head coaching opportunity came late in 1996 when he was handed the reins of a USHL team in miserable shape. The Sioux City Musketeers had more players than wins when Hakstol filled the gap behind the bench as an early-season replacement.
"When I got there I think we had 13 players, and legitimately there were five or six of them who belonged in the league," he said. The Musketeers finished 8-43-2 that year. "It was the hardest year of my life, but when it was done, I knew for sure I wanted to coach. Even with the disappointment of that first season, I couldn't wait for the next season to start."
With that in mind, Hakstol notes that fall classes start at UND in a little more than six weeks, and what promises to be one of the more exciting hockey seasons in North Dakota history (what with a MacNaughton Cup to defend, and the World Junior Championships coming to town) is looming large already. In the next four or five weeks, Hakstol hopes to hire an assistant coach, as well as conducting a few hockey camps.
On the ice, despite the early departure of Hobey finalist Zach Parise and the coaching change, the Sioux of 2005 look eerily similar to the Sioux of 2004. The strength of the team once again lies in an offense that seemingly should be able to score at will.
"Offensively we still have a lot of weapons, and on defense and in goal we're a year older and a year more experienced," he said, adding that he's looking forward to a spirited training camp battle between his goaltenders. "(Jake) Brandt had a great year, so I can't go into camp with my eye on just one guy. Jordy (Parise) had a great freshman season and finished strong, and I know he's been working hard over the summer, so I'm excited about what we'll have in goal when we start camp."
As for changes he'll make to put his own stamp on the team, Hakstol said nothing big is in the works just yet. Despite the celebrity status placed on anyone associated with Sioux hockey by the residents of Greater Grand Forks, Hakstol joked that even he is unable to help those who want to see The Antique rebuilt. The dance club and favorite hockey player hangout on the riverfront in East Grand Forks was lost in the 1997 floods that devastated the region.
But Hakstol promises that if he has anything to say about it, there will be no significant changes to the menu or the hours of operation at the legendary Red Pepper.
"That place is an icon here in town, and part of Sioux hockey history," Hakstol said with a laugh. "There are certainly no plans to change that."