January 27, 2004
Postcard: It's a Great Night For Hockey II
With snow falling at a considerable pace and temperatures bottoming out near zero – no, it's not really cold, but people in mid-Michigan think so – could there be better way to wait out the elements than plopping into the "leather" easy chair in the basement, grabbing a bag of pretzels and a beverage and spending four hours watching college pucks on the dish? Didn't think so.
It was Great Night For Hockey II: TiVo Boogaloo, and you couldn't join in on the fun by calling your cable operator. Here are the highs and lows of the evening in chronological order, pertaining mainly to hockey but touching on a handful of other subjects as well.
7:00 p.m. EST – It's on. Tom Caron and Andy Brickley kick off NESN's broadcast of the Maine-Boston University game live from Walter Brown's basement.

7:04 – Twice in the broadcast so far, someone has returned to the Hockey East standings as the conference rankings. There's a difference, people. Figure it out.

7:07 – Frank Doyle is in goal for Maine. Sorry, but the name "Frank Doyle" doesn't come off as real athletic-sounding. It sounds more like the guy you'd call if your furnace was on the blink.

7:09 – If a College Hockey Hall of Fame is ever constructed, the "goalie/sieve" sign from Walter Brown Arena should be a charter inductee. Like the neon Citgo sign beyond the Green Monster, it's something that just has to be there.

7:15 – Maine takes its second penalty of the game. Not good.

7:16 – The Black Bears' Michel Leveille picks BU's Frantisek Skladany – there are two hearty New England names – clean and easily beats Terrier goalie Sean Fields for a short-handed goal and a 1-0 Maine lead. Skladany, sensing coach Jack Parker's ire, skates directly to the locker room.

7:17 – On the same power play, Leveille springs Colin Shields with a nice pass and Shields adds a second shortie. On the same power play. It's 2-0, Maine. Did I mention the Black Bears scored two SHGs on the same power play?

7:22 – Maine takes another penalty. Apparently, the Black Bears want to put this game away early.

7:25 – Here's a novel approach to the power play: When the other team is down a man, try scoring a goal. BU puts this radical theory to use when Dave Van der Gulik gets a goal to make it a 2-1 Maine lead.

7:26 – I loved Dave Van der Gulik on "Dawson's Creek."

7:28 – Just as Brickley says, "This is where you need the goaltender to come up big", Maine's Greg Moore bangs a fat rebound past Fields. Black Bears, 3-1. You can still see Brickley's comment hanging over the ice as the red light flashes.

7:31 – Flipping over to the start of the Michigan-Western Michigan game on Fox Sports Net Detroit, I learn that the Broncos have incorporated yoga into their pre-game routine. In the Michigan locker room, meanwhile, Red Berenson is leading his troops through a spirited set of burpees.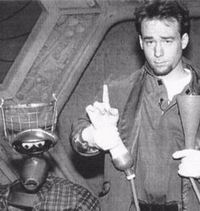 MST3K star Joel Hodgson with sidekick Crow T. Robot...or is it Tim Whitehead with a pre-fab Kariya?
7:32 – Having lost interest in stretching routines, I flip back to the Maine-BU game and get a glimpse of Black Bear coach Tim Whitehead. Whitehead looks like Joel Hodgson from "Mystery Science Theatre 3000", which has me wondering whether he makes sarcastic remarks while watching game films with a couple of robot friends.

7:36 – Back to WMU-UM, where the camera pans to Red Berenson. What does Berenson say to his barber when he needs a haircut? "Hey, Floyd, just put that duct tape on the side of my head and rip, could you?"

7:38 – Western Michigan's Mat Ponto absolutely flattens a Michigan player. Mat? What, was M-A-T-T too cumbersome?

7:43 – Over on NESN, BU's John Laliberte, a Maine native, goes Tim "Dr. Hook" McCracken on the Black Bears' Jon Jankus with his stick blade.

7:45 – Returning to Fox Sports Net Detroit, Michigan goalie Al Montoya goes behind his net to play the puck, but decides to scrap with a WMU skater instead. Meanwhile, play continues, the puck ends up in front of the net and a Bronco shot into the empty net is thwarted by Wolverines' defenseman Eric Werner. For those of you who've seen Montoya on a regular basis, he's a very talented kid, but he's responsible for at least one WTF Moment (figure it out yourself) per game.

7:46 – A Western Michigan player unleashes a blast from between the face-off circles, which play-by-play guy Matt (alternate spelling) Shepard describes as a shot "from the ladies' tees." I throw up in my mouth.

7:51 – The Maine-BU game is between periods. The North Dakota-Minnesota tilt is nine minutes from starting. I'm watching Michigan-Western Michigan.

7:53 – Wolverines-Broncos. Yup. Big game.

7:55 – Uh huh. Michigan. Western Michigan. Yup.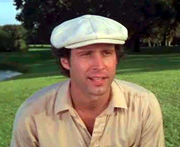 "Don't sell yourself short. You're a tremendous slouch."
7:57 – In describing Michigan captain Andy Burnes, Fox Sports Net Detroit analyst Fred Pletsch says his contributions "are not measured by points." Like Ty Webb in "Caddyshack", Burnes measures himself against other players by height.

8:00 – Time for the Sioux-Gophers on MSC – I know it's Fox Sports Net North, but it'll always be Midwest Sports Channel to me. I can almost smell the bile at Mariucci Arena.

8:03 – The Mariucci Arena camera goes to a shot of the Gopher cheerleaders on the ice, which makes me wonder what happened to the cheerleader that fell off the bar in Buffalo last year. And Angela, for that matter. If someone knows where they are, please alert us. We're very concerned.

8:05 – I flip to the start of the Michigan State-Ohio State game on CSTV, which is just getting underway. The main camera is so high up in Value City Arena, it looks like it's been placed in a blimp.

8:09 – Back on MSC, color commentator Doug Woog is fired up, like he's been taking a Pepsi IV and popping Skittles all day.

8:11 – Quickly back to MSU-OSU, although with the number of empty seats I see, I thought I had mistakenly stumbled across a Blackhawks game at the United Center.

8:12 – Over on the main event (NoDak-Minny), Gopher defenseman Keith Ballard makes three ridiculous moves on the same rush into the Sioux end. His NHL rights were traded to Colorado over the summer. Just what the Avalanche needs…another offensive threat.

8:16 – Zach Parise scores on a rebound to give the Sioux a 1-0 lead. Shortly thereafter, North Dakota residents massed on their side of the Red River and armed with any weapon they can find – shotguns, pitchforks, barbeque tools – charge into northwestern Minnesota.

8:20 – I'm interested in seeing some of the MSU-OSU game, but this camera angle is driving me nuts. Think about it this way: It'd be like watching one of those vibrating electric football games from the top of a 10-foot ladder.

8:24 – Flipped over to the Maine-BU affair. It's 4-2 in favor of the visitors with less than eight minutes left in the second. This new TiVo remote control is killing me. I can't figure out how to program it for easy channel changing.

8:27 – In Minneapolis, Grant Potulny is foiled on a great scoring chance. I love how Frank Mazzocco, the MSC play-by-play guy, can segue from one part of a play to another with a verbal ellipsis (better known as the dot-dot-dots). His call on this particular play: "Here comes Hirsh…ERR-RUHRRR-RUHRRR… POTULNY WITH A CHANCE!"

8:29 – Damn! Maine scored its third SHG of the night and I missed it! 5-2 in favor of the Black Bears.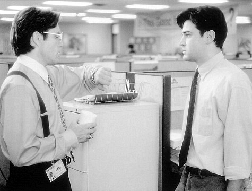 "Umm, yeah, I need you to go in the corner and grind for the puck. I'll be standing over there in the high slot." (Photo courtesy Twentieth Century Fox)
8:34 – I'm not sure, but I think Woog just referred to North Dakota's David Lundbohm as "Lumblum." I'm giddy because I know it's a matter of time before the Wooger calls him "Lumberg." In anticipation of that moment, I start working on TPS report-load PC paper-Swingline stapler jokes.

8:36 – North Dakota goaltender Jake Brandt makes two unbelievable scrambling saves during a Gopher power play. I guess I missed the transaction in the sports agate earlier in the week that read: North Dakota – sold the soul of goaltender Jake Brandt to Satan.

8:39 – After the Sioux take another penalty – leading to a Minnesota two-man advantage – Grant Potulny ties the game on a bingo-bango-bongo passing play. I've never asked, but North Dakota fans must cringe when a guy from their own backyard lights them up.

8:44 – Three games – Maine-BU, NoDak-Minnesota and MSU-OSU – are at period breaks. That leaves Michigan-Western Michigan, which is scoreless midway through the second period. Yay.

8:47 – Western Michigan has a forward named Jeremy Cheyne (pronounced SHANE). When he takes a penalty, wouldn't it be great if Bronco fans yelled "Cheyne, don't go, Cheyne!" like the kid in the movie "Shane"?

8:53 – With about six minutes left in the second period, Michigan is whistled for a penalty, putting Western on the power play. Shepard says the PP could prove to be a momentum swing. Which brings up a question: In order for momentum to swing, doesn't one team have to have momentum? Because no one owns Big Mo in this game.

8:58 – The Maine-BU game is now in the third period, and Brickley mentions Colin Shields has picked up a "three-goal hat trick." As opposed to a two-goal hat trick? Do fans throw visors on the ice for that?

9:00 – Back at Mariucci Arena, referee Derek Shepherd – with help from Goldy Gopher – is working on a patch of bad ice that caused him to send the Sioux and Gophers to their respective locker rooms with about 30 seconds left in the first period. You know, when ice maintenance issues need to be addressed, it's always a plus to have the mascot involved.

There's so much going on and I'm only two hours into the evening. Can this get any better? I certainly hope so, because the conclusion of this diary appears in this spot Thursday. (Check out part two here.)
– Mike Eidelbes