January 28, 2004
Postcard: It's a Great Night For Hockey II
Since this is the second part of the Postcard, it's probably a good idea to recap where we left off in part one. Pretend a smooth-voiced announcer guy is saying, "Previously on 'The O.C.'" Just change "The O.C." to "Great Night for Hockey II."
• Maine was outgunning Boston University on the strength a "three-goal hat trick" by Colin Shields,
• Michigan and Western Michigan were scoreless halfway through the contest (warning: game not nearly as exciting as score would indicate),
• Michigan State and Ohio State were dueling in a game that is being shot from a catwalk, and
• What appeared to be a minor ice problem was holding up the North Dakota-Minnesota tilt.
Now you're up-to-date, so let's move on to part two. Because this is how we do it in the O.C.
9:04 p.m. ET – I'm still tuned in to the North Dakota-Minnesota game, and they're still working on the ice. I think about changing the channel, but this is much more entertaining than Michigan-Western Michigan.
9:08 – My conscience gets the better of me, so I do a quick score check. In Columbus, Michigan State's Jim Slater has scored halfway through the second period to give the Spartans a 2-1 lead over Ohio State. Maine leads BU by a 6-4 count, and Michigan has a 1-0 lead over Western at the end of two. Given the current choices, I stick with NESN to watch a commercial for Foxwoods Casino. Once it's over, I watch my two dogs wrestle for a while.
9:12 – On MSC, the three game officials, Goldy Gopher and a guy with a fire extinguisher are hovering over the problematic patch of ice at Mariucci Arena. In the broadcast booth, Frank Mazzacco and Doug Woog have tracked down former Gopher and Hobey Baker Award winner Brian Bonin for an impromptu interview. In my mind, this is the greatest moment in television history, surpassing the time 15 years ago on "Late Night" when Crispin Glover tried to kick David Letterman in the head.
9:15 – The MSU-OSU game is on, but I'm more interested in the dogs wrestling. Rookey, a two-year-old black lab-boxer mix, is a speed merchant in the mold of Keith Ballard. Lexi, an eight-month-old yellow lab-pit bull mix, is more of a physical presence. Think Andy Schneider. It's an epic battle.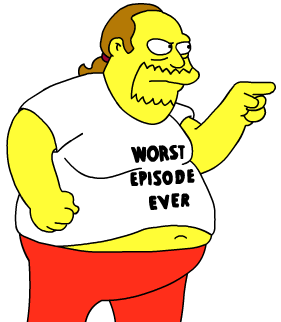 "There's no emoticon for what I'm feeling!"
9:18 – Back on MSC – the game is still delayed – I catch a promo for Wild-Mighty Ducks game that follows the Sioux-Gophers match. It's billed as a rematch of last year's Western Conference final. I'm waiting for Comic Book Guy from "The Simpsons" to pop up from the corner of the screen and shout, "Worst playoff series EVER!"
9:20 – Back to CSTV, where David Booth scores to give the Spartans a 3-1 lead. There's three minutes left in the second period.
9:22 – My wife, star of Great Night for Hockey I, has just returned home from a high school basketball game. I've settled in to the Maine-BU game. After sitting for a few moments, she opines, "I'm not a big fan of Maine, but I like their outfits." Outfits? What is this, Cirque du Soleil?
9:23 – Could there be anything more obtrusive than NESN's graphics? I swear I can barely see the ice behind the text that tells me that Maine drilled BU last year. Why don't they just write the note on a sheet of typing paper and slap it in front of the camera?
9:25 – NESN delivers an image of a shirtless, hairy fan waving a BU flag, much to the delight of those in attendance at Walter Brown Arena. I mean, this guy is so hairy he looks like he's wearing a sweater vest.
9:27 – I'm back to the WMU-Michigan game, where a Bronco defender drills the Wolverines' Eric Nystrom, who topples into Western goaltender Scott Foster. With Foster down on the ice, U-M's Jason Dest fires the puck into an empty net for his first career goal. It's pretty goals like that that make college hockey special.
9:29 – They're still fixing the ice in Minneapolis. By now, the camera has shown every individual in attendance at Mariucci Arena. Mazzacco, Woog and Bonin – who's sporting a five o' clock shadow that makes him look a little like Brett Favre – are singing "99 Bottles of Beer on the Wall."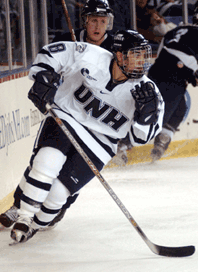 Steve Saviano: We told you so.
9:33 – Back on NESN, Tom Caron reports that New Hampshire crushes Merrimack, 9-1, behind Steve Saviano's four goals and one assist. Memo to all you Saviano haters who pummeled us with e-mails when we named him to our preseason All-American team: This is how we do it in the O.C.
9:35 – BU's James van der Beek – sorry, that's David van der Gulik – flies in from out of nowhere to punch Maine's Jeff Mushulak in the face X-Men style. A transfer from Lake Superior State, Mushulak's experiences with the Lakers caused him to lose all ability to feel pain.
9:39 – Lexi, wrapping up an extended round of play time with Rookey, pees on the basement floor. Yup. This is my life.
9:45 – On MSC, there are rumors that the extended delay may be coming to an end. Mazzacco thanks Bonin for pinch-hitting in the clutch, to which Bonin replies, "30 seconds, 30 minutes…what's the difference?" At first, I thought Bonin was referring to the length of his shifts as a Gopher.
9:46 – Down to rink level at Mariucci, where the offending patch of ice has been covered with one of those huge, industrial doormats. An ice maintenance work removes the mat. It's kind of like an unveiling you'd see on "Extreme Makeover." Somewhere, I believe, Ralph Engelstad is laughing hysterically.
9:53 – After a 70-minute delay, the North Dakota-Minnesota game resumes. Woog notes the Gophers have had four straight power play opportunities, and says the officials won't give the Gophers five extra-man opportunities in a row. If you're a Sioux player and you know this, wouldn't you try to chop somebody's arm off during the next shift?
9:54 – I bet the fans at Mariucci Arena are thrilled that Minnesota's bars now close at 2 a.m.
9:55 – I turn back to Fox Sports Net Detroit to watch the final seconds tick away in Michigan's 4-1 win over Western Michigan. Why do I get the feeling I'm the only person outside of Lawson Ice Arena watching the final minute of this one? When the Nielsen ratings come out, there's going to be my name next to this program instead of a number indicating market share.
9:57 – Flicking over to NoDak-Minny, the Gophers' Thomas Vanek takes a nice feed from Jake Fleming and rifles a shot that Brandt can't handle with his glove and the puck dribbles into the net for a 2-1 Minnesota lead. Shortly thereafter, Dean Blais quietly sneaks into the tunnel to call every team in the USHL in an effort to find a goalie before the third period starts.
10:00 – At Value City Arena, Michigan State maintains its 3-1 lead over Ohio State with five minutes left in regulation. I guess I just forgot about this game. Actually, no, I didn't.
10:04 – The Mariucci Arena manager updates North Dakota-Minnesota viewers on the ice conditions. You'd think they could just put one of those "Caution: Wet Floor" signs near the spot. Or maybe they could sprinkle some of that sawdust elementary school janitors break out when a kid pukes.
10:05 – During breaks in the action, a couple guys come out from the Mariucci Zamboni entrance with squirt bottles in an attempt to keep the ice playable. Woog dubs the group the Squirter Crew. I'm not making this up.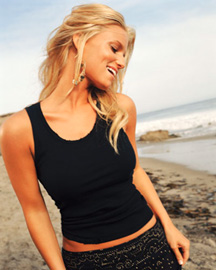 Even Jessica Simpson knows that a patella and a kneecap are the same thing. (photo courtesy of jessicasimpson.com)
10:09 – Another break in play in Minneapolis, during which Mazzacco notes that Boston College's Ben Eaves is out for up to six weeks with an injury.
"He broke his patella?" my wife asks. "No," I say, "he broke his kneecap." Honestly, I didn't know they were the same thing. Hey, it's not like I thought Chicken of the Sea was actually chicken.

10:12 – Woog praises Grant Potulny's effort, saying the Gophers' senior captain has been "visible" the entire night. It's a notable achievement, because many of the other players have been enshrouded in pea-soup fog.
10:15 – Second intermission at Minnesota. Gophers lead 2-1. The Gophers remind me of Daniel LaRusso in "Karate Kid 3" when he gets a free pass to the final of the All-Valley Karate Championship because he won it the previous year. I expect Minnesota to walk into the Fleet Center on April 10 for this very reason. They seem to be immune to The Way of the Fist.
10:16 – Michigan State outlasts Ohio State, 4-2. No, I didn't think you cared.
10:17 – Still between periods at Mariucci, and Don Lucia appears on a commercial pitching some sort of hockey training facility in the Twin Cities. You know that scene in "Major League" when the Indians film the American Express commercial and Roger Dorn – played by Corbin Bernsen – is so stiff he looks as if he's been fitted in a full-body plaster cast and reads like his following a ball as it bounces over the words? That's Lucia.
10:22 – A MSC promo congratulates Wild defenseman Filip Kuba on making the Western Conference All-Star team. When did the NHL All-Star Game change from an exhibition that showcased the league's top talent to one where a guy calls players and asks, "Phil, yeah…hey, we've got a couple hours of ice time on Feb. 8. You want in?"
10:27 – YOU HAVE GOT TO BE KIDDING ME! Because of the delay at Mariucci, DirecTV thinks the Wild-Ducks game should be starting in a few minutes. The screen goes black and I'm told that I'm "not authorized to view this program." This is exactly like that "Heidi" game, but the black screen is more palatable than a stupid film about some girl in the mountains.
10:29 – I'm on the phone in an attempt to reach someone at DirecTV. Unfortunately, all the entertainment counselors are busy. What exactly is an entertainment counselor? If your viewing habits are questionable, do they come over to your house for an intervention? "Sir, you've been watching too much 'According to Jim' lately. Why don't we try some 'Inside the Actors Studio?'"
10:31 – The MSC broadcast returns just as the third period is about to start. Meanwhile, I'm thinking about how great an "Inside the Actors Studio" episode featuring Will Ferrell would be.
10:38 – Here's why the Gophers will get back to the Frozen Four for a third consecutive season:
• Their depth is their strength. Sure, there's a drop-off from the top two lines to the third and fourth lines, but everyone is a contributor. And there's a nice balance of grace and grit.
• One of their best players – Keith Ballard – is playing at the top of his game. And another – Thomas Vanek – may just be inclined to turn the motor on for more than three shifts sometime in the near future.
• Kellen Briggs has emerged as a capable goaltender. Remember, this is a team that won a national title with Adam Hauser.
• Lucia won't let 'em.
10:41 – Brandon Bochenski scores on the power play for North Dakota as he beats Briggs short side to tie the score at two. Did I really say the Gophs are heading to Boston?
10:44 – North Dakota's Colby Genoway is whistled for a slash, putting Minnesota on the power play. Somehow, the officials missed the Gophers' Jake Taylor – "We've got uniforms and everything" – trying to lodge the blade of his stick into Bochenski's breadbasket.
10:45 – Woog notes that North Dakota goalie Jake Brandt has a little Sinuhe Wallinheimo in him, referring to the demonstrative Denver goaltender of the mid-90s who was a fan favorite at Mariucci Arena. "I know you think these guys are crazy," Mazzacco says to Woog, "but I like them." Gopher fans, however, aren't taking a shining to Brandt.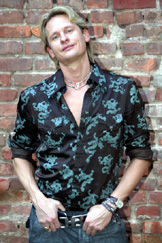 Beanpot ratings would soar if Jerry York dressed like this. (photo courtesy Bravo.com)
10:48 – Shortly after MSC cuts to a bench shot of Lucia, my wife states, "He still has bad hair." That gets me thinking about which college hockey coaches would be great to watch on "Queer Eye for the Straight Guy," which then leads to this question: How much money would you pay to see Red Berenson work with Carson Kressley on overhauling his wardrobe? Or Jack Parker? Or Frank Anzalone? I'm thinking seven figures, easy. Put that on right after the Will Ferrell thing and you might as well watch a test pattern every night from there on out, because you'll find nothing better. Ever.
10:50 – I return from TV Fantasy Land in time to see North Dakota's Chris Porter fire a shot from just inside the blue line through a screen and past Briggs to give the Sioux a 3-2 lead. It's a power play goal that occurred, unfortunately, with college hockey's Everyman, Minnesota's Jon Waibel, in the penalty box.
10:53 – There's a chance this game could end before the 11 p.m. offering of "The Simpsons."
10:58 – Every time one of the two goalies freezes the puck, the ensuing pile-up of bodies around the net resembles the climactic police car chase scene in "The Blues Brothers."
11:01 – One of the assistant referees calls a penalty on North Dakota's Matt Greene. This should provide plenty of fuel for Sioux fans, who are to conspiracy theories what Southeast Asia is to highly contagious, animal-borne diseases.
11:03 – As the game winds down, I've got to give North Dakota credit. They've done a terrific job of keeping Minnesota under wraps – especially in the third period – by clogging both the passing and shooting lanes, and generally frustrating the Gophers.
11:04 – It's late in the third period, and Minnesota calls a timeout. MSC cameras catch Lucia as he draws up a face-off play, which looks a lot like the picket fence play from "Hoosiers." If only the Gophers had Shooter to tell them not to get caught watching the paint dry.
11:06 – North Dakota's Mike Prpich salts the game away with an empty-net goal with one minute left in regulation. Down on the other end of the ice, Brandt is celebrating as if he'd just won $200 playing pull tabs. Woog says Brandt is acting like "the king of the teepee." Ironically, that's the same honor given to the first star as selected by the assembled media in games played at Ralph Engelstad Arena.
11:08 – It's over. Four games in four hours and change. My eyes momentarily roll into the back of my head. I snap out of my trance and regain my bearings. After all, there are two more games to watch tomorrow night.
– Mike Eidelbes