July 7, 2003
Postcard: Catching Up With Jim Howard
By Joe Gladziszewski
The last 10 months in the life of Maine goaltender Jim Howard have seen him experience highs and lows ranging from his red-hot start at Maine to being relegated to back-up duty for the United States at the World Junior Championship, and eventually ending with an upset loss in the Hockey East quarterfinals and first-round elimination in the NCAA Tournament.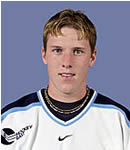 Howard was Inside College Hockey's Rookie of the Year in Hockey East and earned a spot on the conference's All-Rookie Team. Then, there were scouting combines, workouts, and interviews in advance of the NHL Entry Draft, which saw Howard selected in the second round by the Detroit Red Wings with the 64th overall pick.
Finally, things are settling down into a more relaxing summer, and Inside College Hockey caught up with the sophomore-to-be as he's back in Orono working the university's hockey schools which continue through the month of July.
Hello (again) Hockeytown
Jim Howard was raised in upstate New York as a Rangers fan, but was quite aware of the Red Wings' prestigious history – one that includes 10 Stanley Cups. He was able to fully appreciate the loyal hockey fan base in the Motor City after he moved to Ann Arbor during his stint in the U.S. National Team Development Program.
"I was thrilled when I heard my name announced across the loudspeakers being drafted by Detroit. The team is just unbelievable. Year-in and year-out they're contending for the Stanley Cup," Howard said.
"My billet family that I lived with in Ann Arbor had (Red Wings) season tickets and I got to go to a couple of games there. Seeing that fan support is just tremendous."
After his name was called Howard met with the Red Wings brass, who set a plan in place for his future, which includes good news for Maine fans.
"I got to speak with the whole organization basically, (general manager) Ken Holland, coach (Dave) Lewis, and Scotty Bowman," Howard said. The message from the Red Wings higher-ups was very clear. They would like for him to develop over the next several years, and they think that college hockey is the right place for that to happen.
"I'm going to stay in school for the next three years, and just develop as a player and a person. I can work on my game, get better, and there's no rush from their standpoint."
His selection by the Red Wings was a change in pattern for that organization. In recent drafts, the Wings have hardly even considered a goaltender with a high draft choice and have also made a habit of selecting European players. This marked the first time in franchise history that the Red Wings selected an American-born player with their first pick.
Assistant general manager Jim Nill said at the draft, "He plays big in net. He's not really a flopper and we like his experience. He played at the Under-18's in Europe and the NCAAs...we like the fact that he's got a lot of experience."
Maine musings
It was an up-and-down season for Howard, who stormed out of the gates with a torrid first half of the season. His first loss didn't come until February. Eventually, things turned sour for Howard and the rest of the Black Bears, who narrowly missed a Hockey East regular-season title before suffering an upset in the conference tournament quarterfinals and a first-round defeat in the NCAA Tournament.
Down the stretch, coach Tim Whitehead opted for junior goalie Frank Doyle ahead of the rookie phenom, but that didn't strain relationships between the netminders.
"He's such a great guy, and fantastic to share time with," Howard said. "He and I push each other in practices and games, and can help each other out when things aren't going well. When one of us is down, we can always get a laugh out of each other."
Doyle and Howard return as bright spots on a Maine team that was devastated by losing key veterans in the lineup. Departed seniors from last year's roster include forwards Robert Liscak, Lucas Lawson, Martin Kariya, Gray Shaneberger and Chris Heisten, and defensemen Cliff Loya and Tom Reimann. Also, First Team All-Hockey East defenseman Francis Nault has been ruled ineligible for the upcoming season, meaning that Maine's top five scorers from last season won't be on the ice for the Black Bears this fall.
"We're going to be a young team, but I think we're going to surprise a lot of people as a hard-working team that doesn't take anything for granted. We'll set goals for ourselves and do whatever it takes to achieve them," Howard said.
Before his sophomore campaign in Orono officially kicks off, Howard is looking forward to the U.S. National Team's evaluation camp from August 3-10 in Lake Placid, N.Y. It will give the Ogdensburg, N.Y., native a chance to return to the North Country and get in some top-notch summertime preparation as the two U.S. squads will play exhibition games with under-20 teams from Finland and Sweden.
Other goaltenders invited to camp are Michigan's Al Montoya, Michigan State freshman-to-be Dominic Vicari, and OHLer Mike Brown. Howard is one of 11 players on last year's World Junior roster among the 43 invites to the camp.