March 22, 2008
ECAC Hockey Finals
Can't Hold These Tigers
Princeton bests Harvard, heads to NCAAs for first time since 1998
By Joe Gladziszewski and Ken McMillan
Princeton 4, Harvard 1

Team
Goal
Str
Time
Assists
First Period
1-P
Mike Moore (7)
EV
5:04
B. Kushniruk, K. Hagel

Second Period

2-P
L. Stankievech (7)
EV
12:34
M. Moore
Third Period
1-HU
Jon Pelle (14)
PP
0:24
M. Taylor, A. Biega
3-P
Brett Wilson (15)
PP
16:54
C. MacIntyre
4-P
Mark Magnowski (8)
EN
18:22
unassisted
Goaltending
HU: Kyle Richter, 57:31, 24 saves, 3 GA, 1 ENG
P: Zane Kalemba, 60:00, 35 saves, 1 GA
Penalties: HU 4/8; P 3/6
Power Plays: HU 1-4; P 1-3
Attendance: 4,851

All-Tournament Team

G: Zane Kalemba, Princeton (MOP)
D: Alex Biega, Harvard
D: Mike Moore, Princeton
F: Jon Pelle, Harvard
F: Kevin Lohry, Princeton
F: Michael Kennedy, Cornell
ALBANY, N.Y. — The Princeton Tigers came to Albany as the highest remaining seed and won two games to claim the 2008 ECAC Hockey Championship with a 4-1 win over Harvard.
Suprising? Probably not based strictly on this weekend, but definitely if you consider that the team was picked eighth in the coaches and media preseason polls.
Whether you consider the outcome a surprise or not, the way that Princeton won the title certainly opened eyes. Zane Kalemba was outstanding in net and a group of unusual suspects provided the offense all weekend long.
Princeton's Lee Jubinville, a junior who was recently named ECAC Hockey Player of the Year, Ivy League Player of the Year, and a Hobey Baker Award finalist had no points in two games for the Tigers.
Freshman Kevin Lohry was the lone Princeton forward to be named to the All-Tournament team. He and players like Landis Stankievech, Matt Arhontas, and Mark Magnowski were difference makers for the Tigers. Perceptions that Princeton was a top-heavy lineup that relied exclusively on the contributions from Jubinville, Cam MacIntyre, and Brett Wilson have been put to rest.
"I think it's unfair. We got pegged as that at the start of the season but we came around in the last few months and showed that we've got four lines that can fly with a ton of speed and we play an up-tempo game. We have four lines that can contribute," Jubinville said.
"It's obviously huge. Guys stepped up. Matt Arhontas, Lohry again two yesterday. To see freshmen step up like that is obviously huge for the program. We get four lines rolling, the D rolling and obviously Zane was outstanding."
Lohry had two goals in Friday's semifinal win and knew that a quiet weekend from Princeton's leading scorers doesn't diminish what they have meant all season long. Instead, it's a compliment to the team's composition.
"Obviously they've been a very vital part in where we are right now, but we've got a bunch of guys in the locker room who know their role and know when they need to step up," Lohry said. "I think everyone wanted it just as equally as the top line did. Everyone did their part and we got some key goals in key situations."
Twelve of the Tigers' 19 players in Saturday's win are either freshmen (5) or sophomores (7). The leadership comes from the top and has all season long, but the success this weekend and in the future can be found on the lower portions of the line chart.
CAN'T CONTAIN ZANE
Playing for a league championship and NCAA tourney berth should have been plenty of motivation for Princeton goalie Zane Kalemba. Yet, just knowing he was going to be doing battle with ECAC goalie of the year Kyle Richter of Harvard raised the stakes a bit.
"Before the game I kind of wanted to prove myself and prove as a team that we're the best team in the league," Kalemba said.
Kalemba did just that, stopping 35 of 36 shots and leading Princeton to its first ECAC Hockey title since 1998 with a 4-1 triumph over the Crimson before 4,851 fans at the Times Union Center on Saturday night. Kalemba was voted the most outstanding player of the tournament.
"I had a couple breaks go my way and a couple bounces that maybe a couple weeks ago I think might have gone in," Kalemba said. "For some reason, I was able to react quicker. The pucks just seem to hit me."
"I am not surprised we won the ECAC," he added. "Hopefully we got a couple more wins in us."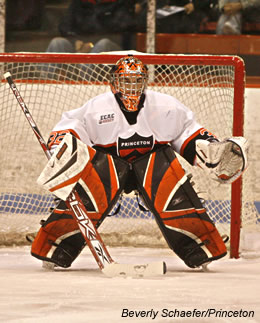 Princeton's Zane Kalemba set an ECAC Hockey postseason record with a shutout streak of 189:59.
Kalemba said the key to the win was he was able to make a couple stops on power-play shots he did not see clearly in the first period. "If they would have scored there, it would have been a different game," he said. Kalemba also stopped a couple tricky shots in the second period on plays where he thought Harvard would pass the puck but shot instead.
Kalemba put up strong numbers all season and only got better in the postseason. His goals against is 1.01 and his save percentage is .967. Both stats are tops in the nation among all playoff goaltenders.
Just about the only thing he did wrong on Saturday night was allowing a power-play goal, off a beautiful circle-to-circle passing play at 24 seconds of the third period. That goal snapped his ECAC Hockey tourney record scoreless streak at 189 minutes, 59 seconds.
Kalemba held Yale scoreless for the final 29:42 of a 4-3 loss to Yale on March 15. He then blanked Yale 4-0 in game three of the quarterfinal series and shut out Colgate 3-0 in Friday's semifinals.
"He is not the biggest guy in the world but he really works hard," said Pelle, who was stopped on seven other shot attempts. "He is tough to beat. He battles and never gives up on rebounds. I saw the Colgate (semifinal) game and he made unbelievable saves that turned that game around. The same can be said for his performance tonight. I give him a lot of credit. He was definitely worthy of the MVP award."
Princeton coach Guy Gadowsky has been singing the praises of his sophomore netminder from Saddle Brook, N.J., for weeks, but even he was taken aback by Kalemba's recent efforts.
"I have never seen a performance like that," Gadowsky said. "That is the best goaltending performance that I've had the privilege to be a part of. He is phenomenal (but not one of our guys) is surprised at what he can do, especially in high-pressure situations. It just doesn't get to him. I don't know how but he's been doing it all year."
For the season, Kalemba has a 19-10 record, 2.36 goals against, .918 save percentage and five shutouts. Richter has better numbers (2.19, .923) but it's Kalemba who's moving on to the NCAAs.
SEEN AN HEARD AT THE TIMES UNION CENTER
Cornell 4, Colgate 2

For more on the Cornell-Colgate game, see Ken McMillan's Postcard about the Saturday senior sendoff in Albany.
Team
Goal
Str
Time
Assists
First Period
1-COR
Doug Krantz (4)
EV
13:45
M. Kennedy
1-CLG
Sean Carty (1)
EV
16:04
M. Werner

Second Period

2-COR
Ray Sawada (10)
PP
7:31
M. Devin, M. Kennedy
3-COR
Justin Krueger (4)
PP
8:57
T. Scott, M. Kennedy
Third Period
1-COR
Colin Greening (14)
PP
3:16
B. Nash, R. Nash
2-CLG
Tyler Burton (23)
EV
18:35
B. Camper
Goaltending
CLG: Mark Dekanich, 33:19, 12 saves, 3 GA
Justin Kowalkoski, 26:31, 8 saves, 1 GA
COR: Ben Scrivens, 56:49, 22 saves, 1 GA
Dan DiLeo, 3:11, 3 saves, 1 GA
Penalties: CLG 9/26; COR 9/26
Power Plays: CLG 0-6; COR 3-6
• With 6:31 left in the first period, Crimson goalie Kyle Richter made a save on a low shot, but appeared uncertain of if or where the puck was trapped under his pads. Princeton forward Lee Jubinville was stationed right in front of Richter, and as Richter got up from his kneeling position the officials blew the play dead, just before Jubinville poked the puck into the net.
• Immediately following the final buzzer of the championship game, the Princeton band played a few measures of "We Are The Champions."
• Carpets and a table with the championship trophy were quickly set up in the center ice circle following the championship game, forcing the handshake line to be rerouted through the neutral zone near the boards.
• Peter Feola was given the referee assignment for Saturday night's championship game and did well to let the players compete hard all night long. More penalties could've been called both ways, but it balanced out. A late interference call against Harvard's Alex Biega gave Princeton a power play that it cashed in for a 3-1 lead.
• Even though Colgate lost both of its games this weekend, Saturday marked a special day for little-used sophomore forward Sean Carty. Carty played in his fifth game of the season and just the 16th of his career. He scored for the Raiders at 16:04 of the first period on an assist from Mike Werner. Carty redirected Werner's pass past Ben Scrivens. During the celebration, defenseman Kevin McNamara fetched the puck out of the Cornell net and carried it to the Raider bench. Carty went home with the puck.
• It's illegal to switch goalies during a shift in NHL play but not in the college game. Colgate coach Don Vaughan pulled senior Mark Dekanich after 33 minutes, 19 seconds, in favor of junior Justin Kowalkoski, but Vaughan wanted his all-star netminder on the ice for the final horn. So when he called for his backup to head for the bench in the closing moments. Kowalkoski thought he was coming off for a sixth attacker, with the Raiders down a pair. Kowalkoski was certainly taken aback when Dekanich hopped over the boards instead of a skater.
"When he saw Mark coming over the boards, they high-fived each other and said, 'Great change,'" Vaughan said. "It was something we thought we would have fun with to get Mark back in net."
INCH's Three Stars of the Night
3. Cornell and Colgate seniors
They ended their careers on the ice, and completed great four-year careers at their respective institutions.
2. Mike Moore, Princeton
Led his team in all areas and scored the game's opening goal to get Princeton started in the right direction.
1. Zane Kalemba, Princeton
Tournament's Most Outstanding Player made big saves all weekend long and finished with 62 saves and one goal allowed over the last two days.
• Cornell's last three goals all came on the power play. Ray Sawada scored the first on a tip-in that went over the shoulder of Mark Dekanich. Justin Krueger scored the second with a blast on a one timer into the top corner of the net and Colin Greening tipped in Cornell's third PPG on a shot by Brendon Nash. It was the third time this season that Cornell scored three power-play goals in a game.
It was the 11th time this season that Cornell has scored two or more PPGs and they were 8-2-1 when doing so.
• A baseball-type swing at an airborne puck by Harvard's Pier-Olivier Michaud with four minutes left in the third period went just wide of the left post and would've been a spectacular game-tying goal.
• Colgate forward Jesse Winchester missed Saturday's consolation game due to injury, but was invited to be on the bench with the Raider coaching staff. He was there for the first period and provided positive support for his teammates.
• The Albany Times Union newspaper printed color signs for fans of all four participating teams that added to the festivities and also made useful autograph cards for fans seeking a few signatures.
PLUSSES AND MINUSES

Princeton's Mike Moore is a first team All-ECAC Hockey and All-Ivy League defenseman and also earns praise from Inside College Hockey for being a great person. Late in the second period of Saturday night's championship game a puck sailed out of play and landed in the Princeton bench near Moore's skates. He picked up the puck, turned and looked over his shoulder into the crowd, and tossed the puck to a young fan.

Television coverage of the tournament was as good as it's been in a long time and exposure was even greater as the NHL Network picked up the feed of the games, which were produced locally by Time Warner Sports.

Princeton, Colgate, and Cornell pep bands were on hand throughout the weekend at the Times Union Arena but Harvard was not represented, thus depriving the spectators of "Ten Thousand Men," one of the great fight songs in college sports.

We understand that it's not easy when teams' seasons come to an end and there are appropriate things that should be said in the privacy of the dressing rooms between players and coaches. That said, the time between the end of both games on Saturday and when players and coaches were made available to the media was far too long.
WHAT'S NEXT
Judging by phone conversations overheard outside the locker room involving Princeton players and congratulatory well-wishers, speculation started early on where the Tigers may play in next weekend's NCAA Tournament and against whom. "Obviously we're thinking about [the NCAA Tournament] but we'll get on the bus tonight and enjoy this and tomorrow we'll get back to work," Jubinville said.
Harvard coach Ted Donato summed up the achievements of this senior class and what the future holds.
"For me, personally, this group will always have a special importance as the first class that I've had, going from freshmen to seniors. A group that played in three ECAC championship games, won an ECAC championship, won an Ivy title, won a Beanpot game and got us to the final. I hope we look back at this group and really appreciate really getting the program headed back to where we want to be, year in and year out. I told the guys after the game, being a Harvard hockey player, being an old guy looking back, isn't about goals and assists and even wins and losses, it's about choosing to be a certain type of person. Having said that, I couldn't be prouder or have more respect for the type of people that our seniors were this season and really the example they set for future Harvard hockey players."