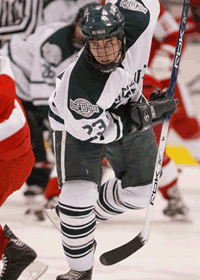 Jones, who averaged over a point per game last season (34 in 33 GP), is among the ECACHL's top 10 returning scorers.
---
Key Statistics: Jones was second on the Big Green in scoring with 17 goals and 17 assists for 34 points. He averaged better than a point per game on the year and trailed only All-America teammate Mike Ouellette.
What He Does: He is a versatile forward that can beat an opponent in many ways. He's a great skater and playmaker with size, strength, and a finisher's touch. Give him too much space and he'll burn you from the outside. Play him close and he'll run you over on the way to the net. Oh, by the way, Jones also kills penalties and will serve as an assistant captain this year.
The Bigger Picture: Two years ago, INCH A-Z profiled Ouellette, who emerged from the shadow cast by Lee Stempniak and Hugh Jessiman to leave his own mark on the Dartmouth program. Following Ouellette's graduation, Jones has the same opportunity. The best part of it is that he won't have to do it alone, as he's surrounded by several talented offensive players who are NHL draft picks.
Dartmouth assistant coach Dave Peters on Jones: "He was a big-time player for us last year and established himself as one of the top offensive players. He is considered one of the best forwards by a lot of people around the league."
— Joe Gladziszewski