The Dean's List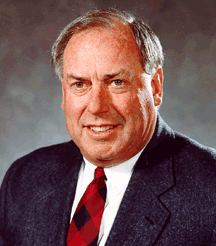 Jeff Sauer – the sixth-winningest coach in college history – writes a bi-weekly column for Inside College Hockey.com. "The Dean" was the head coach for 31 years at Colorado College and Wisconsin, where he won two national titles. Sauer retired at the end of the 2001-02 season. He was the 2003 Snooks Kelley Award winner for contributions to U.S. hockey and ranked 16th on INCH's list of the all-time greatest college hockey coaches.
For your listening pleasure, find The Bud Song on Wisconsin's official site.
thedean@insidecollegehockey.com
Part of the fun in doing this column is the opportunity to interact with you, the hockey fan. Please send your questions or comments to thedean@insidecollegehockey.com.
October 25, 2003
The Dean's List by Jeff Sauer
Growing up in St. Paul, I used to read Don Riley, a Pioneer Press columnist who regularly devoted a segment periodically to "Readers always write." I think he used a bit of poetic license to spice up some of the letters he received and then comment on.
As a coach I used to always get letters too. Now that I've done this for a year I have found columnists get notes as well.
Like the letters a coach gets, I notice some mail for columnists is unsigned. Most have been quite nice, however.
As a coach much of your mail has to do with suggestions or coaching tips on how to make the team better. Fans are not shy about that. Others are from recruits or their moms telling you how their hockey-playing sons are good at cleaning their rooms or washing their clothes when they aren't scoring goals or stopping the puck.
Mail to coaches has changed as technology changed. Now e-mails are more prevalent as well as videos. Moms and dads will send coaches tapes of recruits. Part of the problem is that these recruiting tapes often show Junior Player taking water breaks or sitting in the penalty box as much as passing, setting up goals or scoring. It's tough to judge the flow of the game.
So getting correspondence is definitely part of a coach's responsibility. So too, I have learned, is it a part of a columnist's job . Here's some recent mail from our loyal readers:
Coach,
Any tips on choosing a college if you are one of those cusp players: top line D3 or 3rd line D1?
Thanks,
Dan Bergran
This is a really good question. And the answer differs for each individual. Each player has to decide which is the best situation for them based on what type of education they want to receive in addition to what type of experience in hockey they wish to have.
If a player wants to go to a Division I school, he or she has to realize the commitment to travel, off-season training and the other factors that go into Division I hockey. If he wants to attend a Division III school, the chances of playing in the National Hockey League are slim.
So it comes down to if you have always aspired to play a limited role at a Division I school, after you have weighed all the pros and cons of the school from an academic and lifestyle standpoint, go for it. The competition is going to better, the ice time less.
If your life goal doesn't include the NHL and you like the school academically, D-III may be a better option. You are going to play more and probably have more success.
Hopefully whatever decision you make, you will have a good experience and get your degree.
The column a few weeks back on old coaching greats jogged some memories and provoked some responses:
Dear Mr. Sauer,
I enjoyed your column on some of the greatest college hockey coaches of all-time very much. However, when you mentioned "Pioneers" of the profession, I believe you left one very important name off your list.
Jack Riley, former coach at Army for 36 years (1951-86), elevated the status of college hockey and contributed to its growing popularity just as much as his peers whom you mentioned in your article. Eighteen years after his retirement, he still stands ninth on the all-time wins list. When he retired, Riley was second all-time.
Though the fact is often overshadowed by Team USA's "Miracle on Ice" in 1980, Riley guided a bunch of college kids who were just as much an underdog to the gold medal at the 1960 Olympic Games.
Riley holds membership in both the U.S. Hockey Hall of Fame and the International Hockey Hall of Fame and is a former Lester Patrick Award winner.
I realize that somebody is always overlooked or left off lists such as the one you constructed. However, I just wanted to remind the college hockey fanbase of a very deserving candidate.
James Zuhlke
Asst. Media Relations Dir.
U.S. Military Academy
West Point, N.Y
The column about hockey coaches you've coached against and have known was super. I'm a big Amo Bessone fan, one of my favorites of all time. He helped me when I was beginning my newspaper career. You mentioned Amo inviting you over for spaghetti after a game – typical Amo.
Once at a Monday press conference, I got there early, and Amo was gushing about a new crepe recipe he found. He wanted to know if I liked crepes; this rough, gruff hockey coach talking crepes. What a guy.
Another time, I went to a Blueline lunch and Amo made sure to introduce me to some guy named Herb Brooks. Amo warned me about playing Minnesota, how tough they were, how big, how fast.
In 1976, I think it was, Minnesota and Michigan State played a game to determine who went to the Final Four in Denver. MSU was losing, 6-2, in the second period, but tied it. Minnesota finally won in the 3rd overtime. I'll never forget the look on Amo's face when I found him in his office after the game.
It was his last legitimate shot at a national title That was the very best game, in any sport, I've ever covered or watched – so draining I couldn't study for my finals ...
Thanks for your personal touch about these very special coaches and teachers ...
Sincerely,
Ed Ronders
Flint. Mich.
I am glad people enjoyed that column and ceratinly I didn't mean to overlook anyone. Jack Riley was one of the pioneers of the game. His credentials speak for themselves.
I remember as a young coach attending one of my first Final Fours in Boston. Coaches had their annual meetings at the tournament in those days. I remember it was the Parker House in Boston and there was Coach Riley with Jack Kelly of BU and Snooks Kelley of BC, Ned Harkness and all the guys like Amo from the West. It made an impression on a young coach like me.
Those pioneers of the game paved the way so that college hockey could be the great game it is today.