The Dean's List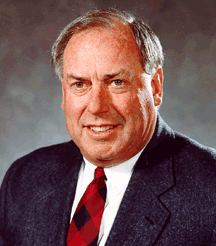 Jeff Sauer – the sixth-winningest coach in college history – writes a bi-weekly column for Inside College Hockey.com. "The Dean" was the head coach for 31 years at Colorado College and Wisconsin, where he won two national titles. Sauer retired at the end of the 2001-02 season. He was the 2003 Snooks Kelley Award winner for contributions to U.S. hockey and ranked 16th on INCH's list of the all-time greatest college hockey coaches.
For your listening pleasure, find The Bud Song on Wisconsin's official site.
thedean@insidecollegehockey.com
Part of the fun in doing this column is the opportunity to interact with you, the hockey fan. Please send your questions or comments to thedean@insidecollegehockey.com.
January 27, 2004
The Dean's List by Jeff Sauer
Whenever the National Hockey League's Central Scouting Service releases its mid-season rankings of the top players eligible for the NHL Entry Draft, it makes for good readings for fans, coaches and players alike.
This year's list, which INCH published Jan. 14, also show a trend that is a little scary. Let me explain.
First a little background: The rankings list North American and European players separately, as well as separating goalies from forwards and defensemen. Michigan's Al Montoya is the top-rated North American goaltender, while North Dakota forward Drew Stafford, at No. 9, leads all college players on the North American skaters list. Alexander Ovechkin of Moscow Dynamo is rated the top European player.
College players make up six of the top 29 players on the North American skaters list, which ranks 240 skaters and 40 goalies, all playing in the U.S. and Canada. In addition to college players, the list features draft-eligible major junior players, as well as a number of college-bound high school, prep and junior players.
Eight of the 18 collegians in the rankings, including each of the top four, were born after Sept. 15, 1985, meaning that they would have to "opt-in" to next summer's draft in order to be selected. Players who have already enrolled in school forfeit their NCAA eligibility if they opt in to the draft (college-bound junior players, on the other hand, can opt in and retain their eligibility).
And that is the trend that reflects how many things about our game are accelerating. Players commit to college earlier than ever. And now to get drafted earlier, they have to make a decision to opt-in to the draft and give up their college eligibility.
To Opt or Not?
A number of current college freshmen – most prominently Drew Stafford, A.J. Thelen, Wes O'Neill and Adam Pineault – will be forced to decide this spring whether or not to opt-in to the 2004 NHL Entry Draft.
Past history proves that each individual case can lead to different results. Rick DiPietro opted in to the 2000 draft and was the No. 1 overallpick. But just last year, Michigan's Al Montoya chose to stay in school, and he's seen his draft stock rise. He's the top-rated North American goaltender in the Central Scouting Mid-Term Rankings.
This isn't anything new. Rick DiPietro did it a few years ago. He gave up his eligibility at Boston University and the New York Islanders drafted him No. 1. The top four kids in this year's draft will be faced with the same decision that DiPietro faced – opt-in and see where they are drafted, or go back to college and see where there draft status is next year.
I fear this is a deteriment at all levels. Players who may benefit from more time in the junior leagues are hurrying to get to college hockey so they can enhance their draft chances. Thus junior teams are losing players to colleges.
I understand why this is happening. Players feel they must play better competition to improve their chances to play pro hockey. But what these players don't always realize is they may be better off developing and maturing in junior hockey before they make the jump to college.
It's similar to the issue facing the college freshmen this year who have to decide whether to opt into the pro draft. Sometimes it may be prudent not to accelerate – instead look at the long-range implications of a longer college career, which may make for a more well-rounded player and person.
•
We are about to hit the stretch drive in both men's and women's college hockey. I've been fortunate to see four of the top five women's teams in the country – Minnesota-Duluth, the three-time defending champion; Minnesota; Wisconsin; and Harvard, and it's obvious the women's game has made great strides in recent years.
If you haven't had a chance to catch a women's college game, you should do so. You'll agree that the game has made great strides. A few years ago, a team could have two or three great players and they would dominate, but now people like Krissy Wendell and Natalie Darwitz at Minnesota, Caroline Ouellette and Jenny Potter at Duluth, and Julie Chu and Angela Ruggiero at Harvard have helped bring the game along. Other players have stepped up their games so there is more balance in the women's game.
It appears the Frozen Four will be better than ever. Minnesota, Duluth, Ohio State and Wisconsin look like the best Western teams while Harvard, Dartmouth, St. Lawrence, Mercyhurst and New Hampshire look like the best in the East. Minnesota got some bad breaks last week when Darwitz, the nation's leading scorer, was lost for the year with an elbow injury and defenseman Lyndsay Wall, an Olympic teammate of Darwitz, was declared academically ineligible.
This is the last year the NCAA Tournament will feature four teams. Reflecting the improved play in women's hockey, the tournament will expand to eight teams next year. The competition to make it to Providence, R.I., and the Frozen Four will be fierce. I would encourage any hockey fan to catch a women's game this season. They will be impressed at the way the game has come along.