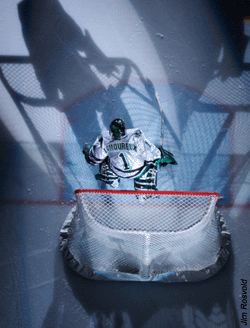 Jean-Philippe Lamoureux
North Dakota
Statistics: 27-10-4, 1.64 GAA, .936 save pct., six shutouts
When Maine claimed the 1993 NCAA title with two huge men (Garth Snow and Mike Dunham) sharing the goaltending duties, it was supposed to usher in a new era for the game, where size would replace quickness as the most important asset for a guy between the pipes.
With that in mind, North Dakota senior goalie Jean-Philippe Lamoureux — who is 68 inches tall — had to smile just a bit when the puck was dropped for the season opener this year, and he looked down the ice at Michigan State's even-more-diminutive Jeff Lerg, owner of a national championship, in the other net. Keep in mind that a hockey puck is an inch thick, and if you stacked all 67 pucks that have gotten past Lamoureux in 41 games this season (for an amazing 1.64 goals-against average), he's still taller than the pile.
In his final season of collegiate hockey, the Grand Forks native seems to be saving his best for last, which is amazing when one considers that he opened the 2007-08 campaign with shutouts in four of his first five games. He was the difference maker in the successful Fighting Sioux trip to the Midwest Regional and earned MVP honors there. Lamoureux held an upset-minded Princeton team off the board for 59 minutes in a game where North Dakota was outshot by a margin of better than 2-to-1. The next night was his busiest of the season, as Lamoureux stopped 41 Wisconsin shots and the Sioux rallied for their fourth consecutive trip to the Frozen Four.
An All-WCHA second-teamer (behind Colorado College goalie Richard Bachman) and a Hobey Baker Award finalist, Lamoureux is the first North Dakota goalie to lead the WCHA in both goals against average and save percentage since Karl Goehring did it in 1999-2000 — a season that ended with the Sioux as national champions. Jean-Philippe's father Pierre was a goaltender with two NCAA title teams for the Sioux (1980 and 1982) so the younger Lamoureux heads into his final weekend of collegiate hockey with hopes of adding a third piece to the family's collection of championship jewelry.
Runner-up: Kevin Regan, New Hampshire