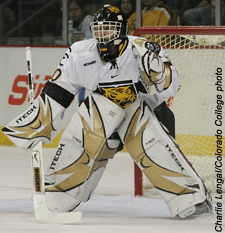 Richard Bachman
Colorado College
Statistics: 25-9-1, 1.85 GAA, .931 sv%
In considering the nation's top rookie for 2007-08, a review of numbers makes it seem unusual to select Colorado College goaltender Richard Bachman for the honor. And it has nothing to do with his age, although he was 20 when he started his freshman season for the Tigers.
It has more to do with the fact that in backstopping CC's most recent WCHA regular-season title, Bachman never performed like a freshman. Solid right from the first drop of the puck, Bachman bred impatience in the league's other nine teams, who spent the whole season waiting in vain for him to hit the wall – as other rookie goalies have notably done.
Instead, en route to becoming just the second WCHA player to earn league player of the year and rookie of the year awards in the same season (after Wisconsin's Curtis Joseph did it in 1989), Bachman seemed to get better and better. In the Tigers' 70th season of hockey, Bachman shattered the school's goalie records, posting a 1.85 goals-against average and .931 save percentage.
Most importantly, he won 25 of his 35 starts, and allowed two goals or fewer 25 times, including a quartet of shutouts. In conference play, his numbers were even better, as his .750 winning percentage was the key to the Tigers' league crown and Bachman's league honors.
Runner-up: Joe Whitney, Boston College