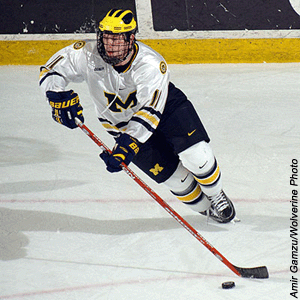 Kevin Porter
Michigan
Statistics: 42 GP 33-29–62
There's not much more to be said about Michigan senior forward and captain Kevin Porter that you haven't read or heard already, but we'll try. Porter has been the most consistent, most outstanding player for the nation's best team all season.
He leads the nation in scoring, with 62 points on 33 goals and 29 assists, but that's not what his game is about. He was named the CCHA Player of the Year, but that's not what defines him. On Friday he'll almost certainly be named as the Hobey Baker Award winner, but that's not what will make this weekend a success in his eyes.
Porter's leadership, composure, and performance on a roster full of freshmen has made the Wolverines the favorite to win the Frozen Four, and he's done it by taking the lead. Michigan head coach Red Berenson has seen it all in a distinguished playing and coaching career so it means even more when he says that he's never seen a pair of seniors (linemate Chad Kolarik included) take over a team and lead it to such lofty heights.
The individual honors roll in and Porter shrugs it off, noting that he doesn't even think he's the best player on his team. Fortunately, others make those decisions, and Kevin Porter will be recognized for the outstanding season he's had.
Runner-up: Nathan Gerbe, Boston College