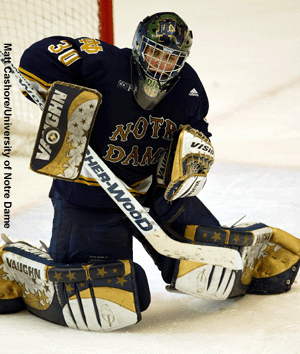 David Brown
Notre Dame
Statistics: 30-6-3, 1.58 GAA, .931 save pct., six shutouts
As with most goalies, his detractors will say that he's a product of the system. But it's hard to imagine the Notre Dame having its success this season without David Brown as their backstop. That's why he's our choice as Inside College Hockey's Goaltender of the Year.
In becoming just the second Notre Dame player to make the all-CCHA first team and the first Fighting Irish netminder to earn all-conference honors since John Peterson was named to the all-WCHA second team in 1977, Brown was dominant statistically. Prior to the Frozen Four, he led the nation in wins (30) and his 1.58 goals against average is a full three-tenths of a goal better than his next closest competitor, Vermont's Joe Fallon. The Stony Creek, Ontario native also ranks third in the country with a .931 save percentage.
The eye-popping numbers become even more amazing when one takes into account that Brown played more minutes than all but one NCAA goaltender (Boston College's Cory Schneider), yet allowed just 63 goals. Among Division I netminders who worked more than 1,500 minutes this season, only Fallon, Minnesota's Kellen Briggs, and Miami's Jeff Zatkoff gave up fewer goals — and Briggs and Zatkoff barely eclisped the 1,500-minute threshhold. Brown, meanwhile, never wore down, allowing two goals or fewer in 30 of his 39 starts.
Notre Dame's 2006-07 season will be long remembered, whether it's as a fleeting moment of success for the Fighting Irish hockey program or the start of a long tradition of excellence on ice. Either way, David Brown's contributions will not be forgotten.
Runner-up: John Curry, Boston University