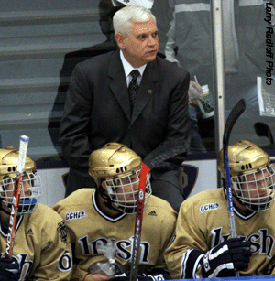 Jeff Jackson
Notre Dame
Record: 32-7-3 (21-4-3 CCHA) CCHA regular-season champs
CCHA playoff champs
Back in 2003, when INCH named its 16 coaches in college hockey history, Jeff Jackson made the list at no. 12 for his outstanding work behind the bench at Lake Superior State from 1990-96, a run that included a pair of national championships and one second-place finish. At the time, we wrote, "If we were running a college program that could be considered a fixer-upper, Jackson would be on our speed dial."
A little more than three years later, it appears two things are in order. First, allow us to pump our own tires for the incredible foresight we showed in our statement regarding Jackson. Second, based on the masterful job he did at Notre Dame this past season, it appears we may have to rework our coaches rankings.
Jeff Jackson is Inside College Hockey's selection for Coach of the Year for leading a group of Notre Dame players — most of whom were part of a team that won five games two seasons ago — to unprecedented success in 2006-07. Under Jackson's tutelage, the Fighting Irish captured both the CCHA regular-season championship and the league's playoff title, which were the first conference crowns in the program's history, posted a school-record 32 wins, ascended to the top spot in the national polls for the first time, and earned an NCAA Tournament berth for just the second time.
It's unlikely Jackson was thinking along these lines after Michigan State ousted the Fighting Irish from the NCAA Tournament with a 2-1 win in the Midwest Regional championship game, but he may have summed up his impact on the moribund program during his post-game comments that night.
When asked by a reporter about the emotional response his players had to the loss to the Spartans in Grand Rapids, Jackson stated, "It means a lot more to play for Notre Dame now."
Runner-up: Don Cahoon, Massachusetts