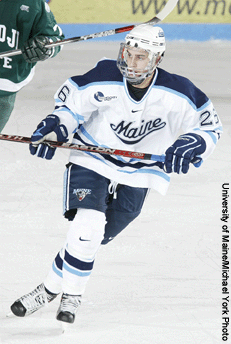 Teddy Purcell
Maine
Statistics: 39 GP, 16-27—43
How good is Maine forward Teddy Purcell? Let Black Bears centerman Michel Léveillé and forward Josh Soares, no slouches in their own right, explain.
"He's a terrific player," Léveillé told the Boston Globe earlier this month. "He's got great speed, great hands, and sees the ice really well."
"He doesn't seem like a rookie at all out there," said Soares, who spent a good chunk of the season on a line with Purcell and Léveillé. "He knows where to go with the puck and he always seems to be in the right place."
Purcell's rapid ascension has allowed Maine coach Tim Whitehead to pluck him from the right wing on the Léveillé-Soares unit and use him to anchor a second, capable scoring line along with junior left wing Billy Ryan and senior pivot Mike Hamilton. In four games together, the trio has combined for five goals and seven assists.
As skilled as Purcell is, his most admirable trait may be his reliability, as one might expect from a native of Newfoundland, a.k.a. "The Rock." Purcell has been held scoreless in consecutive games on just three occasions this season — one three-game stretch and a pair of back-to-back blankings. He started the year with at least one point in 18 of Maine's first 20 games, a run that included one point streak of seven games and another of 10 games.
Even as an older freshman (Purcell turns 21 in September) he's just scratched the surface with regard to his potential. The willowy Purcell carried just 177 pounds on his 6-foot-3 frame this season, and could easily add another 25 pounds without losing a step. If — or more precisely, when — that happens, Léveillé and Soares might have to return to Orono to revamp their scouting reports.
Runner-up: Andreas Nodl, St. Cloud State