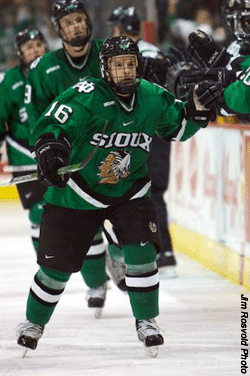 Ryan Duncan
North Dakota
Statistics: 42 GP 31-26–57
Six months ago, folks taking a look at North Dakota's offensive potential figured that Ryan Duncan would likely be the third most-dangerous scorer on his line. Instead, while talented linemates T. J. Oshie and Jonathan Toews battled early season injuries and inconsistencies, Duncan quickly emerged as the most dangerous sniper for the Fighting Sioux.
Following the well-established Grand Forks tradition of undersized and virtually unstoppable forwards, the native Calgarian is listed at 5-foot-6, 158 pounds. If those numbers don't impress the pro scouts, the scoring stats certainly do. Duncan led the WCHA with 22 goals and 39 points in 28 league games, and was named the conference's most valuable player. He heads to the Frozen Four with 31 goals in 42 games, and also led the WCHA with 17 power play markers.
Watch Duncan play and his lack of size is clearly offset by his speed and accuracy with the puck. More than one WCHA goalie fell victim to Duncan's patience this season, finding the puck resting in the back of the net just milliseconds after they'd unwisely dropped a shoulder or gone into the butterfly stance and given Duncan a tiny gap below the crossbar to hit. As the most consistent offensive force on a talented club, and as the key to North Dakota's amazing second-half run, INCH salutes Duncan as player of the year.
Runner-up: David Brown, Notre Dame