February 15, 2003
States of the Game
Special Report:
States of the Game
Where do college hockey players come from?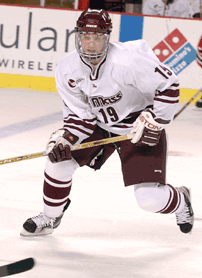 Freshman Stephen Werner of Chevy Chase, Md., stands fourth on the team in scoring at Massachusetts (10-18—28 in 31 GP). He leads the Minutemen with a +13 rating.
Related Links
Vegas, baby, Vegas
Perhaps nothing explains the rise of players from non-traditional hockey areas like in-line hockey. Nebraska-Omaha's Micah Sanford – a Las Vegas native – has successfully made the switch from wheels to blades.
Also find:
• Overall Breakdown by State, Province and Country
• Breakdown by League:
CCHA | CHA | ECAC | H. East | MAAC | WCHA
By Nate Ewell
Ever picked up a game program, seen a strange hometown and wondered how a player from California, Arizona or Austria wound up playing college hockey?
You wouldn't be alone. Except lately, those hometowns are becoming less and less unusual. Today, it's almost as common as spotting a Massachusetts license plate on a New Hampshire highway, or a Green Bay Packers sticker on a car in Minnesota.
Not convinced? For a more complete view, take a look at the links to the right – Inside College Hockey compiled data from all 60 Division I men's hockey teams, and the results might surprise you. It may not quite mirror Congress or the U.N., but the makeup of college hockey today is much more diverse than the traditional dominance of players from Massachusetts, Michigan, Minnesota and Canada.
Massachusetts head coach Don Cahoon has a perfect example on his hands, as a Maryland product – freshman Stephen Werner – has been integral in the turnaround at Massachusetts' largest state university. Just four years ago at Princeton, Cahoon coached Jeff Halpern, one of the only D.C.-area players in college hockey at the time. Now Werner is joined by 10 other Marylanders in the college ranks.
And Werner's just like you, grabbing game programs and checking for players from non-hockey hotbeds.
"It's something I'm very proud of," Werner says. "I'm always looking on the rosters to see if there are guys I know from back home, and there are quite a few. Already this year I've seen guys like Tim Judy at Northeastern, Jason Costa at Dartmouth."
It may be hard to believe, but California (20) and Maryland (10) have combined to produce more college players than North Dakota (15) and Maine (11). Arizona, Georgia and Texas each have four players in college hockey, with more committed for next season. While Massachusetts, Michigan and Minnesota natives still make up over 32 percent of the players in the game, 35 of the 50 states are represented in the college game.
Our All-Non-Hotbed Team
The top college players from non-traditional hockey areas
G: Mike McKenna, St. Lawrence (St. Louis, Mo.)
D: John-Michael Liles, Michigan State (Zionsville, Ind.)
D: Garrett Stafford, New Hampshire (Los Angeles, Calif.)
F: Noah Clarke, Colorado College (La Verne, Calif.)
F: Stephen Werner, Massachusetts (Chevy Chase, Md.)
F: John Sabo, Boston University (Harding Township, N.J.)
Ohio State's roster alone has players from 11 states, including Georgia, Oregon and Washington. Boston University Terriers hail from seven states and four countries. Colorado College has players from six states and four countries.
CC head coach Scott Owens may be the biggest beneficiary of the growing European trend, as Slovakian Peter Sejna has fueled the Tigers' surge to become the No. 1 team in the nation. The numbers of Europeans pale in comparison to those from non-hockey hotbeds – there are a total of 39 Europeans in college hockey this year – but their talent is undeniable.
Sejna is all but assured of becoming just the second European in as many years to be named a finalist for the Hobey Baker Award – following Cornell's Doug Murray, a Swede, last year. In addition to players like Sejna and Murray, all-league candidates Thomas Pock (Massachusetts), Colin Shields (Maine) and Thomas Vanek (Minnesota) have helped fuel their teams' success.
Our All-European Team
The top college players from Europe
G: Matti Kaltiainen, Boston College (Espoo, Finland)
D: Doug Murray, Cornell (Bromma, Sweden)
D: Thomas Pöck, Massachusetts (Klagenfurt, Austria)
F: Peter Sejna, Colorado College (Liptovsky Mikulas, Slovakia )
F: Colin Shields, Maine (Glasgow, Scotland)
F: Thomas Vanek, Minnesota (Graz, Austria)
"(The European influence) is a real recent thing for college hockey," Owens said. "And we're definitely seeing an explosion of players from the non-traditional areas."
•
Cahoon says, "It's not like I've spent a lot of time watching games in Maryland."
Likewise, Owens insists, "It's not like college coaches are over in Slovakia scouting."
So how are these players finding their way from far-flung places into college hockey rinks near you?
Much of the credit belongs on the junior level, where coaches, scouts and agents are putting in the legwork to identify talented players and bring them to established junior teams. College coaches tend to see them once they are there – not in their natural environments.
Werner, for example, received a couple of type-written recruiting letters while playing for the Washington Junior Capitals. After Jim Hunt, then a scout for the U.S. National Team Development Program, recommended him to the program in Ann Arbor, the floodgates opened.
Top 10 College Hockey Producing States/Provinces

State/Province

Players

1. Ontario

226

2. Minnesota

204

3. Massachusetts

185

4. Michigan

122

5. Alberta

113

6. British Columbia

103

7. New York

101

8. Illinois

51

9. Pennsylvania

47

10. Saskatchewan

43
The route for European players is remarkably similar. Sejna came from Slovakia to the USHL before attending Colorado College.
"I think a lot of it has to do with more family advisors identifying good European players and getting them on to USHL teams," Owens says. "The goal of the family advisor is to get them over here and get them used to North American hockey and North American life before they go in the draft. It helps them acclimate to the language and the culture a little bit."
Different players take different paths, of course. Matti Kaltiainen, Boston College's Finnish goaltender, didn't play junior hockey, but wound up in college when the Boston Bruins, who drafted him, recommended him to Eagles coach Jerry York.
And while they don't have to go overseas, players from non-hockey hotbeds have to travel similar distances to build their skills and get recognized. Halpern tells how his father put 200,000 miles on their Dodge Caravan, traveling from Maryland to New Hampshire and back – twice in one weekend – for games.
"I think it's always harder to come from a non-traditional hockey area," Werner says. "The competition's not as strong when you're playing within your state or even within your district. And it's harder to find time to play, because there's a real lack of ice. I would go from rink to rink to play pick up, traveling up to an hour."
The USHL limits imports, or non-North American players, to two per team, so the number of Europeans may not grow dramatically unless coaches make more recruiting forays overseas (and despite Owens' comment about not scouting in Slovakia, a handful of college assistant coaches have made ventures to the Old World).
But everybody agrees that the growth in non-traditional areas through the U.S. will continue.
"In the near future," Owens says, "you're going to see college hockey players coming out of places like Dallas, Utah, Phoenix and even Montana, thanks to the NHL's expansion and the growth of the America West League."
Special reporting by Jess Myers. Statistics in this report are based on players' hometowns listed on rosters supplied by schools to collegehockeystats.com (CHA, ECAC, MAAC, WCHA) or league Web sites (CCHA, Hockey East) as of Dec. 25, 2002.
About Us | Advertiser Info | Site Map | Privacy Policy
© 2003 Inside College Hockey, Inc., All Rights Reserved