February 15, 2003
Vegas, baby, Vegas
By Mike Eidelbes
Special Report:
States of the Game
Where do college hockey players come from?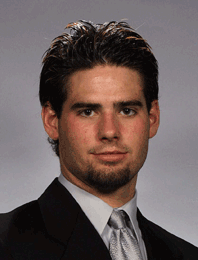 Las Vegas native Micah Sanford stands sixth on Nebraska-Omaha in scoring with 16 points in 30 games.
Related Links
States of the Game
Rising numbers of players from Europe and non-traditional hockey areas in the U.S. is changing the face of college hockey.
Also find:
• Overall Breakdown by State, Province and Country
• Breakdown by League:
CCHA | CHA | ECAC | H. East | MAAC | WCHA
There aren't many college hockey players who can claim they've won two national championships. Nebraska-Omaha's Micah Sanford can. But it's not what you think.
A freshman forward from Las Vegas – yeah, that Las Vegas – Sanford was a U.S. champion in both in-line speed skating and in-line hockey as a youth. Now, he's trying to help the Mavericks to the top.
"A lot of schools knew who I was," Sanford recalls, "but they thought, 'He's a kid from Las Vegas.' Not too many schools gave me a chance at first."
Sanford's route to Division I hockey was a circuitous one. It also makes for an interesting story.
Micah's interest in in-line skating was natural; his father, Larry, owns three in-line facilities in Las Vegas. The younger Sanford started playing roller hockey when his dad founded a couple leagues at his rinks. A house-league goalie at first, he later moved to forward.
As the leagues grew, so did the level of play and the competitive nature of the players. Micah and the best players from the house leagues formed an all-star team and began traveling to tournaments across the country, eventually winning a national title for their age group.
Right around his 16th birthday, Sanford received an invitation to try out for a junior B-level ice hockey team in Vegas. Understandably, the transition from concrete to the frozen pond wasn't easy.
"I hated it at first because I couldn't skate," he says. "And I was a really good shooter in roller hockey because the puck was so light. When I made the transfer, the puck was heavier and my forearms weren't strong enough to shoot the puck as hard as I wanted to and where I wanted to."
Sanford's game progressed to the point where he joined a midget AAA team in Vail, Colo. From Vail, he went to British Columbia to play for the Chilliwack Chiefs in the British Columbia Hockey League. Needless to say, a kid who was more familiar with Wayne Newton than Wayne Gretzky growing up was greeted with skepticism by Canada's hockey cognoscenti.
"Some guys don't give me much of a chance," Sanford says. "They think, 'Oh, roller hockey player, he doesn't know what to do.' But I think I get their respect slowly by doing things I can and contributing when I can."
His contributions during his last year with the Chiefs included 49 goals and 107 points in 59 games. Certainly, his offensive prowess was enough to make college coaches like Nebraska-Omaha's Mike Kemp take notice, even if they still harbored some reservations.
"You wonder how he can be what he's made out to be," Kemp says. "But as a result from playing all that roller hockey, the skills that he does have – which are great hands and the ability to finish around the net – come from the roller hockey game because you're playing in such small areas."
Interestingly, the attention from college coaches helped elevate Sanford's game and give him a boost of confidence in his abilities.
"Some schools started talking to me and it was always, 'He can't skate, but he can shoot the puck,'" Sanford says. "I started talking to more schools and started to think, 'Hey, maybe I can play at this level.'"
When Kemp extended an invitation to come to Nebraska-Omaha, Sanford jumped at the opportunity. And despite his success at Chilliwack, his new teammates weren't quite sure what to think.
"We heard about this kid from Nevada and he started by playing roller hockey," senior forward Joe Pereira said. "We can't argue with statistics. He's come in and been productive for us right away."
Sanford has been more productive than even he expected. The 6-foot-2, 200-pound wing is sixth among Mavericks' skaters with 16 points in 30 games.
"I would've been happy to dress every game," he says. "But then you score a goal here, get an assist on another and then your confidence gets a boost and you're rolling."
While his skating still needs work – particularly getting up to full speed from a dead start – Sanford is adept at using his large frame to shield the puck from defenders and can handle the puck in close quarters. He's also got great hands, as evidenced by his quick, hard shot and exceptional stick-handling ability, and the UNO coaching staff raves about his commitment and dedication.
"We're looking at him as a guy who's got a huge upside," Kemp says. "His potential is really unlimited and we expect that he's going to be able to make the next step. We've seen a lot of improvements since the start of the season. He still has a long, long way to go before he reaches his full potential."
Though he still takes ribbing about his background – "We ask him if he thinks the puck is a round orange ball," Pereira says – Sanford has won over his teammates, many of whom are interested in visiting him at home during the off-season.
"I get that all the time," Sanford says, smiling. "I've got friends in Canada that come see me all the time. All my teammates are looking for a party."
About Us | Advertiser Info | Site Map | Privacy Policy
© 2003 Inside College Hockey, Inc., All Rights Reserved