February 3, 2004
Strangers in Strange Lands
More and more, players are crossing state lines to play college hockey
By Nate Ewell
Special Report:
States of the Game
Where do college hockey players come from?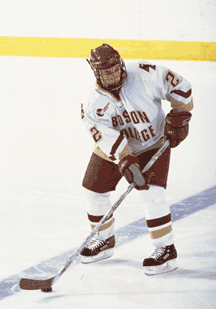 Minnesota native Ben Eaves leads the second-ranked Boston College Eagles.
Related Links
Breakdown of all players by state, province and country
Breakdowns by conference: AHA | CCHA | CHA | ECAC | HEA | WCHA
This is Inside College Hockey's second annual look at where college hockey players are coming from. Last year we examined the rise in players from non-traditional areas and the influx of European talent (last year's report).
A kid from Minnesota is captaining Boston College. Michigan State's captain hails from North Dakota. And for the next three years you'll be able to watch two twin brothers from Michigan face off against each other in a Hockey East game.
When Minnesota began recruiting out-of-state players four years ago, the decision generated as much media attention and hand-wringing as Euro Disney. But in reality, that breakdown of the regional nature of college hockey was well underway. Now, throughout the sport, teams are attracting players who years ago would have been as out of place as an American tourist in Paris.
"This is my 13th year and when I first started, recruiting was much more regional," confirmed Ron Rolston, an assistant coach at Boston College. "There are no secret areas any more that teams have to go get players. You just try to go wherever you can, especially in North America, to get the best kid to help your team."
The Eagles, once home almost exclusively to former New England high school and prep school stars, boast a geographically diverse lineup. Their aforementioned captain, Ben Eaves, is one of four Minnesotans on the roster. They also feature American skaters from New Jersey, New York, Arizona and Washington state.
That diversity isn't limited to Chestnut Hill. Nearly seven percent of the players in Hockey East are from Minnesota (17), including stars like Eaves, his brother Patrick, and Merrimack's Bryan Schmidt. Seven players in Hockey East are from Michigan, including brothers Brad (Boston University) and Tony (Providence) Zancanaro and budding star Jason Tejchma at UMass Lowell.
While one-third of that conference still hails from Massachusetts, its borders are clearly expanding. The ECAC has similar numbers, with 22 players from Minnesota and Michigan combined.
INCH's All-Non-Hotbed Team
The top college players from non-traditional areas
G: Dave McKee, Cornell (Irving, Texas)
D: Peter Hafner, Harvard (Gaithersburg, Md.)
D: Neil Komadoski, Notre Dame (Chesterfield, Mo.)
F: Gabe Gauthier, Denver (Buena Park, California)
F: Brett Sterling, Colorado College (Pasadena, California)
F: Stephen Werner, Massachusetts (Chevy Chase, Md.)
INCH's All-European Team
The top college players from Europe
G: Matti Kaltiainen, Boston College (Espoo, Finland)
D: Thomas Pöck, Massachusetts (Klagenfurt, Austria)
D: Jekabs Redlihs, Boston University (Riga, Latvia)
F: Lukas Dora, Denver (Lednice, Czech Republic)
F: Colin Shields, Maine (Glasgow, Scotland)
F: Thomas Vanek, Minnesota (Graz, Austria)
Other leagues have extended their reach as well. One of the WCHA's top players, Junior Lessard, is Minnesota Duluth's first player ever from Quebec. In the CCHA, Michigan State captain Joe Markusen is from North Dakota, where conventional wisdom has elite players ticketed to the WCHA. The Spartans also lured A.J. Thelen out of Minnesota, and got one of the best freshmen defensemen in the game.
"It's certainly a trend," said Spartan assistant coach Tom Newton, in his 14th year with MSU and this year's recipient of the Terry Flanagan Award from the American Hockey Coaches Association. "It's caused by the emergence of two things: one, the U.S. Development Program has broadened the horizons of a lot of these players, and also because of the emergence of the USHL as a Tier 1 league. It gets players out of their traditional areas."
Those traditional areas used to be easy to define: in general, Hockey East had New England, the WCHA had Minnesota and Western Canada, and the CCHA had Michigan, while splitting Ontario with the ECAC. Nothing – with the exception of Minnesota's all-Minnesota policy – was ever set in stone, but the boundaries had developed out of mutual convenience of players and schools.
Now, as Newton said, players are leaving home earlier and seeing new areas.
"A lot of times now kids get taken out of where they grew up to play junior hockey," Rolston said. "You take a kid who grew up in Michigan, put him in the USHL, and now he's watching a lot of games in WCHA arenas. Kids are much more worldly now."
Follow the Leader
Any assistant coach will tell you, the best weapon you have when you fight recruiting wars is the players on your team. When players have a good experience at school, they talk to parents, friends, and former coaches, and the word spreads at the youth level back home.
Boston College has seen that first-hand. In the 1990s, led by players like Marty Reasoner, the Eagles established a recruiting foothold in Western New York, an area that yielded stars like Jeff Farkas, Brian and Stephen Gionta, and J.D. Forrest.
The new nest for young Eagles appears to be Minnesota, and Faribault native Ben Eaves is a big reason why.
"A big reason why I came here was that I knew Ben Eaves," junior defenseman John Adams said. "I played with him at Shattuck (a Minnesota prep school), and he's the type of guy you want to play with again."
The result? All of a sudden, while Boston College still has its share of New England prep school recruits, Minnesota has become a hotbed for the Eagles.

Thelen, for example, lived in Michigan for a year at the National Team Development Program. The CCHA will welcome another Minnesota native from the NTDP in 2005-06, when highly-touted Jack Johnson moves across town to play for the Wolverines.
While the USHL and NAHL are far-flung, with teams spanning dozens of states, the EJHL is still fairly compact. If getting away from home makes junior players "more worldly," and thus more likely to explore distant schools, as Rolston and Newton suggest, this may help explain why the movement of recruits out of traditional areas tends to flow from west to east, and not the other way around. Only five Massachusetts players, for example, play in the CCHA and WCHA combined.
Another factor may be simple supply and demand.
"A lot of those areas, like Minnesota in particular, have a ton of good hockey players," said Rolston (the Land of 10,000 Lakes leads all states with 208 Division I players). "Those teams don't have enough spots for all of them, which opens up opportunities for other schools."
Whatever the reason for recruits moving beyond their borders, no one expects it to stop any time soon. Recruiters like Newton and Rolston know they have a shot with any player now, regardless of his hometown, and with the broadening appeal of the game, chances are those players know about every school out there.
"You've got kids at BC from Minnesota, at BU from Michigan, and at Minnesota from Austria, British Columbia and North Dakota," Newton marveled. "It's a trend, and it's going to continue. I don't see it going back to a regional game again."