April 2005
2005 IIHF Under-18 World Championship
TEAM USA SCHEDULE
April 14: U.S. 3, Slovakia 1
April 16: U.S. 3, Finland 0
April 17: U.S. 7, Switzerland 1
April 19: U.S. 4, Czech Republic 3
April 22: U.S. 6, Sweden 2
April 24: U.S. 5, Canada 1 (Gold medal)
FOLLOW THE GAMES
USAHockey.com features complete stats and results from the tournament, plus audio broadcasts of each of Team USA's games. | Link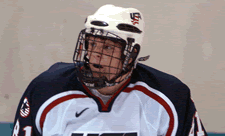 Phil Kessel is among the future collegians who captured the gold medal at the 2005 IIHF Under-18 World Championship in the Czech Republic.
INCH Coverage
Postcard: Mr. Big
The fans will come to see Kessel, Johnson and the like, but they won't be able to take their eyes off Nathan Gerbe, a forward who'll skate for Boston College next season.
Central Scouting's Mid-Term Rankings
A slew of college recruits earned mention on the NHL Central Scouting Service's Mid-Term Rankings for the 2005 NHL Entry Draft, led by Jack Johnson (Michigan) and Jack Skille (Wisconsin).
Postcard: The Surreal Life
When a bunch of college-bound players meet up with some NHL stars, Kid Rock, and Tara Reid, it leads to an unforgettable scene.
The Next One: Phil Kessel
College scouts are salivating over the prospect of luring Phil Kessel to campus. The 16-year-old says he'll go to college, not major junior, but where he'll end up is anybody's guess.
Current Collegian Participating
Team Canada: Dan Bertram (Boston College)
Future Collegians Participating
Team USA: Jeff Frazee (Minnesota), Taylor Chorney (North Dakota), Brandon Gentile (Michigan State), Erik Johnson (Minnesota), Jack Johnson (Michigan), Zach Jones (North Dakota), Kyle Lawson (North Dakota), Mark Mitera (Michigan), Jason Bailey (Michigan), Benn Ferriero (Boston College), Jimmy Fraser (Harvard), Nathan Gerbe (Boston College), Phil Kessel (Minnesota), Jason Lawrence (Boston University), Justin Mercier (Miami), Peter Mueller (Minnesota), Chad Rau (Colorado College), Jack Skille (Wisconsin), Ryan Stoa (Minnesota), Andreas Vlassopoulos (Colorado College)

Send this to a friend
About Us | Advertiser Info | Site Map | Privacy Policy
© 2002-2005 Inside College Hockey, Inc., All Rights Reserved