November 11, 2004
Flying with New Wingmen
By Nate Ewell
Hockey East Notebook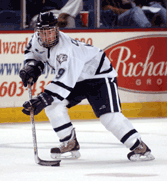 Sean Collins has 3-4—7 in the first seven games this season.

For every time that Sean Collins and Steve Saviano have been described as inseparable, you'd think Collins would be pretty distraught about turning to his right on the ice and not finding his longtime linemate.
That's not the case at all, says Collins, who is averaging a point per game headed into New Hampshire's game against Providence Friday night.
"Obviously the first couple of weeks I noticed that he wasn't there," he said. "But [his current linemates] Justin Aikins and Preston Callander are two quality players, and we had a chance to skate together during captain's practices. They're just as good."
Read that last sentence again. They're just as good.
That's impressive company, given that Saviano was the best player in Hockey East last year. But perhaps more importantly – and probably more accurately – is that Collins is proving that he's just as good as his old friend.
Collins has shown the same skills and versatility he's always had, skating in all situations and devouring ice time – especially in today's special teams-driven game. Always a great goal scorer, Collins has shown a willingness and an ability to carry the puck and awful lot in Saviano's absence. He's slippery, and his size (5-foot-9, 178 pounds) and skill combination make it tough for defensemen to take the puck away from him, especially with the new rules restrictions.
Collins shrugs off the suggestion that he's possessing the puck more these days, and seems to think that people are making too much of who he's not playing with, rather than looking at his current line.
"In hockey you have to be accustomed to playing with different people," he said. "All three guys have to work together. When all three players are in synch as a line, the puck's going to move a lot between everybody. I'm just as comfortable with these guys as I was last year."
As Collins, Aikins and Callander continue to develop chemistry, expect even better results from the trio. Aikins is off to a bit of a slow start, with just three assists, but head coach Dick Umile knows that it's a line that has the chance to be among the best in the country.
For now, BC's trio of Patrick Eaves, Ryan Shannon and Dan Bertram can safely lay claim to that title. But as Sean Collins has proven so far this season, he's much less concerned about who he's playing with than he is about the end results.
SEEN AND HEARD IN HOCKEY EAST
Rest for the Weary – With only five games in four weeks under their belts, last weekend might not seem like a great time for the UMass Lowell River Hawks to take a break. But it couldn't have worked out better for head coach Blaise MacDonald.
MacDonald said that at least six players might have missed time with various injuries had Lowell been scheduled to play last weekend, including goaltender John Yaros and star forwards Andrew Martin and Mark Pandolfo. Some – but perhaps not all – of the half-dozen walking wounded will be back in action this weekend as the River Hawks host Colgate and Maine.
Without any extra bodies in practice, MacDonald had to improvise a bit, while trying to keep his players sharp with contests.
"We tried to create a lot of competitive games, where we have rewards for the winners and create duties for the losers," MacDonald said. "We had faceoff competitions, special-teams competitions, pull-the-goalie competitions."
Back in some semblance of health, the River Hawks are ready to get back on the ice. And the break couldn't have come at a better time.
Banged-Up Bears – Injuries are also plaguing Maine, although the Black Bears escaped unscathed from an injury to their most important player, Jimmy Howard.
When Howard went down midway through Sunday's game against New Hampshire, Matt Lundin stepped in during a UNH power play and – with no warmup – kept the Wildcats off the board in a 3-0 shutout win.
"I wasn't surprised by his performance," head coach Tim Whitehead told the Bangor Daily News. "He keeps getting better. He's very eager to learn. [Assistant coach] Grant [Standbrook] was in town and does an excellent job with our goalies. Like Jimmy, Matt is very focused and strong on the puck. He competes hard and he's real natural playing the puck because he played the puck a lot in high school. He's like a third defenseman."
Lundin's performance isn't a complete surprise. He was the most highly regarded goaltender coming out of Minnesota high school hockey last year, and after the success his brother Mike had as a freshman on defense for Maine, Whitehead knew he was getting someone from good stock.
He may need more solid performances from Lundin if Howard can't come back. He's questionable this weekend, although the Black Bears are hopeful that forwards Michel Leveille and Rob Bellamy may be able to return against Northeastern and UMass Lowell.
FRIES AT THE BOTTOM OF THE BAG
Great Weekend Getaway

Maine at Northeastern (Friday)
Finally, Northeastern gets its Hockey East schedule underway, and the Huskies do it against – what else? – a ranked opponent. Six of the seven teams Northeastern has faced this year have been in the INCH Power Rankings at some point this year, with the exception of last Friday's victim, Connecticut.

While You're There: I subscribe to Globe columnist Bob Ryan's theory: my car and I have an adversarial relationship, at best. But if you like autos, or want to dislike your own car even more, check out the New England Auto Show at the Bayside Expo Center, running through this weekend.


Stick Salute

Ever wonder what went on during that mysterious time in September before coaches were allowed on the ice with their teams? The current issue of USA Hockey Magazine includes a nice feature by Roger Brown on captains' practice at New Hampshire.


Bench Minor

Regular INCH readers know that we've been beating the Steve Saviano drum for years, so it's no surprise that we were taken aback by his demotion to the ECHL. Last year's Hockey East Player of the Year is yet another victim of the NHL lockout, since so many NHLers are taking AHL roster spots, but it's not just Saviano's loss – it's that of the Lowell Lock Monsters and their fans as well.
• The Boston University-Merrimack home-and-home should feature a goaltending matchup that no one would have predicted before the season – or even a week ago. John Curry's rise to the top of the Terrier goaltending depth chart has spanned the first month of the season, while Frank McLaughlin's jump with the Warriors was much more sudden.
McLaughlin, a junior from Drexel Hill, Pa., hadn't made a start in two-plus years at Merrimack. When he showed up for Saturday's morning skate, he learned that he'd be starting against Massachusetts that night. He made 41 saves in Merrimack's first Hockey East win of the year.
""(The butterflies) weren't too bad until I got on the ice," McLaughlin told Matt Kalman of hockeyjournal.com. "Then I was like, 'I think I'm going to puke.' After the first or second shot, I got comfortable, got back in the groove. So I was fine."
"The kid's been here for three years and he's worked his butt off," said Merrimack head coach Chris Serino. "I'd like to say it was some calculated thing, but he just deserved a chance to play. And I make decisions on my goaltenders based on one thing: Who gives us the best chance to win? And Frank gave us the best chance to win."
• Massachusetts has enjoyed some success splitting its top offensive weapons, Stephen Werner and Matt Anderson, on two different lines. The Minutemen, who face Boston College and Mercyhurst this weekend, scored eight goals Friday against Merrimack. They only managed two goals the next day – one for each of the top two lines – but had 43 shots on goal.
Werner and Anderson have received solid support from freshman P.J. Fenton, who currently leads all Hockey East rookies with nine points in nine games.
• It's still early, but UMass Lowell's 3-0-0 non-conference record and 0-2-0 league mark is conjuring up memories of two years ago, when the River Hawks were great outside the league but woeful in Hockey East. Perhaps that's one reason why Blaise MacDonald says that Friday's game against Colgate is important, but Saturday's meeting with Maine "is a big game, a special game. We really focus on our league games and want to do well there. If we can get one or two wins in our next three games – against Maine, BU and BU – we'll be doing all right."
• Boston College has played just five games in the first month of the season, spanning 42 days since the start of practice. The top-ranked Eagles will pick up the pace now, beginning with Friday's home game against Massachusetts. They'll play eight games in the next 30 days.
• Former Maine defenseman Chris Imes was in the news a lot this week. John Connolly of the Boston Herald compared the Black Bears diminutive but incredibly smooth Bret Tyler to Imes, a flattering comparison for a freshman. As for Imes himself, the former Olympian is behind the bench of the Elk River (Minn.) high school girls team, which is defending the state's Class 2A championship.
• Watching Boston University and New Hampshire play without longtime counterparts Sean Fields and Mike Ayers in goal was a little disconcerting – the kind of thing that makes you feel old.
A variety of sources were utilized in the compilation of this report.