November 11 , 2004
CC's Block Party
By Jess Myers
WCHA Notebook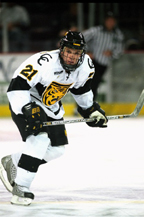 Brett Sterling had two goals and an assist in the trip to North Dakota.

Colorado College is renowned for its unique academic "block plan" whereby students take eight classes per year, but just one class at a time. Some in the world of academia praise the CC model as a great way for students to dive into one subject head first for three weeks, and have more classroom success as a result.
At a school where students are used to concentrating on just one topic or activity at a time, it's not surprising that distractions can cause trouble. Nowhere was that theory proven more clearly last season than on the hockey rink, where a promising season for a talented CC Tigers team was derailed by countless injuries, near-tragedies and administrative deliberations that were beyond the team's control.
Most troubling was the car accident last November that nearly claimed the life of Tigers assistant coach Norm Bazin, and left him hospitalized for months.
This season, by contrast, Tiger hockey has seemingly gotten back to its own version of the block plan, where the lone subject is hockey, and the Tigers seem ready to concentrate on just that one task until, they hope, the second weekend of April. Heading into this weekend's home-and-home series with arch-rival Denver, the Tigers are 5-1-0 and in the top five in both national polls.
Tigers coach Scott Owens, whose team makes just two trips outside the state of Colorado before New Years' Day admitted the strong start has been helped by the home-heavy schedule, and success in their lone trip thus far.
"It was important for us to get some early confidence," Owens told INCH. "But you can get a false sense of confidence by playing at home so much, which is why the North Dakota trip was so key for us."
Last weekend, in their first foray beyond the shadow of the Rockies, the Tigers split a series in Grand Forks, winning on Friday via Brett Sterling's overtime goal. The fact that Marty Sertich assisted on the game-winner should surprise nobody who knows wherein the Tigers' offensive strengths lie. Sterling and Sertich were expected to be the team's leaders and indeed have combined for 24 points in the Tigers' first six games.
Owens has been getting solid defense and outstanding goaltending from the sizable tandem of Matt Zaba and Curtis McElhinney, and says that the offensive blessings his two best forwards have delivered might be his only area of concern thus far.
"It's kind of been the Sterling and Sertich show thus far, so I think we've still got to get a little more offensive diversity," Owens said. "But Norm Bazin is even back as a volunteer coach, so we're fully staffed and able to just concentrate on hockey. It's been great."
It sounds like the hockey version of the Colorado College block plan has another believer.
SEEN AND HEARD IN THE WCHA
SI Likes the Taj Ma Ralph – Last year the college edition of Sports Illustrated called Madison the best college town in the nation. This year the writers decided to plot out the perfect college sports week and gave a shout-out to two WCHA sights.
According to SI, the perfect sports week in America is supposed to include a stop at the Kollege Klub in Madison on Thursday, and a trip to Ralph Engelstad Arena in Grand Forks on a Friday.
Wisconsin fans will likely not be surprised at the mention of the KK (located between Lake Mendota and State Street on the corner of Lake and Langdon), which has been serving hockey fans deep fried cheese and vodka lemonade for a generation or more. The magazine even mentions former Badger defenseman Chris Chelios among the red-clad celebs that can still be seen hanging out at the KK from time to time.
Those sensitive Sioux fans will likely find something to like and something to gripe about in the SI mention of the Ralph, which was also featured in a recent New York Times. While praising the $100 million rink as home to the best college hockey experience in the nation, the writer describes Grand Forks as "Middle of Nowhere, U.S.A." Ouch.
Great Weekend Getaway

Colorado College vs. Denver
(Home-and-home, Fri.-Sat.)
Last season was a good one, hardware-wise for the Denver Pioneers. Long before they left Boston with the NCAA championship trophy, they won three of the four regular season meetings with their arch-rivals from Colorado College to claim the Gold Pan, the traveling trophy the schools battle for each winter. Oh sure, CC fans will gently remind the Pioneer faithful that it was the Tigers winning both WCHA playoff meetings between the schools (in Denver) but DU fans will counter by pointing out that Colorado Springs World Arena is where the Pioneers beat Miami (Ohio) and North Dakota in the NCAA playoffs. It sounds like the best way to settle things would be with a pair of hockey games. Thankfully, that's just what they've got planned for this weekend.

While You're There
For one of the more interesting pub crowds you're ever going to see, stop by SouthSide Johnny's (at 528 South Tejon Street) in Colorado Springs after Friday's game. Outside you'll see a line of Harley's and inside you'll find live music and great food being enjoyed by a non-threatening throng that mixes the biker bar, dance bar and fern bar set without incident. The classic rock band GuyzUnGlasses is playing all weekend, and the club's all-inclusive web site features menus for food, kids, beer, wine, martinis, and cigars. What more could anyone want?

Stick Salute

On the first weekend of November, no team was more desperate for some good news than Minnesota State, Mankato, and Mavs goalies Jon Volp and Chris Clark delivered. Each goalie backstopped a 4-0 shutout of Bemidji State (Volp on Friday and Clark on Saturday) giving the Mavs their first two wins of the season and their first back-to-back shutouts since the 1995-96 season. While they're still looking for their first WCHA win, the goalies have given the Mavs a nice boost of confidence.

Bench Minor

FSN North may have been wise to run one of those "DO NOT ADJUST YOUR SET" warnings across the screen last Friday when viewers first caught sight of the broadcast team of Frank Mazzocco, Doug Woog and Tom Sagissor prior to the Minnesota-Wisconsin game. While Mazzocco and Woog were nattily (and quietly) attired, Sagissor, the proud Wisconsin alum, went on-air wearing a eye-poppingly bright red sport coat that had viewers grabbing for sunglasses. The fun-loving Sagissor joked that he's gotten the blazer from an usher at the Dane County Coliseum. From the guy who did a pregame show shirtless with a red W painted on his chest last year, the red blazer was actually a step forward, fashion-wise.
PUCKS TO PICK UP AFTER PRACTICE

• The results of the recent U.S. Senate race in Colorado have the Colorado College alumni association beaming. On November 2, Democrat Ken Salazar (CC '77) defeated Republican brewery baron Pete Coors and will become the first CC graduate to serve in the U.S. Senate. Salazar, who is also a Colorado College trustee, served two terms as the state's attorney general. He majored in political science at CC, then got his law degree at Michigan, prompting one to wonder who Salazar rooted for in the 1996 NCAA title game. While some credit the Tiger hockey team's statewide popularity for Salazar's close win, others feel it was a backlash against the Coors brewery, which was responsible for inventing Zima.
• Speaking of politics, Kevin Pates of the Duluth News-Tribune emailed this week to point out the increasing political clout being wielded by WCHA officials in Minnesota. Voters in International Falls, Minn., recently elected Shawn Mason as the community's new mayor. Mason, who had previously served on the city council there, is the wife of WCHA referee and former UMD Bulldog Bill Mason.
• Interesting sports parallels this weekend involving teams from Minnesota that wear purple. On Friday and Saturday, Minnesota State, Mankato (which wears purple and gold) faces official arch-rival Alaska Anchorage (which wears green and gold) and the all-time series between the teams stands even at 16-16-3. On Sunday, the Minnesota Vikings (who wear purple and gold) face their arch-rivals, the Green Bay Packers (who wear green and gold) and the all-time series between the teams stands even at 42-42-1. Something, one would think, has got to give.
• Speaking of team colors, Minnesota Duluth fans won't be decorating in green and gold anytime soon. The Bulldogs were undefeated and ranked #1 in the nation two weeks ago, before going 0-3-1 in back-to-back weekends versus teams that wear green and gold (Vermont and Alaska Anchorage). UMD may catch a break in that their schedule only features two more games versus green and gold teams (a home series with UAA in January) but if the Bulldogs get to the NCAAs and have to face Northern Michigan, there could be trouble brewing.
• If Michigan Tech fans felt like they should be riding the People Mover over to the RenCen after last week's game with Northern Michigan in Houghton, it was thanks to familiar voice they'd been hearing all night. Ken Kal, the radio play-by-play man for the Detroit Red Wings, replaced regular MacInnes Student Ice Arena public address man Mitch Lake behind the microphone and got to announce a dozen goals in the 6-6 tie. Kal, who called University of Michigan hockey games for 11 years prior to switching to the NHL, was in Houghton as part of a tour to promote the Great Lakes Invitational and other college hockey games being played at Joe Louis Arena in Detroit this season.
• Our thoughts go out to former Golden Gopher Darby Hendrickson, who is back in Minnesota after tragedy brought an abrupt end to his hockey stint in Europe. While playing in Belarus last week, Hendrickson was alongside former Minnesota Wild teammate and friend Sergei Zholtok when Zholtok collapsed and died of apparent heart failure after a game. Zholtok was 31, and had struggled with fainting spells last season with the Wild before being traded to Nashville late in the season. Hendrickson (who was traded to Colorado around the same time) and Zholtok were playing together for HC Riga 2000 while waiting out the NHL lockout.
• St. Cloud State fans must wonder if the good times can continue this weekend when the Huskies host Michigan Tech. St. Cloud State has had a week off to