October 26, 2005
Senior Moments
By Thomas Baldwin
College Hockey America Notebook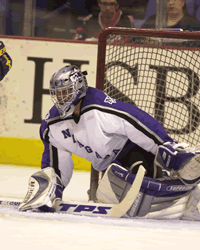 Niagara senior goaltender Jeff VanNynatten battled injury and inconsistency in 2004-05.

Atlantic Hockey Notebook
CCHA Notebook
ECACHL Notebook
Hockey East Notebook
WCHA Notebook
Everyone has heard of a sophomore slump. A few people think Niagara goaltender Jeff VanNynatten had a junior slump.
What?
That's right. A junior slump.
After a sophomore season in which he was named Most Valuable Player at the CHA Tournament and led the Purple Eagles to an NCAA Tournament berth, VanNynatten was solid last season, but did not live up to the lofty expectations of some.
He certainly had nothing to be ashamed of with a 2.64 goals against average and a .904 save percentage. Perhaps some thought he had an off year because he didn't backstrop club to the NCAAs. Missing a long stretch of games with a broken finger didn't help, either..
When Van Nynatten talks about it now, one can tell last season is thousands of miles behind him.
"I don't want to talk too much about last year. I want to focus on this year," he said. "I think I was distracted off the ice and was not as committed as I should have been. I thought I could just kind of make up for that by showing up Friday and Saturday and competing as hard as I could and that would be enough. As it turned out it wasn't.
"I had lots of motivation this summer, looking back on last year, to make this year kind of a special year for the senior class and the whole team."
This past summer, the senior stayed behind at Niagara to skate for 90 minutes every day and lift for another 90 minutes with a group of teammates. That dedication has paid off so far this season – VanNynatten has been very steady, posting a 3.00 goals against average and a .914 save percentage. His stats aren't mind-boggling, but he's made big saves when the game is on the line. He was especially sharp in Saturday's non-league win over Western Michigan, a big reason he was named the CHA Defensive Player of the Week.
VanNynatten is refreshingly frank – what you see is what you get, and what he says is the way it is.
"I don't think I am playing that much better this year," he said. "We started really strong as a team. I was confident coming into this year. And being a senior, I knew I was going to be relied upon to make sure I was ready to go on Friday and Saturday nights and give the guys a chance to win. We're scoring goals right now, and we are scoring goals at the right time. We are getting good contributions from our freshman class, especially [Ted] Cook and Big Country [Les Reaney]. As a team, we are gelling pretty well right now. We are competing hard in practice and guys are ready to play come the weekend."
Despite an bumpy junior season, VanNynatten says his confidence never wavered.
"I think any goaltender will tell you...you can't play this position without having confidence in yourself," he said. "It's a different kind of position than others...related to maybe a pitcher or a quarterback. If you don't have confidence in yourself or what you can do, then you are not going to perform."
Niagara coach Dave Burkholder, a former goaltender at RIT, has noticed a difference in VanNynatten this season.
"He even looks different in practice," Burkholder said. "Everything seems easier for him. It doesn't matter what drill we are doing – he just sees pucks. He is making things look easy or routine."
SEEN AND HEARD IN THE CHA
Great Weekend Getaway

Vermont at Niagara (Fri.-Sat.)
Air Force couldn't do it against Colorado College or Denver. Alabama-Huntsville couldn't do it at Maine. So can Niagara knock off a ranked opponent this weekend when undefeated Vermont travels to western New York for a two-game set?

Stick Salute

Sure, Air Force is bolting for Atlantic Hockey after the season and the Falcons haven't had the greatest success in recent years, but the Academy did the right thing by re-upping with coach Frank Serratore, a terrific ambassador for college hockey and one of the game's more loquacious bench bosses.

Bench Minor

No one expected them to escape Orono with a win, but Alabama-Huntsville – the pick of CHA coaches to win the league – mustered just one goal at Maine last weekend.
Air Apparent – Air Force coach Frank Serratore has lent stability to the Falcons program since assuming head coaching duties. Last week, he was granted a contract extension as for his efforts.
"I still had a couple of years left on my other deal, and I appreciate the support of the administration for doing that," he said. "I appreciate the fact that they think enough of me that they want to have me around and in charge of their hockey program for the next five years.
"I think we've made some great strides in my tenure here. I think in essence we have truly taken this program to the Division I level."
Air Force has technically always been a Division I school, but now the Falcons play a schedule consisting entirely of other D-I clubs – in the not too distant past, faced a handful of Division III foes annually.
Speaking of Division I clubs, the Falcons played two of the best last weekend, acquiting themselves nobly in losses to perennial powers and Front Range neighbors Denver and Colorado College.
"We outshot them, we outhit them, we outplayed them," Serratore said of Friday night's 4-2 loss to the defending national champions. "It's unfortunate we struggled to score goals. We very easily could have won that game."
Saturday, Air Force jumped to a 2-0 lead against Colorado College. Things looked good, but...
"I think all we accomplished with that is banging the bee's nest," Serratore said. "They came out and flat out dominated us in the next two periods. Their special teams on that big sheet were exceptional."
Colorado College led 4-3 after two periods, but outshot Air Force 11-1 and added two insurance goals in the third period to earn a 6-3 win.
Air Force opens conference play this weekend as it hosts Bemidji State, coached by Serratore's brother, Tom. More importantly, the Beavers are yet another ranked opponent on the Falcons' docket – five of their first eight games have come against ranked teams.
"Unfortunately, we have not been able to knock one of those big dogs off yet," Frank Serratore said. "But for the most part, we gave Maine and Denver all – and probably more – than what they wanted or were looking for."
FRIES AT THE BOTTOM OF THE BAG
• Robert Morris, in only its second year of Division I hockey, currently owns the most potent power play in the country. The Colonials have converted 12-of-33 attempts this season for a 36.4 percent success rate.
"Is it a surprise, yes," RMU coach Derek Schooley said. "We were not good on the power play last year. I said last year our power play will get better with age and maturity. Now, we've got guys in places that know what they are doing.
"[Senior forward] Kurt Wright is doing a very good job. We are getting pucks on the net and getting traffic. It's an all around effort."
Last weekend against Bentley, the RMU power play sizzled, especially on Saturday Saturday when the Colonials were 5-for-8 with the extra man. All seven of RMU's goals in the Bentley series came on the power play.
• Speaking of the Colonials, RMU goaltender Christian Boucher rebounded nicely after suffering an injury against Western Michigan the previous weekend.
"He was the difference Saturday night when we got outshot 23-8 in the second period," Schooley said.
Boucher finished with 33 saves in the Colonials' 5-2 victory.
• Alabama-Huntsville opened the season last weekend with a pair of losses at Maine, falling 3-1 Friday and dropping a 4-0 decision Saturday. The Chargers haven't won a game in which they've scored two or fewer goals since a 2-0 victory against Minnesota State, Mankato on Jan. 4, 2002. Since then, UAH is 0-40-2 when scoring less than three goals in a contest.
• More on VanNynatten: In Niagara's victory Saturday, he made the 2,000th save of his career. The Purple Eagles' all-time leader in that category is Greg Gardner (1996-2000), who finished with 2,639 career stops.
"I'm aware of all the Niagara goaltending records and the guy who owns them all," VanNynatten said. "Most of them are far out my reach. I didn't know it was the 2,000th save until I heard the announcer say it after the game."
A variety of sources were utilized in the compilation of this report.