December 15, 2005
2005-06 CHA Mid-Season Report
By Thomas Baldwin
SURPRISE TEAM

Despite a 4-9-1 record, Robert Morris's continued ascension is indeed impressive. Established programs are judged by the bottom line – wins and losses. But the Colonials, in only their second year as a Division I program, can only be judged by their ability to compete on a nightly basis. Mission accomplished.

Coach Derek Schooley's team took three of four points against RIT, split with CHA pre-season favorite Alabama-Huntsville and got a road win at Western Michigan, a team that swept Ohio State in Kalamazoo. The Colonials' formula – solid goaltending from sophomore workhorse Christian Boucher and a solid power play which, despite a recent slump (RMU has one extra-man goal in its last 30 opportunities), has ranked among the nation's best the entire season.

SURPRISE INDIVIDUAL

Air Force forward Eric Ehn had a fine freshman campaign last year, scoring nine goals and 13 assists in 36 games. Twelve games into his sophomore season, the Dexter, Mich., native has already matched his goal total from a year ago; he ranks among the nation's top ten in goals per game. Even more impressive is the manner in which Ehn has scored his goals. Of his nine markers this year, seven have come at even strength.
BEST NEW FACE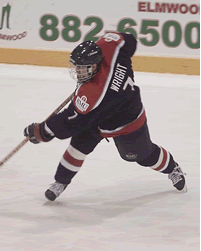 Robert Morris forward Kurt Wright, an INCH First Half All-CHA selection, has already matched his point total from last season.
Before the season started, Niagara coach Dave Burkholder said he was very excited about his freshman class. Judging by the numbers put up by newcomers Ted Cook and Les Reaney, he had a very good reason to feel giddy. The duo has done an outstanding job of filling the void on offense left by the departed Barrett Ehgoetz, Ryan Gale and Kris Wiebe.

With 17 points apiece in 17 games, Cook and Reaney are currently tied for third among CHA skaters in scoring. Cook's 10 goals lead the conference in that category, as does his six power play goals. Reaney, called "Big Country" by teammates, ranks third in the CHA with 13 assists.

WHAT HAPPENED TO…

Bemidji State's strong start? The Beavers appeared virtually unstoppable early in the year, posting a 7-1-0 mark out of the game and sweeping WCHA foes Minnesota Duluth and Minnesota State, Mankato on the road. At the time, it certainly looked like Tom Serratore's club was far and away the class of the CHA. In the six games since, the Beavers have been a pedestrian 2-3-1.

Goal production is one reason for the decline. BSU outscored its opponents by a 31-16 margin during its 7-1-0 start. Over the team's last six games, they're outscoring foes, 19-18 – and that span includes an 8-1 romp against Niagara. Another reason is the schedule. The teams the Beavers played in their first eight games currently have a combined 17-36-8 record, while its opponents over the last six matches are a combined 26-18-1. Home-and-home dates with North Dakota (10-7-1 overall) loom this weekend.

BIGGEST UPSET

CHA schools have notched some memorable wins already – Robert Morris topping Western Michigan and Alabama-Huntsville besting Ohio State come to mind – but the biggest surprise was Air Force's 4-3 win against visiting Bemidji State on Oct. 28.

The Falcons limped into the weekend having lost five of their first six and four in a row, while the Beavers were fresh off back-to-back sweeps of UMD and MSU-Mankato. But Air Force's Brian Gineo gave his team the lead just 13 seconds into the game, and Mike Phillipich and Jay Menenwaldt would score later in the period. A little more than 16 minutes into the contest, and the Falcons had a three-goal lead.

It was a rare victory for Air Force coach Frank Serratore over his brother, Tom, the BSU coach. Entering that game, Tom's teams had a 15-0-1 record against Frank's squads.

TOUGHEST ROAD OUT

If your neighbor plays hockey for Wayne State, here's why the old newspapers have been piling up on the doorstep since the beginning of October. The Warriors – the last Division I team to get a win this season – have played just four of their first 14 games at home. The team's first home series was Nov. 11-12.
In fact, coach Bill Wilkinson's charges have played more games in New York (series trips to Clarkson, Niagara and Union) than in Detroit. Things don't get much better for the Warriors on the other side of Christmas – Wayne State travels to Madison for the Badger Showdown Dec. 30-31 and opens the new year with series at Michigan State and at Bemidji State.

TOUGHEST ROAD IN

Niagara, which plays just six of its remaining 17 matches at home, gets the honor. Not only do the Purple Eagles have to get used to wearing the road darks, but they'll also have to contend with some difficult tests. Upcoming are trips to non-conference opponents New Hampshire (Dec. 30), Minnesota (Jan. 6-7) and Quinnipiac (Jan. 27-28) in addition to league junkets to Air Force, Wayne State and Robert Morris.

MUST-SEE SERIES

Bemidji State at Niagara, Feb. 24-25. One of the Purple Eagles' few home series during the last two-plus months of the regular season pits the CHA's most recent NCAA Tournament representatives.

Last year, after the visiting Beavers swept the Purple Eagles, Niagara's Burkholder said he could tell by the mannerisms of the players on the opposing bench that BSU simply wanted the game more. Not only does Niagara hope to atone for those two losses, but seeks to save face after Bemidji State crushed the Purple Eagles, 8-1, in the last meeting between the two teams on Dec. 3.

BIGGEST QUESTION ANSWERED

Will a "team to beat" emerge in the conference? There's still a long way to go, but at this juncture it appears Bemidji State is the team the rest of the CHA will chase if it harbors league championship aspirations.

Statistically, the Beavers rank first in the league in scoring offense (3.57 goals per game), scoring defense (2.43 gpg), penalty killing, combined special teams, net special teams and scoring differential. It's an impressive achievement considering BSU's challenging non-conference schedule.

BIGGEST QUESTION REMAINING

Is this the season Scott Munroe finally backstops Alabama-Huntsville to the CHA title? Two years ago, Niagara's Jeff VanNynatten was tournament MVP as the Purple Eagles won the CHA title. Last year, Bemidji State's Matt Climie blanked both Air Force and Alabama-Huntsville in leading the Beavers to the league playoff crown. The Chargers might need a similar performance from Munroe to finally get over the hump and win this year's tournament.

While his overall numbers aren't all that impressive, Munroe has been as good as any goalie in the country over the last couple weeks. In his last four starts, he's 3-0-1 with a .938 save percentage, remarkable for a guy who's faced an average of nearly 46 shots per game during that stretch.
INCH's First Half All-CHA Team

Pos.

Player
Of Note

G

Layne Sedevie, Bemidji State
Sure, he splits time with Matt Climie, but Sedevie ranks among the nation's top five in both GAA and save percentage and he's one of two goalies who've yet to lose a game this season (Miami's Charlie Effinger is the other.

D

Andrew Martens, Bemidji State
Scoring nearly a point a game for the Beavers, Martens ranks 11th in the NCAA in points per game among defensemen.

D

Steve Kovalchik,
Wayne State
The Warriors' leading scorer has been streaky through the first half of the season - scoreless in first two games, the posted a four-game point streak, endured a five-game scoring drought, and enters the weekend with three straight two-point efforts.

F

Ted Cook, Niagara
Leads the CHA in both goals (10) and power play goals (6) and is second to Quinnipiac's David Marshall in goals scored by a freshman.

F

Luke Erickson,
Bemidji State
Consistent scorer has point streaks of five, four and three games this season. Needs 13 points to become a member of BSU's century club...has a chance to do it in 100 career games.

F

Kurt Wright,
Robert Morris
The Colonials' catalyst and most experienced player has already equalled his point total from a year ago and hadn't been held scoreless in back-to-back games until last weekend's Niagara series.