December 15, 2005
2005-06 ECACHL Mid-Season Report
By Joe Gladziszewski
SURPRISE TEAM

One team clearly stands out in this category as the surprise team in the ECAC Hockey League for the 2005-06 season. Unfortunately for the Dartmouth Big Green, they're not surprising onlookers with stellar play. With a 4-7-0 overall record, Dartmouth has fallen well short of expectations set by coaches and media in the preseason. Dartmouth was picked second in the coaches poll and third in the media poll. Coach Bob Gaudet has been happy with how his team has played at times – and a 6-1 win over Cornell was a good sign – but the Big Green has lacked consistency.

SURPRISE INDIVIDUAL

Colgate's Jesse Winchester spent his freshman campaign centering a checking line with Dustin Gillanders and Liam Huculak. He had just two goals and two assists in 28 games. Top-line players Darryl McKinnon and Adam Mitchell graduated and that opened up an opportunity for Winchester to audition for a spot on the wing alongside two of the premier offensive talents in the league in Tyler Burton and Jon Smyth. Winchester seized the opportunity and leads the Raiders in scoring with 23 points through 15 games.
BEST NEW FACE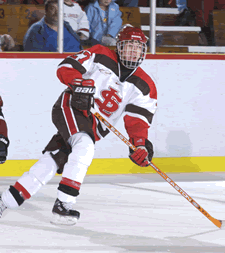 St. Lawrence coach Joe Marsh says forward T.J. Trevelyan, an INCH First Half All-ECACHL selection, is one of the best players in school history
Bob Norton may be disappointed to hear this. Most college hockey teams aren't scouring the prep school ranks to find top-level talent these days. And Clarkson traditionally pursues recruits from Ontario and Quebec to strengthen its lineup. But the Golden Knights have found a special offensive talent in Shea Guthrie, who played at St. George's School, a Division II prep school located in Newport, R.I. where he played for Ryan Mulhern. (Norton won't be disappointed to hear that!) Guthrie was selected in the third round of the NHL Entry Draft with the 76th overall pick by the New York Islanders. He has six goals and 11 assists in 15 games.

BIGGEST UPSET

St. Lawrence was one of several ECAC Hockey League teams that welcomed the Rochester Instititute of Technology to the Division I ranks by getting the Tigers onto the schedule on short notice. The Saints even agreed to play two games at RIT's Ritter Arena. It was an eye-opener when they returned to Canton with only a split. RIT goalie Jocelyn Guimond made 66 saves in a 3-2 victory. The Saints outshot their hosts 68-15 but RIT picked up the win. St. Lawrence rebounded with a 6-3 win the following night.

TOUGHEST ROAD OUT

Brown started its season with six league games against the three strongest sets of travel partners. They swept a home series against Clarkson and St. Lawrence, but lost the other four. Then it was a road trip to St. Cloud State non-league games against Providence and Maine, two of the best teams in Hockey East. The Bears are winless in their last seven games and get a chance to turn things around by facing Sacred Heart in the opening round of the Providence Holiday Tournament on Dec. 21.

TOUGHEST ROAD IN

Harvard sits atop the ECACHL standings, but after Friday's game at Dartmouth they will have played more games than every other team in the league. Other teams will make up ground in the standings when Harvard sits idle during a January exam break. Traveling during the holidays is never fun, and Harvard's destination is Grand Forks where it will play two games against North Dakota. The Crimson's second-half schedule includes just two home weekends of ECACHL play and Beanpot contests. Throw in a road trip to Colgate and Cornell, and there aren't many teams that envy Harvard's second-half challenges.

MUST-SEE WEEKENDS

Only Harvard stands ahead of Colgate, St. Lawrence, Clarkson, and Cornell in the ECACHL standings. The good news for ECACHL fans is that they can cheer on a favorite and follow the chase for the regular season title. The central New York schools host the North Country schools on Jan. 20 and 21. The same four schools will go up against each other in Potsdam and Canton on Feb. 10 and 11. These games will have a huge impact on which of these four teams ends up with a first-round playoff bye and home ice for the quarterfinal playoff series.

BIGGEST QUESTION ANSWERED

How will Rensselaer respond to losing Kirk McDonald for the year? It's been an up and down season for the Engineers that has featured big wins over Boston University and Providence but losses to Sacred Heart and Holy Cross. Rookie goalie Mathias Lange has started the bulk of the games and been stellar at times and lousy at others. The CEO line of Kevin Croxton, Oren Eizenman, and Jonathan Ornelas is one of the best trios in the country and has combined for 72 points on the year. Regardless of where the Engineers end up in the standings, they have dedicated this year to raising funds and awareness for cancer research, which makes it a successful campaign.

BIGGEST QUESTION REMAINING

Will Cornell defend its conference titles? The Big Red is the Phil Kessel of the ECACHL. Those questioning Cornell's first half do so because of the ridiculously high expectations set forth in the preseason. It hasn't been pretty all the time, but Cornell is still well within reach of the ECACHL regular-season title and has two each against Colgate, St. Lawrence and Clarkson. The Big Red has also played three fewer games than first-place Harvard and welcome the Crimson to Lynah on Feb. 18.
INCH's First Half All-ECACHL Team

Pos.

Player
Of Note

G

Mark Dekanich, Colgate
He followed school record-holder Steve Silverthorn and is doing a nice job of chasing some of those records with a 1.96 goals-against average and .932 save percentage.

D

Reid Cashman, Quinnipiac
The nation is finding out that his gaudy point totals weren't a product of playing in Atlantic Hockey.

D

Mike Madill,
St. Lawrence
He stepped up his leadership and offensive contributions, which were even more important when Drew Bagnall got hurt.

F

Kevin Croxton, Rensselaer
This senior forward is near the top of the scoring charts once again. His consistency over four years is impressive in spite of RPI's so-so record.

F

Jon Smyth,
Colgate
After emerging in his sophomore year, he has maintained his standing among the best forwards in the ECACHL ever since.

F

T.J. Trevelyan,
St. Lawrence
Saints coach Joe Marsh says Trevelyan is one of the best players in St. Lawrence history. Has recently regained his goal-scoring touch.