December 14, 2005
2005-06 Hockey East Mid-Season Report
By Jeff Howe
SURPRISE TEAM
Providence is 8-2-1 in Hockey East through the first half, meaning the Friars are off to their best conference start in school history. After losing seven home games last year, they are 5-0-1 so far this season. They already have two more league wins than last year, and they are three wins shy of their total of 12 from 2004-05, which seems like a century ago. And after giving up 23 more goals than they scored last year, they have actually lit the lamp 11 more times than their opponents this year. Oh, and Providence is tied atop the Hockey East standings with Boston College right now, too. First-year bench boss Tim Army is going to earn serious consideration for national coach of the year if his troops keep this up.
SURPRISE INDIVIDUAL
Vermont's Brady Leisenring, who only played in a six-pack of games last year after suffering a season-ending injury against Minnesota Duluth, has played in his team's inaugural Hockey East season like he – and the Catamounts – have been there all along. Leisenring leads UVM with eight goals and is second on the team with 11 assists and 19 points. He and linemate Torrey Mitchell have been one of the league's top one-two punches for an offense that ranks first in Hockey East with 3.40 goals per game.
WHAT HAPPENED TO…
It was expected that UMass Lowell would struggle following the early departure of Ben Walter to the pros, but even his 26 goals from a year ago wouldn't be enough to remedy the RiverHawks' horrendous defense. They returned eight of their nine blueliners from last year, but they have allowed 58 goals in just 15 games, the worst mark in the league. Lowell allowed 2.67 goals per game last season, but the average has jumped up by more than a full goal this go-around with 3.87 goals allowed per contest.
Although sophomore netminder Peter Vetri's production from a year ago has seen a slight drop-off, he can't be faulted. His .912 save percentage from last year has tailed off to .892 this season, the worst mark in Hockey East, but his 412 saves are the most in the conference. Want more? He made a career-high 53 saves Dec. 10 against UNH, but the River Hawks lost the game 4-1. And that career-high broke his mark from just eight days prior, when he made 40 saves against St. Lawrence in – you guessed it – a 4-2 loss.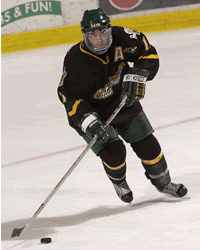 Vermont's Brady Leisenring is a prime reason the Catamounts boast the highest-scoring offense in Hockey East.
BEST NEW FACE
He may not have received the national hype that accompanied Boston College's Brock Bradford or Nathan Gerbe, but Vermont's Dean Strong has proven to be a perfect fit for the powerful UVM offense. Coach Kevin Sneddon knew his rookie recruit would be a strong player eventually, but his Christmas wish list probably didn't include "Dean Strong to lead Hockey East rookies with 14 points at midseason."
BIGGEST UPSET
Not only was it a giant upset, but it may have been the most exciting game to watch in the league this year. On Nov. 25, UMass took down the machine of Colorado College, which was ranked third in the nation at the time. The Tigers, who were running wind sprints as a team in the hallways of the Mullins Center before the game as though they were about to battle the Russians in 1980, appeared to be way too much for the Minutemen to handle. Almost immediately, CC jumped out to a 2-0 first-period lead, but UMass responded in appropriate underdog fashion.
The Minutemen got on the board on a goal from captain Stephen Werner and then got Kevin Jarman, who hadn't scored a goal in his first 10 games, to knot things up at 2-2 before the first intermission. After UM freshman Cory Quirk netted his second career goal in the second period to give the Minutemen the lead, senior Chris Capraro – who sat out all of last season – chipped in with a rare UMass power play goal to extend the lead to 4-2. Tiger Lee Sweatt scored his first of the year to cut the lead down to 4-3 with 5:02 left to play in the game, and his slap shot with five seconds remaining made it through UMass goalie Gabe Winer's pads but clanged long off the post to seal the Maroon and White victory.
TOUGHEST ROAD OUT
Before the season started, it looked like Northeastern – which lost its top scorer in Jason Guerriero and starting goalie Keni Gibson to graduation – may not win a game until December. Well, the Huskies (1-9-4 1-6-4 Hockey East) certainly made it interesting. After getting swept at North Dakota to kick the season off, Northeastern tied BC to pick up a league point early on. Greg Cronin's squad then dropped a 7-5 affair at Rensselaer and fell to Vermont once and UNH twice before picking up a win against UMass on Nov. 11.
The team certainly needed its winter break as the remaining first half (losses to Providence, BC and Maine around the three straight ties to UNH and Merrimack twice) mercifully came to a close. Things don't get easier anytime soon, though, as NU plays Cornell on Dec. 27 and then either Maine or Minnesota Duluth in the second game of the Florida College Classic on Dec. 28. After that, the Huskies take on BC and BU before heading to Vermont for a pair. No word on whether or not Hockey East commissioner Joe Bertagna extended an official apology to the Huskies when the schedule came out.
TOUGHEST ROAD IN
If Providence plans on holding onto its top spot in the conference, it's going to have to brave through a difficult second-half storm. With three games against UNH, two against BC and UVM, a two-game trip to Maine and one dogfight with BU, the Friars are going to have to prove that they can beat the league's big boys before they become one of the league's elite programs.
MUST-SEE SERIES
Unlike the final weekend of last year's regular season, this year's version doesn't have a full slate of marquee matchups, but there is one series that should put a smile on hockey fans' faces. When New Hampshire and Boston College lock up for a home-and-home on March 2-4, the league crown may very well be at stake. Oh, and it's the rematch of last year's Hockey East championship game, which BC took by a 3-1 score.
BIGGEST QUESTION ANSWERED
Can Maine win without Jimmy Howard? Well, yes and no. The goaltending hasn't been a problem by any stretch of the imagination to this point. Sophomore Matt Lundin's .957 save percentage and 0.96 goals against average are far and away the best numbers in the league, and he has also posted a 5-1-0 record. Freshman Ben Bishop started hot by winning a pair of games against two-time national champ Denver, and he has the third-best goals against average in Hockey East with a 2.17 mark.
However, the Black Bears endured a three-game conference losing streak and have lost four of their last six HEA contests overall. Whether or not this has to do with hockey or the team's legal troubles off the ice stemming from an off-campus fight on Nov. 13 – the night after the three-game skid began – is still unclear.
BIGGEST QUESTION REMAINING
What team will step up in the second half to win the regular season championship? To this point, no team has separated itself from the rest of the pack. Vermont and Maine were phenomenal out of the gate, but the Catamounts haven't won consecutive games since October, and Maine is struggling in league games of late. Providence has perhaps been the most consistent team against league competition, but non-conference losses to Nebraska-Omaha and Rensselaer caused a lot of people to scratch their heads.
It looked like UNH was going to roll into the December break atop the standings, but the Wildcats are just 2-3-2 since their five-game winning streak in the middle of November.
As of late, Boston College appears to be the strongest team in the league with its tremendous defense and solid goaltending from Cory Schneider. The rookies have been contributing on a regular basis, and the veteran line consisting of Chris Collins, Brian Boyle and Stephen Gionta (when he returns from injury) can provide late-season leadership in addition to a ton of points. Plus, it's always tough to knock off the champs.
INCH's First Half All-Hockey East Team

Pos.

Player
Of Note

G

Cory Schneider, Boston College
He plays in every game, has two shutouts, a 9-4-1 record, a .911 save percentage, a 2.28 goals against average and he was named to the U.S. National Junior Team. Cory Schneider laughs at the sophomore slump.

D

Peter Harrold,
Boston College
He is the big reason BC is such a strong team defensively. When he is in lockdown mode, opposing forwards don't have a chance. He's that dominant this year. And he's also a +14, the best mark in Hockey East.

D

Brian Yandle, New Hampshire
Forget about the fact that he doesn't play a whole lot of defense. He is going to be the top point-scoring defenseman for the second year in a row and finish in the top-three of that category for the third straight season.

F

Chris Collins,
Boston College
His 12 goals are tops in the league, and eight of them have been on special teams. His three short-handed tallies show just how dangerous of an offensive player he really has become.

F

Torry Gajda, Providence
Imagine what his numbers (11-8—19) would turn into if he played on the top line at BC or UNH. Gajda is this year's version of Ben Walter.

F

Daniel Winnik,
New Hampshire
Obviously, Brett Hemingway or Jacob Micflikier could have filled this spot, but Winnik's 25 points are the most in Hockey East thus far. This kid is something special.