October 30, 2003
Any Given Sunday (or Friday or Saturday or...)
By Mike Eidelbes
Parity. It's what makes the National Football League great. At least that's what the sport's honchos would like you to believe. On any given Sunday, one of the NFL's lesser lights can take out a more talented team. And the league's playoff races are wide-open, down-to-the-wire affairs.

Being less than a month into the hockey season, it may be premature to claim that the CCHA is taking on some of the characteristics of the NFL. Check the standings, however, and you can see evidence of across-the-board balance. Prior to Thursday's UNO-Notre Dame tilt, nine of the league's 12 teams were within a game either side of .500. Further, none of the neck-and-neck nine have established a pattern of success thus far. To wit:

• Michigan State is 3-3-0. In their six games this season, the Spartans have (in chronological order): lost, won, lost, lost, won, won.
• Miami is 3-4-1. In their eight contests, the RedHawks have: lost, lost, won, lost, tied, lost, won, won.
• Ohio State is 4-3-0. The Buckeyes have: lost, won, lost, won, won, won, lost
"I thought [Alaska-Fairbanks coach] Guy Gadowski used a great term at [CCHA] media day last year when he said the league is compressing," Notre Dame coach Dave Poulin said.

In an effort to find reasons to explain this phenomenon, the aspect of the game most often offered related to various facets of recruiting. In recent years, Poulin has pointed to the spread in birth years of freshman commitments as a huge factor in promoting parity.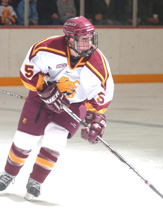 On the heels of Ferris State's CCHA title last season, is the league in for more top-to-bottom balance in 2003-04?
"I think it's a great, great equalizer," the eighth-year coach said. "You look at some programs that have already committed [players with] 1987 birthdates and a lot of programs are committing 1983 birthdates right now. That five-year spread is such a big area."

Poulin crafted an analogy to college basketball to hammer his point home.

"Top [basketball] programs are going to pick off so many players from the senior class in a given year," he explained. "With fast tracking through high school and junior leagues providing such a viable option for older kids to develop their games further, I think that's creating parity."

Bowling Green coach Scott Paluch agrees that the pool is larger, but adds that the talent base is deeper for a couple other reasons. For example, whereas colleges used to draw players from small recruiting pockets across the continent, there are more junior leagues in North America – and even in Europe – turning out highly skilled prospects, who in turn are getting more exposure.

"There are just so many places where quality players can come from," said Paluch, an top recruiter under Jerry York at Boston College before taking the Bowling Green job. "There's certainly a bigger pool in terms of the quality of the leagues than there was 10 years ago. The North American Hockey League added the America West Hockey League [this season], the Eastern Junior Hockey League, the USHL, which has been strong for a number of years, and [leagues] across Canada."

Both coaches note, not surprisingly, that players these days want to play. Instead of spending a year or two battling to get into the lineup at a bigger school, prospects now want to join programs where they can make an immediate impact. It's a consideration made eaiser by the continued growth of Division I hockey

"Ten or twelve years ago, there were about 40 teams playing Division I hockey," Paluch said. "Now we're close to 60 again."

The CCHA is not far removed from a time when Michigan and Michigan State stood firm at the top of the heap, and 10 other teams chased the two behemoths with limited success. Judging from recent results – think last year's Ferris State CCHA regular-season championship – those days may be long gone.

"Not many scores are going to surprise you," Paluch said. "Top to bottom, our league...kind of mirrors what's happening across the country."

SEEN AND HEARD IN THE CCHA

A.J. is A-OK – He isn't quite ready to claim a permanent spot in the Spartans' Pantheon of Great Defensemen, but Michigan State freshman A.J. Thelen showed signs of becoming a capable offensive threat on the blue line for the Green and White, a crying need for MSU given the graduations of stalwarts Brad Fast and John-Michael Liles last spring.

Thelen, who enters the upcoming series against Ferris State ranked tied for second among the nation's freshmen in scoring, has two goals and five assists in six games. Five of those points came in last weekend's sweep of Western Michigan. The Savage, Minn., native recorded a goal and three assists in a 4-2 win at Munn Arena Friday and added a single assist in the finale at Lawson Arena the following night.

"Losing Liles and Fast, that was a big concern about our team," Thelen said. "But I think our whole team pretty much answered them defensively. We all stayed together and we fought it out."
The second-youngest player in the NCAA ranks, the 17-year-old Thelen was naturally buoyed by his performance against the Broncos. But he also showed maturity beyond his years when asked to critique his effort Friday.

"The only thing I was disappointed about was getting a goal and then getting a penalty on the next shift," Thelen said. "I think that brought our team down a lot."

Odds are, the times Thelen drags the Spartans down will be far surpassed by the positive impact he makes. At 6-foot-3, 205 pounds, Thelen likes a physical game, stresses communication with his defensive partner and flashes an offensive flair to his game. He displayed that knack with his power-play marker against Western Michigan, when he lugged the puck from the point to the top of the far faceoff circle and ripped a laser past goalie Scott Foster.

"I love playing in the neutral zone, but I love scoring and helping out with the forwards," Thelen explained. "I do what I can."
What Brown Can Do For You – Good news for Notre Dame hockey fans – and, yes, such an animal exists: veteran goaltender Morgan Cey dressed for last Friday's game at Boston College after missing the first few weeks of the season after undergoing knee surgery in July. Even better news: sophomore walk-on Rory Walsh and freshman David Brown have been outstanding in Cey's absence, giving the Fighting Irish impressive depth between the pipes.

"It's a great problem to have," Poulin said. "We've talked so much about team, and very often goalies are a little bit exempt from that. But we've talked to them about it specifically and I think they'll do a very job."
Brown, specifically, couldn't have gotten off to a better start to his college career. The season is young, but the Stony Creek, Ont., product leads CCHA goaltenders with a 1.51 goals against average, a 95.7 saves percentage and two shutouts, which have come in back-to-back starts (he blanked Bowling Green six days before denying BC). He's the second Notre Dame backstop to record shutouts in two straight games. The first? Cey, who accomplished the feat in the first round of the 2003 CCHA playoffs.

"I think [Brown] looks bigger in the net, as a lot of them do," Poulin said. "But he has pretty good size – he's six feet plus – and he is very quick, very strong side to side. [He's got] very good leg strength so his side-to-side movement is very aggressive.

The Irish have allowed 10 goals in five games, and half of those markers were scored in a loss to Bowling Green at the Joyce Center two weeks ago. With Cey returning to the fold, Poulin's charges get that much stronger in their own end.

"I take particular pride in two shutouts in a row," Poulin said. "To be able to do that and really contain a team like Boston College is very, very encouraging. I think it's got to start with defense."
Scare Tactics – There were a pair of frightening incidents – one involving a coach, the other an official – at CCHA rinks this weekend. Prior to Sunday's Northern Michigan-Michigan game in Ann Arbor, Wolverines' assistant coach Billy Powers collapsed during pre-game warm-ups and was rushed to the hospital.

The incident apparently shook the team as the Wolverines managed just two shots on goal in the first period. Michigan ended up earning the series sweep by notching a 5-2 decision over the Wildcats.

"I think it upset our team tremendously at the start of the game," Michigan head coach Red Berenson told the Michigan Daily. "We're trying to get our team prepared and focused and all of a sudden something like that happens and everyone's (wondering), 'What happened? What's going on?' and we couldn't tell them anything until the game was over."

The problem, according to an athletic department spokesperson: a sudden drop in blood pressure. Powers was held for observation for a few hours and was released Sunday night. He's expected to be with the team Michigan hosts Niagara Saturday.

Two nights earlier in East Lansing, assistant referee Butch Friedman was helped from the ice midway through the first period of the Western Michigan-Michigan State game after being hit above the eye with an errant stick blade. Friedman fell to the ice and remained down for a couple of minutes. He was quickly escorted to the Spartan training room – leaving a large pool of blood on the rink – and was treated immediately by the MSU team doctor.

Referee Mark Wilkins and assistant referee John Philo carried on for the remainder of the first period and the entire second period. Friedman rejoined the crew prior to the third period, receiving a warm round of applause from the
Munn Ice Arena crowd.
Great Weekend Getaway

Western Michigan at Cornell (Fri.-Sat.): The Broncos had a great chance to win a "statement game" Friday in an arena in which they hadn't been successful in a decade. But squandered a lead to Michigan State in East Lansing, then were thoroughly dominated by the Spartans in Kalamazoo the following night. Western has the talent up front to compete with every team in the nation, but their defensive effort and goaltending will dictate success or failure during the course of the season. This weekend, the Broncos get another stiff test when they travel to Ithaca to face Cornell in the season opener for the Big Red.

Stick Salutes

• A long overdue tribute in Ann Arbor last weekend as the University of Michigan awarded rings to members of the Wolverines' 1953 NCAA championship team. The squad had received rings for its 1951 title and earned watches for its national crown in 1952, but didn't get baubles for capturing its third straight NCAA championship in '53.

"I don't know what happened," legendary forward John Matchefts told Antoine Pitts of the Ann Arbor News. "Maybe they thought we were winning it too often."

• His team was swept by Michigan State last weekend, but Western Michigan forward Dana Lattery capped a fantastic individual effort with a pretty goal in East Lansing Friday. The senior captain picked the Spartan puck carrier clean on the back check at center ice, fought off a defender in the neutral zone, lugged the puck up the near half boards, waited out another MSU blueliner and fired a laser that beat goaltender Matt Migliaccio cleanly through the five hole.

Bench Minors

• One week after being named Inside College Hockey Player of the Week and CCHA Defensive Player of the Week, Ohio State goaltender Mike Betz allowed three goals on 22 shots in a disappointing home loss to Mercyhurst. His teammates didn't help matters by giving the Lakers eight power play opportunities.

• Allow us to step outside the conference for a moment, because this is clearly a much bigger issue that deserves our attention. The Providence Friars last weekend scrapped the classic "Skating Friar" logo on their sweaters in favor of the school's new athletic mark, which looks like a hooded Joey Tribbiani. The new look was unveiled Friday vs. Boston University and, in a nod to karma, the Friars were on the short end of a 6-4 decision. The hockey gods, apparently not sufficiently satisfied that Paul Pooley's team wore the skating Friar on its chest Saturday at Merrimack, forced Providence to skate to a scoreless tie with the Warriors. Memo to Providence: don't spit into the wind, don't tug on Superman's cape and – for the love of Pete – don't mess with the Skating Friar
FRIES AT THE BOTTOM OF THE BAG

• Looking for a way to get the troops fired up for a big game? Just invite a Stanley Cup winner, perennial all-star, future Hall-of-Famer and 20-year NHL veteran to address the boys. That's exactly what Dave Poulin did prior to the Fighting Irish's game at Boston College, summoning former teammate Ray Bourque to speak to his club at their pre-game breakfast.

Whether No. 77 provided Notre Dame with the necessary spark to upset the Eagles is questionable, but Poulin sounds like he might be a slave to superstition.

"Now I'm going to need Ray to come in every Friday morning and speak with the team and have breakfast with them," Poulin said. "I don't know what he's doing for the rest of the year, but I know where he should be."

In the future, Bourque may volunteer to give a pre-game speech to BC foes every weekend. His son, Chris, has verbally committed to attend Boston University.
• Two current CCHA players and one ex-conference skater were among those named to the squad that will represent the United States at the 2004 International Ice Hockey Federation World Junior Championship in Finland.

Sophomore Alvaro Montoya of Michigan joins Maine's Jim Howard in goal for the U.S. team. Also making the trip is Michigan State sophomore defenseman Corey Potter. Forward Ryan Kesler, who left Ohio State during the summer to join the Vancouver Canucks' organization, is also on the list. He is currently playing for Vancouver's American Hockey League affiliate, the Manitoba Moose.

Another Michigan skater, forward Jeff Tambellini, is one of two college players under consideration for Canada's entry at the World Junior Championship. Hockey Canada won't announce its final roster until mid-December.
• It's certainly something that bears watching as the season progresses. As reported last weekend, the CCHA has struggled mightily against non-conference opponents this season. The league's combined record outside of conference play now stands at 8-12-3 (.413) following Ohio State's loss to visiting Mercyhurst Friday and Bowling Green's loss and tie against Union last weekend. This weekend's non-league games include two series – St. Lawrence at Lake Superior State and Western Michigan at Cornell – and a Saturday affair pitting visiting Niagara against Michigan.
• Speaking of Niagara, maybe CCHA commissioner Tom Anastos can make the Purple Eagles an honorary league member for the month. In addition to Saturday's game in Ann Arbor, Niagara plays at Bowling Green Nov. 7, welcomes Western Michigan to its campus for a two-game series Nov. 14-15 and closes November with a pair of games at Ferris State Nov. 28-29.
• Despite the obvious allure of his last name – even though it's not spelled exactly the same as the fantastic Canadian lager – Western Michigan freshman winger Kevin Labatte is quickly moving up the list of INCH's favorite players.
Labatte, who split time growing up between Dallas and Utah, thought the NHL's Stars needed a tradition a la the Detroit Red Wings, where fans lob octopuses on the Joe Louis Arena ice following a goal. Following a Stars goal a few years back, the young Labatte pitched a t-bone steak onto the Reunion Arena ice. The practice, unfortunately, never caught on.

• This week's obscure Bowling Green fact, courtesy of Bowling Green Sentinel-Tribune scribe Kevin Gordon: as a player with Peoria in the defunct International Hockey League, Falcons' head coach Scott Paluch roomed with John Ferguson, Jr., who is in his first season as general manager of the Toronto Maple Leafs.

• Bonus obscure Bowling Green fact, this one from the desk of the team's sports information director, Kris Kamann: the Falcons enter this weekend's series against Miami with 11 goals. The RedHawks, meanwhile, have scored 15 goals...on the power play.