October 30, 2003
Shooting with a Smile
By Nate Ewell
When you're raised by an NHL veteran and spend your summer working out with professionals, you're in a great position to learn about the game.
That's no shock. But what Ben Walter has picked up from all those folks who get paid to play might be.
"This game – it's just that, a game," said Walter, Hockey East's hottest scorer with eight goals this season. "You should have fun with it. I can't wait to play, and last year, when we weren't winning and I wasn't scoring, that wasn't always the case."
UMass Lowell fans have certainly enjoyed Walter's breakthough performance during the first five games of this season. He's had multiple-point efforts in four of the River Hawks' five games and posted a hat trick, with the game's first three goals, in their 6-1 win over Niagara.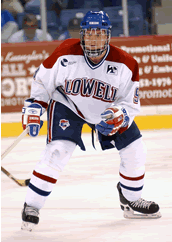 Ben Walter was UMass Lowell's fifth leading scorer last year with 5-12—17.
Walter, who's father, Ryan, was a 15-year NHLer, scored five goals and a respectable 17 points in his freshman season. A 29-goal scorer as a BCHL all-star the year before, he was frustrated with his production and UMass Lowell's difficulties in close games, as the River Hawks lost seven one-goal games in Hockey East.
He spent the summer working out with former NHLer Tony Twist and several current pros, including Cliff Ronning, in Burnaby, British Columbia. He credits those workouts for some of his success this season, as well as his upbeat approach.
Whatever the reason, everything's going in for Walter right now – especially on the power play, where he has an NCAA-leading six goals. He's got a 42.1 shooting percentage.
"I'm playing with Elias Godoy and Andrew Martin, and something's working," he said. "They're finding me the puck and it's going in. We're having fun out there."

We simply can't resist an opportunity to show you the Skating Friar.
Sweater Shock – Head coach Paul Pooley sounds a bit like a cop telling everyone to remain calm when he reminds us that the Skating Friar isn't gone from Providence's sweaters. In fact it isn't – it's just moved to a less prominent spot on the back of the jersey, while the new logo takes over the prime real estate on the front.
"Change is always difficult for some people," Pooley said – unaware, perhaps, that I was one of those people (see the "Bench Minor," below). "But we look at this as a new beginning. It gives us a new sense of where we're going as a program."
The new logo was introduced last fall and features a hooded Friar with a new font treatment (one INCH staffer called it a cross between the Gorton's fisherman and the Blair Witch). When the new logo was introduced, the school noted that the hockey teams would continue to wear the Skating Friar, which has been a staple at Schneider Arena since it was built in 1973.
The Skating Friar remains on the back of the new jerseys, which Providence wore for the first time in last Friday's home loss to Boston University. Hockey's transition to the new logo was in support, Pooley said, of athletic director Bob Dricoll's goal to give all Providence teams a consistent look.
Pooley also reassures fans that they probably haven't seen the last of the classic Skating Friar sweaters.
"We'll probably get a third jersey with the Friar on the front at some point," he said.
Blue-Collar Black Bears – There's a lot to like about Maine's early-season performance, from the fantastic goaltending of Jimmy Howard and Frank Doyle, to the development of the returning forwards, to the strong play of the freshmen.
Head coach Tim Whitehead, however, praises his team's demeanor much more than anything specific that he's seen on the ice.
"I really like the culture in our program right now," he said. "It's very solid. For whatever reason we seem to have a very tight-knit group."
The result has been an all-out effort in each of the five games (plus an exhibition) heading into the start of Hockey East play against Merrimack and Boston University this weekend. Whitehead beams as he recalls a comment from Moe Mantha, who resigned as head coach of the U.S. National Team Development Program this week, about Maine not being the most talented team the Under-18s have faced this year, but the hardest working.
"That's a great compliment for our team," Whitehead said of the group that is No. 1 in the polls this week. "That really matches what we think we are."
No Longer Anonymous – There are few jobs in hockey more anonymous than third-string goalie (Curtis Joseph being the exception).
That's what makes David Cacciola's return to the net last weekend for Providence that much more impressive. After playing five games (four starts) as a freshman behind former Friar Nolan Schaefer, Cacciola faded into the background with the arrival of Bobby Goepfert last season and didn't see a minute of action. But when Goepfert faltered against Boston University last week, Cacciola jumped in. He played well enough to earn the start the next night at Merrimack, which finished as the first scoreless tie in Providence history.
Great Weekend Getaway

Boston University at Maine (Sat.)
Both teams enter the weekend unbeaten and they'll renew their rivalry in each team's second conference game of the year. With two balanced offenses on display, it could be a third- or fourth-line goal that makes the difference.

While You're There: Keep an eye on the Black Bears' jerseys, as we hear that a third jersey could make it's debut. Will college hockey's best color scheme work when light blue is the predominant hue?

Stick Salute

Conference teams deserve applause for submitting their box scores to collegehockeystats.com, an outstanding resource for info from five of the six conferences. If only the CCHA would get on board.

Bench Minor

I'll admit that I haven't seen the new Providence jersey – I wasn't at Friday's BU game and no photos are available – but moving the Skating Friar from the front of the sweater seems like a mistake. Here's hoping it doesn't last, like those regrettable pinstriped numbers PC wore a few seasons back.
"We played pretty well around him on Saturday, and he made the saves when he needed to," head coach Paul Pooley said. "He's been growing and learning. We told him that he was going to get the opportunity to play, and he proved that he deserved it. He's certainly got himself in the mix again."
By mid-week, Pooley hadn't decided on his goaltending plans for this weekend's home-and-home series against Massachusetts.
FRIES AT THE BOTTOM OF THE BAG
• How many people thought Union would be the undefeated team when the Skating Dutchmen visit New Hampshire Friday night?
• Merrimack junior goaltender Casey Guenther only played nine games in relief of Joe Exter last season, and posted a less-than-inspiring .855 save percentage. His early performance has been the big reason for Merrimack's 2-2-1 start, as his .921 save percentage this year ranks third in Hockey East, trailing only Maine's goaltending tandem of Jimmy Howard (.959) and Frank Doyle (.942).
• Boston College is off until Wednesday's game against UMass Lowell, giving the Eagles a little more time to get captain Ben Eaves and Dave Spina healthy. BC is only 10-12-1 in games Eaves has missed during his career. As much as his skill, however, the Eagles need his leadership to help solve their third-period woes. Opponents have outscored BC 11-5 in the third, while BC holds a 6-0 edge in the first and 6-3 in the second.
• Northeastern seeks its first win in a home-and-home series against head coach Bruce Crowder's former club, UMass Lowell. The two teams met in the final game of the regular season last year with the eighth and final playoff spot in Hockey East on the line; the River Hawks won, 4-1. Northeastern has outshot three of its four opponents, but is 0-3-1; that's a note that bears a striking resemblance to UMass Lowell last year, which averaged nearly 10 more shots that its opponents, but finished 11-20-5.
• Maine's Jimmy Howard and Greg Moore, Boston College's Patrick Eaves, and Massachusetts' Stephen Werner will represent the U.S. at the 2004 World Junior Championship. The 16-man preliminary roster was announced this week. Eaves will play for his father, Mike, who is the head coach of the team. Eaves had been scheduled to play on last year's team but missed the tournament due to injury. Moore and Howard were on last year's team, while Werner is UMass' first-ever representative.
• Speaking of the younger Eaves, he had about as good of an offensive game as a player can have without scoring in last Friday's 1-0 Eagles loss to Notre Dame.
• New Hampshire senior Steve Saviano had five goals in the Punch Imlach College Hockey Showcase, including a four-goal effort against Canisius. His five goals on the weekend matched his total from all of the regular season last year. Saviano did add four playoff goals for a total of nine in 2002-03.