November 20, 2003
You Look Mav-elous
By Mike Eidelbes
In an MTV special chronicling the making of his latest album, singer-songwriter-guitarist-heartthrob John Mayer compared making a record to running a race.

"You can't walk, you run," the Grammy-winner said. "And when your legs hurt, you run even faster."

You won't find any gold-plated records hanging in the Nebraska-Omaha hockey offices, but that doesn't mean Mavericks' coach Mike Kemp can't relate to Mayer. UNO enters this weekend's series at Ferris State one win shy of the 100th victory in program's history and, of course, numbers like that make it easy for people like me to write retrospectives.

"I don't look at the milestone personally for me. It's a milestone for our program," Kemp said from Eppley Airfield Thursday, minutes before his team was set to depart on a Michigan-bound flight. "It's one of those things as I look back on...the kind of conditions we started with in 1996 with no players, no equipment and to think where we've been and what we've done and where we're headed, it's personally gratifying."

It didn't take long for the Mavericks to make a name for themselves in college hockey circles. By the time the team had wrapped up its inaugural season in 1997-98, UNO had posted a home sweep against WCHA stalwart Denver, reeled off an eight-game unbeaten streak, upset Maine at Alfond Arena and filled the Omaha Civic Auditorium to capacity for each of the team's 19 home games.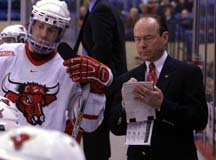 Mike Kemp and Nebraska-Omaha are one win shy of the program's 100th victory.
The program's defining moment occurred in 2000, when the upstarts from the prairie beat Northern Michigan in a CCHA first-round playoff series and topped Bowling Green in the conference's play-in game to earn a berth in the league's final four in Detroit. Not content with just being at Joe Louis Arena, UNO recorded one of the biggest upsets in CCHA history, bouncing Michigan in a semifinal match, 7-4.

"It's really a point of pride that people nationally, when they talk about UNO, they have an image of who we are," Kemp said. "That was something I had hoped to accomplish."

Kemp and his charges endured a lean year in 2002-03 – inexperience and injuries played a large part in the team's 13-22-5 mark – and are off to a 2-7-1 start this season. The Mavericks are still a green group, having started five freshmen and a senior against visiting Northern Michigan last Saturday and bringing 16 freshmen and sophomores to Big Rapids for this weekend's series with the defending CCHA regular-season champions.

"College hockey is such an ever-changing business," Kemp explains. "It's a constantly evolving game and we still want to grow our program over the next 100 wins. It's taken us seven years to get to 100 wins. Now we want to do it in five years, or four years."

Before the puck ever dropped in Omaha, Kemp – a former assistant coach under Jeff Sauer at Wisconsin – envisioned the UNO program as a mini-Wisconsin. Thus far, everything has lived up to expectations.

"This is what I envisioned it to be," Kemp said. "A revenue-generating, successful program that is a cornerstone of the community and an entertainment [option] with a huge following and excitement surrounding it."

Indeed, with a sparkling new arena and a lineup that is maturing by the day, expect Kemp and the Mavericks to be running faster than ever before too long.

SEEN AND HEARD IN THE CCHA

BOUNCE-BACK BUCKEYES – More often than not, any discussion of Ohio State hockey centers around the off-season departures of Ryan Kesler and R.J. Umberger. Resting atop the CCHA standings, the Buckeyes have rebounded quite nicely from the summertime losses. In fact, they've carried that resiliency on the ice.

Five times OSU has lost thus far this year, and five times they've bounced back with wins in the next game. Coach John Markell isn't necessarily pleased that his team has dropped five games, but says his players understand the importance of avoiding consecutive losses.

"They hold themselves accountable," Markell said. "They look in the mirror and say, 'Can I do better?'"

The recoveries the Buckeyes have made following defeats have been impressive. Take last weekend, for example, when Ohio State was blanked by Michigan in front of a national television audience and the largest crowd to see a game at Value City Arena this season. Despite giving up a goal to the Wolverines 21 seconds into Saturday's series finale, the Buckeyes righted the ship to score five unanswered goals to salvage a split with a 5-2 victory.

"We have nine seniors and a sprinkling of juniors. That weight goes right on to their shoulders," Markell said. "If we drop points during a weekend, they know we're not going to be where we want to be."

Steering clear of losing streaks is the sign of a good hockey team. Putting together winning streaks is nice, too, especially when one is trying to maintain its first-place position in the conference. And emerging with a victory on Friday is an excellent momentum-builder, too. Unfortunately for Ohio State, T.G.I.F. stands for This Game Is Futile – the Bucks are 2-5-0 on Fridays. Markell spent this week working with his team on alleviating that issue.

"We're going to try and break it down into small pieces," Markell said of his approach to this weekend's non-conference tilts at Cornell and Colgate. "Are we playing periods one, two and three the same way we're playing four, five and six? We've gotta be able to play six periods."

CEY SIDELINED SUDDENLY FOR 'SCOPE – Notre Dame goaltender Morgan Cey is right back where he started the season...on the shelf with an injured right knee.
The junior, who missed the first five games of the season after undergoing an arthroscopy during the summer, felt his knee lock up during a 3-1 loss to Michigan State Nov. 7. Team doctors took another look at the joint and determined it wasn't healing properly, so Cey went under the knife for a tune-up Wednesday.
"[The procedure] went great," Fighting Irish coach Dave Poulin told the South Bend Tribune. "It was exactly what [the doctors] thought, and they went in and cleaned it out."
Fortunately, Poulin has freshman phenom David Brown – he of the 1.48 goals against average and 95.2% save percentage – to carry the load until the holiday break. Cey is targeting the Everblades Classic (Dec. 27-28 in Estero, Fla.) for his return to active duty.
Great Weekend Getaway

Lake Superior State at Notre Dame (Fri.-Sat.): Lake Superior State currently holds the longest unbeaten streak in the CCHA at three games. Scoff if you must, but the last time the Lakers had an undefeated stretch of more than two games, George W. Bush was mismanaging the affairs of just one state.. And the last time the Irish had the best goalie in the CCHA... well, they've never had the best goalie in the conference. But they do at this juncture. Don't expect a lot of scoring in this series – LSSU averages 2.0 goals per game, while Notre Dame averages 2.56 goals per contest. Don't expect a lot of power-play opportunities, either. The Lakers and Irish average a combined 18.82 penalty minutes per game. Ferris State alone averages 18.6 PIMs each game.

While you're there: No football this weekend, as the Irish wrapped up the home portion of the schedule last Saturday against Brigham Young. The weather shouldn't be too bad in South Bend, so stretch the legs and take a walking tour of campus. The Golden Dome, Touchdown Jesus, the Basilica and the Grotto are popular spots.

Stick Salutes

• Tucked away in a remote corner of southwestern Ohio, Miami doesn't get much recognition as a hockey school. But Goggin Ice Arena was packed to the rafters for both games of last weekend's series against Michigan State. On Friday, the crowd was boisterous – two first-period goals from the home team always helps – as spectators stood three deep at the open areas at both ends of the ice.


Bench Minors

• In hockey, as in any sport, tempers will flare from time to time. It's natural. That being said, Northern Michigan coach Walt Kyle would probably be best served by not wearing his emotions on his sleeve. His outburst following the Wildcats' win against UNO Saturday – captured, complete with expletives, by a reporter from the Nebraska-Omaha student newspaper – was an embarrassment. You have a right to be mad, Walt, but keep it in the locker room.
FRIES AT THE BOTTOM OF THE BAG

• Has Michigan State's goalie of the future become its goalie of the present? Freshman Dominic Vicari started both ends of last weekend's series at Miami and was the Spartans' best player, making 38 saves in Friday's 4-2 loss to the RedHawks and turning aside 28 shots in a 3-1 win Saturday. Vicari's play relegated junior Matt Migliaccio, who had been splitting time with the freshman, to the bench for the weekend.

"Dom's played very well and he's earned the right to play," MSU coach Rick Comley told the Lansing State Journal. "How much he'll play or what we'll do, we'll just play it by ear."

Vicari rewarded his coach's confidence by giving up three goals on 22 shots in a disappointing 3-2 home loss to Wayne State last night.
• The head coach at Ely H.S. may not get his team to Minnesota's state tournament this season. But he boasts arguably the most impressive playing resume among Gopher State bench bosses.

Lake Superior State alum Mark Vermette is in his first season as the Timberwolves' head coach. The Couchenor, Ontario, native was runner-up for the Hobey Baker Award in 1988, when he scored 45 goals and 29 assists for Frank Anzalone's Lakers. He also enjoyed a six-year professional career that included 67 games with the Quebec Nordiques spread over four seasons.

Ely is a city of about 2,000 people located in northeastern Minnesota's Arrowhead region. Vermette makes his regular-season debut with the Timberwolves Nov. 28.

• If it were smart, an auto maker would give Jack and Judy Ortmeyer a car to document how the vehicle holds up during prolonged journeys. After years of driving from their home in Omaha to various exotic locales to watch sons Jake, a former Miami defenseman, and Jed, a four-time letterwinner at Michigan, ply their crafts.

The Ortmeyers were on the road again this week to see Jed, recently summoned to the NHL by the New York Rangers, play in Chicago. That's an eight-hour drive, not a big deal considering Ann Arbor is roughly three hours past Chicago. Thursday, they drove eight hours the other direction to catch the Blueshirts as they faced Colorado in Denver.

"That's the way we grew up," Ortmeyer told the Newark Star-Ledger. "We had to drive all over the country to play hockey."

Ironic, then, that Jed Ortmeyer's drive caught the attention of Rangers' general manager-head coach Glen Sather, who signed the former Wolverine as a free agent last summer.

"He'd been playing very well (in Hartford), he'd been taking the body well, being physical," Sather said. "And he's smart."

• The nearly 10,000 fans in attendance at Friday's Michigan-Ohio State game in Columbus witnessed a unique occurence at Value City Arena.

No, the Wolverines' 4-0 shutout of the Buckeyes that night wasn't a first. But during the first intermission, the OSU band took to the ice to perform its famed script Ohio formation, complete with an I-dotting courtesy of a Sousaphone player. The momentus occasion was recounted Saturday morning on ESPN's College GameDay, on campus for that afternoon's Ohio State-Purdue football game.

• The line of the week comes courtesy of Michigan State volunteer assistant coach Damon Whitten. Whitten, who skated for the Spartans from 1997-2001 and scored 75 points during his career, was not known for his Gretzky-esque abilities. Last week, he noted that the ice surface at Miami's Goggin Arena has more room behind the nets, making for a smaller neutral zone. When asked by MSU radio play-by-play announcer Scott Moore if the configuration was noticeable to players, Whitten explained, "It was good for me. I could set up in my office behind the net."

• Finally, another obscure Bowling Green note of the week: There have been some exceptional NHLers who've come through the Bowling Green program over the years – guys like Mike Liut, Ken Morrow, Garry Galley, Rob Blake and Brian Holzinger, just to name a few. But only one Falcon has been chosen in the first round of the NHL Draft.

Defenseman Peter Ratchuk was selected by Colorado with the 25th overall pick in the 1996 entry draft. After spending one season at Bowling Green, the Buffalo native joined the Hull Olympiques of the Quebec Major Junior Hockey League. During the next five seasons, Ratchuk played for three organizations and appeared in 32 NHL games, all with the Florida Panthers. The 26-year-old now skates for Frankfurt in the German Elite League.

A variety of sources were utilized in the compilation of this report