December 11, 2003
Hawkish Halfway Holiday
By Mike Eidelbes
OK, show of hands. How many of you were surprised to wake up Sunday morning and see Miami residing atop the CCHA standings? Seems like it literally happened overnight, doesn't it?

While Notre Dame and Ohio State have shared the "it" team designation in the conference during the first half of the season, Miami (10-6-2 overall, 8-3-1 CCHA) quietly climbed to the top spot after sweeping the Buckeyes in a home-and-home series last weekend. The RedHawks, who started the season with a pedestrian 3-5-2 record that included ugly losses to St. Lawrence and Air Force, have won seven of their last eight games.

"We had a lot of new faces coming in and playing right away. We had two freshman goalies that came in right away and played," sophomore defenseman Andy Greene said. "It was a slow start, but things are clicking now."

Firing on all cylinders may be a more apt description of Miami's play over the last four weeks. They've allowed two or fewer goals in six of their last eight outings, and they've scored four or more goals a half-dozen times during that same span. The RedHawks' penalty kill jumped from 42nd to 25th in the national rankings after denying Ohio State in each of its 16 man-advantage opportunities last weekend and the team boasts the nation's fourth-best power play –- their 26 power play goals lead the country.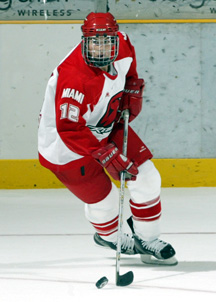 Greg Hogeboom is one of 10 Miami skaters to score a power play goal this season.
"We can't just rely on the power play," said senior forward Greg Hogeboom, the team's third-leading scorer with 21 points. "That's something that we did a little too much last year, so we've worked hard to get better five-on-five."

Whereas Miami primarily depended on the power play and the forward trio of Hogeboom, Mike Kompon and Derek Edwardson in the past, the team's balance has been a key to the recent hot streak. Arguably the CCHA's deepest squad, the RedHawks have been boosted by contributions from freshmen forwards Matt Christie (a team-leading 11 goals) and Marty Guerin (14 points), rookie goalie Brandon Crawford-West (8-1-1 record) and veterans Todd Grant and Ben Tharp, who are on track to eclipse their scoring totals from last season.

"We've got a lot of forwards who can score and also play defense," Greene said. "Same thing with our defensemen. And our goalies are playing well right now."

Don't expect the RedHawks to take their recent hot streak and current position in the league standings for granted. The team's juniors and seniors were in a similar spot two years ago, but faltered badly down the stretch and ended up 10th in the CCHA after recording a 5-13-1 mark in its last 19 games.

"This year reminds me a lot of my freshman year when we finished second [in the CCHA regular-season standings]," Hogeboom said. "We're very balanced defensively and offensively. We feel if we play 60 minutes hard every game, we won't lose a game.

"Our biggest thing is staying consistent. A lot of Miami teams in the past have been up and down. We're in a great position right now."

SEEN AND HEARD IN THE CCHA

The Don of New York: No one monitored Ferris State's remarkable run to the CCHA regular-season title and the NCAA Tournament by Ferris State closer than a diminuitive Division III forward from central New York. Conversely, players in the Bulldogs' locker room kept a sharp eye on the race to the D-III championship. It was a case of former teammates looking out for each other.

While Ferris was in the midst of its most successful season in school history, Don Patrick –- who spent two seasons with the Bulldogs –- was propelling Oswego State to the cusp of a national championship.

"I talked to the guys when they were in Minnesota [for the NCAA West Regional],"Patrick said. "It was exciting to see the whole team doing so well."

A native of nearby Fulton, N.Y., Patrick, who appeared in 15 games at Ferris in 2000-01 and scored no points, did pretty well for himself at Oswego State. He propelled the Lakers to a conference title and a second-place finish in the NCAA Division III Frozen Four, scoring 56 points –- including 41 assists, tops in D-III, in 33 games. So far this season, he leads the nation in scoring with 22 points in 14 games. A dynamic skater and terrific puckhandler, Patrick is comfortable with his role, something he can't say about his stint at FSU.

"There, I was a fourth-line checking center," Patrick said following the Lakers' 5-4 loss to archrival and nationally-ranked Plattsburg last Friday. "It gets to the point where you lose confidence in your ability and that's when I decided it was time to move."

Patrick isn't the only CCHA refugee on the Oswego State roster. Former Bowling Green forward Sean Kotary plays for the Lakers, ranked seventh in the latest D-III poll. And the D-III ranks are peppered with players who once skated for D-I programs. Erstwhile New Hampshire forward Travis Banga is now at New England College and ex-Air Force netminder Zach Sikich is the top backstop for St. Thomas (Minn.), just to name a few.

Each has a different reason for transferring. In Patrick's case, he felt the Bulldogs' coaching staff wasn't giving him a chance to crack the lineup.

"I saw guys playing up ahead of me and I thought I wasn't being treated fairly," Patrick said. "I had time to think about it that whole first semester [of my sophomore season] and I got to the point where I couldn't deal with it anymore."

Patrick contends he left Big Rapids without regrets –-"I met a lot of good people and I had a good time there," he said –- and he's more than satisfied being a big part of an Oswego State team that has national championship aspirations.

"We've got a good team," Patrick said. "It's a good ride."

You Be Illin': Coaches will sometimes say, privately, that they're sickened by the play of their team. Then there's Western Michigan goaltender Scott Foster, who became sick while his team was playing.

Foster got the start for the Broncos in the front end of the team's series with Notre Dame in Kalamazoo and was working with a 3-1 lead early in the second period when Brett Lebda halfed the WMU advantage on a shot from the red line. Shortly after the red light came on, Foster fell to his knees and released the contents of his stomach on the ice.

"It all started in warm-ups," Western Michigan head coach Jim Culhane told the Kalamazoo Gazette. "[Foster] started to cramp up in warm-ups, but I thought he played sensational during the first period and made some big saves for us on their power play. Unfortunately, [the illness] caught up to him."

Culhane was forced to summon Eric Marvin –- who had never played in a regular-season game –- to take Foster's place. After giving up a goal on the first shot he faced, the sophomore from Naperville, Ill., stopped 19 of the next 22 Notre Dame shots and earned the win as the Broncos won a wild 8-6 decision over the Irish.

"It's a game that will be remembered here for a long time," Culhane said. "The guys really persevered, with everything that was going on, and found a way to win the game."

Foster recovered in time to start Saturday's game and helped his team earn a sweep by making 20 saves in a 6-4 WMU win.
Great Weekend Getaway

Alaska-Fairbanks at Lake Superior State (Fri.-Sat.): Slim pickings on the circuit this weekend, so head on up to the Soo to see catch the surging Nanooks against the vastly improved Lakers. LSSU can still surpass its conference point total from last season with a win against UAF. The visitors, meanwhile, are attempting to solidfy its position in the top half of the CCHA standings and notch their first road win of the season –- the Nanooks are 0-6 away from home.

While you're there: Make the short trip across the locks to Sault Ste. Marie, Ont., and visit the Soo Gardens, a cool old barn that serves as the home of the Ontario Hockey League's Soo Greyhounds. Among the NHL stars who have played for the 'Hounds: Wayne Gretzky, Joe Thornton, Rick Tocchet, Craig Hartsburg, John Vanbiesbrouck and Eric Lindros (before he was traded to Oshawa). Afterwards, walk across the street and enjoy lunch at the Time Out Lounge and hit Tim Horton's on your way back to the States. Your coffee will still be hot when you get to your hotel 20 minutes later.

Stick Salute

Congratulations to Alaska-Fairbanks senior forward Paul Austin, who netted the first goal of his career against Nebraska-Omaha Saturday in his 64th game in a Nanooks uniform. A native of International Falls, Minn., Paul's brother, Jon, scored 25 goals while playing at Colorado College from 1995-99.

Bench Minor

With an 8-5-2 overall record and currently third in the conference standings, Notre Dame has exceeded expectations thus far this season and there's no question that goaltender David Brown has been the CCHA's best freshman during the first half of the season. But the Fighting Irish squandered a golden opportunity to head into the holiday break atop the league standings by losing two games at Western Michigan in uncharacteristic fashion.

"It was the details that bothered me the most; we just didn't do the things that we've done well all year," Notre Dame coach Dave Poulin told the South Bend Tribune. "It was the mental (mistakes) that led to the physical.".
FRIES AT THE BOTTOM OF THE BAG

• Northern Michigan goaltender Craig Kowalski notched back-to-back shutouts for the second time in his career, backstopping consecutive 3-0 wins against Upper Peninsula rival Lake Superior State in last weekend's home-and-home series. The shutouts were the ninth and tenth of his career, allowing him to move past Dan Ragusett on the Wildcats' all-time list.

"There are nights that he has played outstanding and we haven't been able to give him enough goal support," said NMU head coach Walt Kyle to the Marquette Mining Journal. "He was able to make a lot of saves and keep second shots away by controlling his rebounds. I think he's the best goaltender in the league and I think [this weekend] he did what it takes to prove that."

• Lost, perhaps, in Western Michigan's WHA-like sweep of Notre Dame last weekend was the performance of senior forward Dana Lattery. Lattery, who ranks fourth among CCHA players in scoring with 22 points, scored a goal in Friday's 8-6 win and added another marker in Saturday's series finale, extending his goal-scoring streak to seven straight games. The school record in that category is nine straight games, a mark held by classmate Jeff Campbell.

• One final note regarding the Broncos: maybe we shouldn't be shocked by the scoring in last weekend's series with Notre Dame. After all, Western Michigan leads the CCHA in team offense, averaging 3.47 goals per game, and the team ranks last in the conference in team defense, allowing an average of 3.63 goals per game.

• Some things just can't be explained. For example, following last weekend's sweep of Nebraska-Omaha at the Carlson Center, Alaska-Fairbanks improved its home record against the Mavericks to 8-0-4 and the Nanooks are unbeaten in their last 13 meetings (9-0-4) with UNO.

"You've got to take care of your home games first," said UAF goaltender Preston McKay to Richard Larson of the Fairbanks Daily News-Miner. "It starts from there."

• We don't have access to the Nielsen overnight ratings, but it would be safe to assume that Wednesday's Buffalo-Detroit contest pulled pretty big numbers in the Lansing, Mich., market. That's because East Lansing natives and cousins Ryan Miller, the former Michigan State goalie, and Kevin Miller, the erstwhile Spartan forward, clashed at HSBC Arena.

At the beginning of the week, a Miller family reunion seemed unlikely. That's because they were both in the American Hockey League –- Ryan with Rochester, the Sabres' farm club, and Kevin with Grand Rapids, the Red Wings' top affiliate. Both were summoned to the parent team because of injuries and thrust immediately into the lineup.

"I saw Ryan's dad (former Spartan Dean Miller) Sunday and kind of said, 'Wouldn't it be nice to get called up," Kevin Miller told the Detroit News.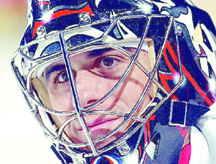 This photo of Ryan Miller wasn't taken during Wednesday's Red Wings-Sabres game.
Kevin managed an assist in the showdown while Ryan struggled, making 16 saves in the Sabres' 7-2 loss to the Red Wings. Not that all the goals were his fault; he was repeatedly hung out to dry by forwards who refused to back check. According to media reports, the younger Miller –- a renowned perfectionist –- was visibly shaken after the game.

"I'll come back to practice tomorrow and see what happens," Miller told reporters in the Buffalo locker room. "If I'm still around, (I'll) work hard, get a start, go from there."

"I certainly couldn't blame [Ryan} tonight. Jeez," Red Wings forward and former Minnesota-Duluth star Brett Hull said. "I think every goal was from about 10 feet, wide open."

• Once again, we dip into the NHL's current events file for an anecdote to serve as our obscure Bowling Green note of the week. General managers get to do rewarding tasks like assembling championship teams or putting together outstanding draft classes. Of course, they also fire coaches, which is what former Bowling Green standout and Washington G.M. George McPhee had to do yesterday when he pink-slipped Bruce Cassidy after a little more than a year on the job.

By all accounts, Cassidy was as well suited for his job as Paris Hilton. Media reports from the nation's capital indicate he was often unprepared, showed up for games later than his players and repeatedly questioned the commitment of his charges. The final insult occurred last week, when Cassidy insinuated that the team was more concerned with family issues than hockey matters.

"I saw a young guy who came highly recommended by some people I admired," McPhee, the 1982 Hobey Baker Award winner, said to reporters Wednesday. "I talked to a lot of people in the business about him and he had done a nice job at every level and was climbing the ladder and was successful at every level he coached."

A variety of sources were utilized in the compilation of this report