December 11 , 2003
Big Red Revival
By Joe Gladziszewski
These are not the 1985 Edmonton Oilers; in fact, they bear a closer resemblance to the New Jersey Devils team that captured the Stanley Cup 10 years later.

But the Cornell Big Red are what they are – efficient, aware, structured, and safe – and most of the time, victorious.

Instead of looking down at Cornell for its shortcomings, admire its stubbornness. Coach Mike Schafer has installed a rock-solid defensive game plan and recruited the right type of student-athletes to fit into his system. It's resulted in winning hockey, including three consecutive trips to the ECAC Championship game, back-to-back NCAA Tournament appearances, and a Frozen Four berth.

Success in Ithaca comes from hard work, a team-first approach, and making smart plays with and without the puck. They won't win many of the 7-5 types of games that North Dakota and Boston College are known for.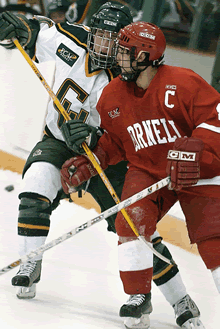 Ryan Vesce and his Cornell mates got back to basics in their 1-0 win against Harvard.
When things weren't going so well for Cornell early in the season, Schafer pointed at mental mistakes and not playing within the system. And seemingly each time those mistakes occurred, it resulted in a red light being turned on behind Big Red freshman goaltender David McKee.

Inexperience probably contributed to the team's 0-2-4 start at Lynah Rink, where five freshmen suit up on a nightly basis in front of the rookie netminder. Those growing pains have healed. Cornell looks to be hitting its stride after a three-point weekend against Brown and Harvard.

One night after rallying with a pair of third period power-play goals to tie league-leading Brown 3-3, Cornell put the clamps down in a 1-0 win over Harvard.

Cornell had plenty of chances to score, but Crimson goaltender Dov Grumet-Morris was up to the task with spectacular saves to keep the game scoreless. Eventually, Cornell scored a goal that typified their reputation – point shot, traffic, power-play goal. That was followed by 15 minutes of hanging on, and yet another one-goal victory over hated Harvard.

The Big Red went about their business in a 'been there, done that' manner.

"That's us," Schafer declared. "You had better be comfortable playing those types of games, because the better teams you play, the difference between winning and losing is going to be a lost face-off or a bad penalty or a bounce here or there. There's not a lot to differentiate between a lot of college teams right now, so you'd better be comfortable playing these games. There's going to be a lot of them."

Last year Cornell played in 13 one-goal games (winning nine) and used empty-net goals in a pair of two-goal victories. Senior winger Greg Hornby cited his team's mental make-up as a reason for its ability to pull out the nailbiters.

"We do well in close games. We play really disciplined within our systems and we can outwork teams and can protect a lead like that. We've just got to be solid mentally and hold on to the lead, something we do well," he said.

Schafer's overall evaluation of the first half of the season was positive.

"We are getting better and better each week, and we are continuing to develop as a team. We're 4-0-2 in the league heading into exams and that's right where we wanted to be," he said.

SEEN AND HEARD IN THE ECAC

Friday Night's All Right: The Princeton Tigers, which surpassed their win total from all of last season by tallying victory number four with a 4-0 shutout of Union at Messa Rink last week, are playing their best games on the first night of each weekend.

Three of their four victories have come on Fridays. The other win was on a Tuesday night. In its first two Friday-night games of the year, Princeton lost in overtime to St. Cloud State and Colgate.

The Tigers are proving to be much tougher than last year's group that was just 3-26-2, and they're getting it done with minimal contibutions from senior forward Chris Owen. He has just one goal in 12 games this year after leading the team in scoring last season.

Sophomore goaltender Eric Leroux has played in all 12 Princeton games and recently recorded shutouts over Yale and Union, the first of his college career.

Legendary Tiger basketball coach Pete Carril was known for his back-door cutting offense which often led to layups. Hockey coach Len Quesnelle's troops are proving to be anything but an easy two points.

Looking For A Spark: When In the moments following Harvard's loss at Cornell on Saturday night – a loss that left Harvard's senior class with the dubious honor of never having won at Lynah Rink – there was disappointment in the result, but not the effort.

Senior right wing Tyler Kolarik (from this writer's viewpoint the best forward on the ice Saturday night) said the Crimson are doing the things that should soon lead to wins.

"I just think the team had a focus tonight. It's a focus you have to bring every night, and we haven't brought it every night," he said.

Harvard's had a knack for following up strong performances with weak efforts, and the up-and-down season hasn't generated any momentum. The Crimson feel as if a small winning streak would set the team in motion.

"That's kind of what we need is to really just get a streak going, get something going for us. We get a couple of good wins and then we fall off a bit," senior Dennis Packard said.

Kolarik says that some doubt may be setting in, but has faith that the Crimson's fortunes will soon change for the better.

"I think there might be a little lack of confidence. Guys are questioning themselves a little bit about scoring goals and things like that, but I have no doubt that this team is going to turn it around," Kolarik, an assistant captain, said. "I know the guys in the locker room, and I know that they all have heart in there and I know that we're going to get it done."
Great Weekend Getaway

Massachusetts at Harvard (Sat.)
The schedule doesn't have much to offer, but this should be a treat. Two teams that are found in this week's INCH Power Rankings, No. 11 UMass and No. 17 Harvard, take to the ice looking for a quality win heading into the latter stages of December. It's desperately needed in Cambridge, following Wednesday's loss to Boston College that left Harvard at 5-5-1 on the year. Take special note of the 5 p.m. faceoff at the Bright Center.

While you're there: The early-evening game leaves plenty of time to explore the Boston nightlife afterward, including the 5th Annual Boston Hip Hop Festival at Middle East nightclub. Tickets are between $15 and $18 and festivites begin at 8 p.m.


Stick Salutes

To Yale, a team apparently headed in the right direction at the holiday break. A recent three-game winning streak against conference foes, interrupted only by a non-conference loss to Boston University, has propelled Yale up the standings. The Bulldogs are averaging 4.0 goals per game in the stretch, after scoring just 2.2 goals per game over their first nine contests, winning only two of those.


Bench Minor

The Union Dutchmen are clearly headed in the other direction. Union is mired in a three-game losing streak and each of those losses has been by three goals or more. While the Dutchmen were once 7-2-3 and recognized in national polls, their record has now crept closer to the .500 mark with a showdown at Wisconsin in the Badger Holiday Classic on Dec. 27.

FRIES AT THE BOTTOM OF THE BAG
• Yale junior Joe Callahan played the first nine games of the season as a defenseman before being shifted to the wing for two games. He returned to the blueline last Friday as Yale visited Rensselaer, and it sparked his offensive output. Callahan had a hat trick in Yale's 5-4 win, the first by a Bulldog blueliner since 1999.

A three-week hiatus looms for Yale, before they head west to take part in the Denver Cup with Nebraska-Omaha, Niagara, and the host Pioneers. Of course, the Bulldogs are hoping for better results than their last western trip, a pair of season-opening defeats at No. 1 North Dakota.

• Vermont has had more captaincy changes than victories. The winless Catamounts, the last team in men's Division I college hockey not to have picked up a victory this year, made a change in their leadership structure. Senior Jeff Miles relinquished his captaincy over the weekend, and the team elected sophomore Jaime Sifers to serve as co-captain with senior Oriel McHugh. Brady Leisenring will be the team's lone assistant captain for the rest of the year.

• While Princeton is getting its best performances on Fridays, Colgate seems to prefer Saturdays. The Raiders are 3-0-1 in their last four Saturday games including 6-1 wins over Clarkson and Brown. Something must be up in Hamilton, as the Colgate football team (Division I-AA semifinalists) has also been great on Saturdays.

• The lone ECAC player named to Team USA for the upcoming World Junior Championships in Finland is Dylan Reese, but of the eight defensemen on the preliminary roster, Reese has played the least hockey so far this season. Reese, a freshman defenseman at Harvard, has missed the Crimson's last five games with a back injury and dressed in only six games overall. He missed Wednesday's 3-2 loss to Boston College, but could be back in the lineup for the home game against Massachusetts on Saturday evening.

• Schafer said that any fuss over Cornell's six-game winless streak on home ice was created by the media and didn't affect the Cornell locker room. "You guys (the media) have made a big deal about the first home win and our guys haven't," Schafer said after the Harvard game. "Our guys have focused on what they should be focused on, and that's getting better each week. We've had some good teams come in here."

• The Harvard-UMass game in Cambridge is featured as the Great Weekend Getaway in this edition of the ECAC Notebook, but Hockey East correspondent Nate Ewell makes mention of another ECAC-Hockey East pairing as Dartmouth visits Maine. Make that two of us on the INCH staff that are looking forward to it. Should be a good one.

• You probably know by now that St. Lawrence sophomore T.J. Trevelyan is the INCH Player of the Week, following his six-point weekend against UMass Lowell and New Hampshire. He single-handedly put an end to the Saints scoring woes with a goal and three assists in a 5-4 win over UMass Lowell. It snapped a four-game Saint skid during which they only scored two goals.

• Unlike Trevelyan, former INCH Player of the Week, Brown goalie Yann Danis, didn't have such a good weekend. Nine goals against in slightly five and a half periods is out of character for a senior that's making some noise among early Hobey Baker contenders.

• It seems like every team in the nation heads somewhere for a holiday tournament, and they've got Rensselaer to thank. This year's Rensselaer/HSBC Holiday Tournament is the 53rd edition of the event, making it the oldest of all college hockey holiday tournaments. This year's field includes Colgate, Northeastern, and Mercyhurst.

• Shame on you if you're not regularly checking the INCH Newsstand. Santa knows who's been naughty. Plus, you might have missed Ken Schott's notebook that featured injured Union captain Glenn Sanders' first comments since being twice hospitalized from injuries suffered in a game.
• St. Lawrence has played 18 games, while Dartmouth has played just nine times.
A variety of sources were utilized in the compilation of this report.