February 12 , 2004
The Error of Being Frank
Lakers press on in spite of coach's critical eye
By Mike Eidelbes
From an outsider's perspective, there seemed to a few positives Lake Superior State could take from its 8-5 loss to visiting Michigan State last week. The Lakers scored five goals, which was one more than they had tallied in their previous six games (all losses). They jumped out to two-goal lead eight minutes into the first period. And instead of folding when the Spartans scored three unanswered goals to take a 3-2 advantage early in the second period, LSSU got the next two markers to regain the lead.
Unfortunately, Lake Superior State coach Frank Anzalone doesn't share the glass-half-full philosophy.
"We didn't do the things we needed to do and we lost," he told reporters gathered in the bowels of Taffy Abel Arena following the defeat. "We did everything we could possibly do incorrectly and Michigan State took advantage on every single occasion.
"We didn't do things to correctly when we had the lead or when we regained it."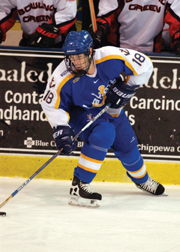 Freshman defenseman Barnabas Birkeland thought the Lakers played well against Michigan State last weekend.
No one expects coaches to be perpetual fountains of praise for their team, and criticism is an effective motivational ploy in many cases. Anzalone takes it to the extreme, however. His constant griping about the shortcomings of his current squad and comparisons to the teams he assembled in his first stint as Lakers' coach from 1982-1990 is tiresome.
While Anzalone's sour attitude is nothing more than a mere annoyance for those without a vested interest in the LSSU program, one wonders how his negativity affects an impressionable young team – 13 sophomores and eight freshmen are on the team's 28-man roster, and 14 first- and second-year players were in the lineup for Thursday's contest against MSU. Judging from one rookie's comments, it's not as bad as one would expect.
"I thought the [Thursday] game was a matter of us making mistakes that they were able to capitalize off of," said freshman defenseman Barnabas Birkeland. "I was not happy with the eight goals, but I thought we still played well. If we bring that type of game to Bowling Green…we'll have a lot of success."
LSSU students attending last week's game in Sault Ste. Marie were given Terrible Towel knockoffs inscribed with the slogan, "I Believe", and a number of students wore t-shirts emblazoned as such. For now, the head coach isn't playing along.
SEEN AND HEARD IN THE CCHA
STUCK IN THE MIDDLE WITH YOU – Michigan State sophomore forward David Booth, who's struggled with injuries and inconsistencies this season after a fine freshman campaign, may have found his groove just in time for the Spartans' playoff run.
Booth scored 17 goals and 36 points during his rookie season, but had just three points – all assists – in 10 contests this year. Last Thursday, coach Rick Comley shuffled the Washington, Mich., product to center a line between Colton Fretter and Kevin Estrada. Booth, who hadn't played in the middle since he was with the U.S. Under-18 team in 2001-02, scored three goals and added an assist in MSU's 8-5 win against Lake Superior State.
"It's a different look," Comley explained following the game. "I'm doing it to give him some freedom. It was a breakthrough game for him."
Not only did Booth make his mark on the scoresheet, but he was also one of the most active players on the ice. Freed from the responsibilities that wings are saddled with, he was a constant presence in the offensive zone, shaking free for good looks at the net and winning battles for loose pucks.
"I felt I could do more," Booth said. "There's a lot more flow as a centerman. You can get more involved in the offensive zone."
Lake Superior State held Booth's line scoreless at Joe Louis Arena, but the pivot was one of three Spartans to record a team-high five shots on goal – he and his linemates combined for 10 shots on the evening.
"It's nice to get your feet moving and get the puck in the neutral zone, "Booth said of his new position. "I hope that I can stay there."
Great Weekend Getaway

Miami at Michigan (Fri.-Sat.): Here's the CCHA version of the Series of the Year, with a Miami sweep – as unlikely as that may be, given the RedHawks haven't won in Ann Arbor since 1994 – all but locking up the regular season title for Blasi's troops. Michigan comes into the series having split at Alaska-Fairbanks last weekend. The loss snapped the Wolverines' eight-game winning streak, but one can hardly fault U-M for dropping a game on what is arguably the NCAA's most difficult travel destination. When teams are as evenly matched as these two, special teams and/or goaltending usually figures prominently in the outcome. Miami's Brandon Crawford-West is on a roll, but Michigan's Al Montoya is a big-game goalie. It would also behoove the RedHawks to break out of a 0-for-18 drought on the power play that dates back to Jan. 24.

While you're there: It's President's Day weekend, so if you've got a few dead presidents in your pocket – better yet, a handful of dead inventors-diplomats-kite flyers – head east on I-94 to Detroit Saturday afternoon as the Red Wings welcome Colorado to the giant concrete bunker known as Joe Louis Arena. The rivalry isn't what it once was – the Avs probably consider games with Vancouver more intense, not to mention more meaningful. But it should be a good game. Keep an eye out for former Michigan State blueliner John-Michael Liles, who's cracked the Colorado roster and is a key cog in the team's power play, especially with ex-BGSU star Rob Blake shelved with a broken leg.

Stick Salute

We'd be remiss if we didn't give a shout out to Mike Weaver, the guy who designed this Web site. Weaver, another former Michigan State defenseman, was summoned to the National Hockey League by the Atlanta Thrashers Sunday. It's the Brampton, Ontario, native's third tour of duty in the NHL. Here's hoping he gets his first goal in The Show – he's got six NHL assists in 50 career games with the big club.

Bench Minor

Prior to last week, I didn't know Lake Superior State has a costumed mascot. "Foghorn" is supposed to be a muscular, Popeye-esque seaman and, no doubt about it, he's a big guy. But his facial expression is downright scary – I'm well beyond the Boogeyman stage and I found him frightening. He looks like a Muppet that was part of a laboratory experiment gone horribly awry, or the kid from the Cracker Jack box after a few years taking supplements purchased from Victor Conte. Don't make him angry. You wouldn't like him when he's angry.
FRIES AT THE BOTTOM OF THE BAG

• Fights in college hockey occur about as often as Howard Dean primary victories, which makes Saturday's spirited bout between Michigan State's Joe Markusen and Bo Cheesman of Lake Superior State even more impressive. If you saw this duel, you'll agree – these guys knew what they were doing.
Roughly six minutes into the third period with the game tied at one, Cheesman repeatedly poked at Spartan goaltender Dominic Vicari, who had frozen the puck under his glove. Markusen took exception, and a donnybrook ensued.
''Joe did a good job of getting us sparked up,'' MSU captain Jim Slater told the Lansing State Journal. "We were getting it handed to us for the first couple minutes (of the third) and he got us going again.''
Slater would score the game-winning goal three minutes after the fight. Both Markusen and Cheesman will serve one-game suspensions for their actions. Michigan State is at Alaska-Fairbanks this weekend, while Lake Superior State travels to Bowling Green.
• In the tradition of every martial arts movie ever made, the student has become the teacher. Sort of.
Coach Enrico Blasi earned his 84th career victory behind the Miami bench Saturday vs. Notre Dame, moving him into third place on the school's all-time wins list. He's now one game against his former mentor, current Denver skipper George Gwozdecky. Steve Cady tops the category with 121 wins.
• Not only did Michigan's eight-game winning streak come to end with Saturday's 5-3 loss at Alaska-Fairbanks, but the game also marked the first time in nearly a month that the Wolverines had trailed an opponent. The run started when Michigan tied Ohio State in the second period of a game at Yost Arena Jan. 9 and ended 1:33 into the second period Saturday on a goal by the Nanooks' Ryan Campbell. That's a stretch of 413:13 for those of you scoring at home.
• The National Hockey League trade deadline is less than a month away – March 9 to be exact – and one name frequently mentioned in trade rumors is R.J. Umberger. Vancouver owns the rights to the former Ohio State standout, but Umberger hasn't played this season because the two sides have failed to reach a contract agreement. The Canucks are a legitimate Stanley Cup contender (even with Dan Cloutier in goal) and are interested in acquiring Chicago forward Alexi Zhamnov. According to ESPN.com, the hapless Blackhawks asked for another ex-Buckeye – forward Ryan Kesler – and winger Jason King in exchange for Zhamnov, but Vancouver has countered with Umberger and Fedor Fedorov, the enigmatic younger brother of Anaheim's Sergei Fedorov.
• The Obscure Bowling Green Note of the Week continues its trend away from its humble, irreverent beginnings. This weekend marks a momentous occasion at Bowling Green as the school welcomes back members of the Falcon squad that won the 1984 NCAA championship. The team, which downed Minnesota Duluth in quadruple overtime in Lake Placid to win BGSU's lone national title in any sport, will be feted during a ceremony Friday when the Falcons host Lake Superior State.
A variety of sources were utilized in the compilation of this report.

Send this to a friend
About Us | Advertiser Info | Site Map | Privacy Policy
© 2004 Inside College Hockey, Inc., All Rights Reserved