February 12, 2004
Inconsistency Clouds Crimson's Season
By Joe Gladziszewski
Without question, there's no team that's underachieved more this season in the ECAC than the Harvard Crimson, a consensus pick by the coaches and media in pre-season polls to win the league championship.
One needs to look no further than a four-day stretch last weekend for an illustration of the type of season it's been for the Crimson.
In a huge rivalry game against hated Yale, televised nationally by CSTV no less, Harvard was overwhelmed in the first period and fell behind 4-0. Yale also led 5-1 in the game. The "bad" Harvard was on display for everyone to see. All of sudden, things changed and Harvard played to its potential. Six unanswered goals, including three in a span of 61 seconds midway through the third period, allowed Harvard to leave the Whale with a 7-5 win, riding high into Monday's Beanpot consolation game against Northeastern.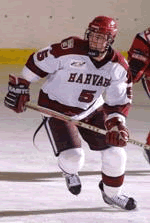 Defenseman Noah Welch and Harvard are looking for answers. (Photo by DSPics.com)
As you might imagine, Harvard's inconsistency reared its head again and the Crimson suffered a 3-1 loss to the last-place team in Hockey East.
It's getting late, and Harvard's searching for answers. The Crimson is approaching the rest of the year buoyed by optimism and a growing sense of urgency.
What can be more descriptive than the fact that Harvard hasn't won two games in a row over the course of the entire season?
"We're looking to catch a flame. We haven't put together a two-game win streak this whole year, which is sad. We've underachieved the whole year and we're playing like a roller coaster. We're high and then we're low," freshman defenseman Dylan Reese said. "We've got to find something, and I don't know what it is, but there's something we've got to change going into the playoffs and hopefully make a run to the championship."
Reese was an optimistic spokesman, and also gives Harvard a bit of optimism. The rookie blueliner has missed most of the year due to injury, but is back in the lineup as crunch time approaches. Senior winger Kenny Turano and rugged defenseman David McCulloch have also recently returned to the Harvard lineup. But, as is the case with the 2003-04 Crimson, every bit of good news must be measured by some bad news, and that comes in a shoulder injury to sophomore forward Charlie Johnson suffered against Yale.
Getting some healthy and capable bodies back in the lineup should help Harvard down the stretch.
"They were all out for over two months and my hope was that we could get them in the last six games of the year and get some rhythm going. It's not only practice, you've got to get in games to really get a rhythm going. That's what our goal is now. We're getting people back and we have to go forward," Harvard coach Mark Mazzoleni said.
Senior Tyler Kolarik took the pessimistic side of the argument. As a player whose effort can never be questioned, he's struggling with what he sees from some of the other players in the Harvard dressing room.
"Do I feel like we're close? I don't know, I don't have the answers," Kolarik said. "It's really a question of guys just wanting to go out there and compete, and I don't think we do. I really don't think we do night in and night out. That's nothing against any of those guys in there, but collectively we haven't been able to put it together. It's got to be 18, 19, 20 guys."
And that bit about urgency? Harvard knows it must win the ECAC playoff championship to make a third-straight trip to the NCAA Tournament. The optimism is there, at least in the eyes of Reese.
"I know we can win this thing. Our talent and our skill and our work ethic are unbelievable. We're missing something and we're working hard to find out what that is. When we find it, we'll be dangerous," he said.
SEEN AND HEARD IN THE ECAC
Union Streaking Again – At one point, early in the season, the Union Dutchmen held a spot among the top-20 teams in the nation in the INCH Power Rankings and boasted a record of 6-1-1. Then, a two-month stretch without a win dropped the Dutch to 11th place in the ECAC and well below the .500 mark. All of a sudden, Union's back on an upswing with four wins in five games including a sweep of Clarkson and St. Lawrence this past weekend.
The question to coach Nate Leaman was simple enough. Why so streaky?
"I think our streakiness really comes down to us scoring goals. We went through a funk there where we were averaging one goal a game, and it was really, really tough for us to score goals. We lost our confidence, we started shooting without confidence," he said.
Leaman recognized the problem, broke it down on video, and showed the team what they had to do prior to a Jan. 31 game at Union. It obviously worked, as Union smoked Dartmouth 7-0.
"We started shooting and rolling off the net, or we didn't push away from the (defender), or we would take a shot and not follow it to the net.
Union scored six goals in its weekend sweep of Clarkson and St. Lawrence. Of the six goals scored by the Dutchmen, Leaman said five of the six were "right around the paint."
"We're not a team that's going to score goals from the outside. We've got to get in there and mix it up," he said.
Having a positive attitude throughout the difficult parts of December and January is now bearing fruit.
"I have to commend the guys, because there were a lot of times when they could've given up," Leaman said. "When we played hard and were outplaying teams and we weren't beating them. Things weren't going our way. The fact that we beat Dartmouth in their building is a testament to the guys because they've kept to the game plan all along. They haven't buried their heads and they haven't given up. Things have turned our way now."
Adding to the positive feeling in Schenectady, N.Y. is the return to the lineup of senior captain Glenn Sanders. As you'll recall, Sanders underwent surgery early this season after suffering a ruptured spleen during a game in mid-November. The injury was feared to be life threatening at worst, and hockey was most certainly an afterthought. Not only has Sanders energized the team off the ice throughout his rehabilitation, he returned to the lineup this weekend.
His experience will help the large group of young players in the Dutchmen lineup.
"We were going through that stretch where we only had one senior in the lineup when Glenny went down," Leaman said. "He came back this weekend, so now we have two seniors, but the core of our team is really, really young."
Fans of the Fans – At the University of Vermont, recently appointed athletics marketing guru Chris McCabe has been a big part of making the school's athletic department one of the most fan-friendly operations in the country. He's also gone about acquiring corporate sponsorships in support of the university's athletics programs.
McCabe's official title — Assistant Vice President, Marketing & Business Development — is a fancy way to say what he really is, and that is an "idea man." The 1991 alum of UVM learned to give the fans what they want by working under Vince McMahon at the World Wrestling Entertainment offices.
The latest fan-friendly move from the university's standpoint is acquiring information and opinions through an online survey. By filling out the survey, fans are eligible to win reserved seat season tickets to next year's hockey games, as well as men's and women's basketball games.
McCabe has also been integral in the Catamounts' development of new logo wear featuring a modernized edition of the V-Cat logo.
Some more tidbits for Catamounts fans, including a game-worn jersey currently up for bid at eBay from the 1991 season. This excellent feature on Martin St. Louis in the St. Pete Times is also of interest. Author Damian Cristodero spoke with several Montreal Canadiens greats that St. Louis grew up idolizing as a child near Montreal.
Great Weekend Getaway

Yale at Cornell (Sat.)
There's no bigger contrast between teams in the league. Yale has scored the most goals in the league, and also allowed the most. Cornell ranks second-to-last in goal scoring, but has also allowed the fewest. Also, these teams are separated by only one point in the standings heading into the weekend, with that point keeping Yale out of a coveted top-four spot, for now.

While you're there: Don't throw things on the ice. In most places, this goes without saying, but the almighty Lynah Faithful must not think that common sense applies to them. The fish tradition against Harvard is novel, but showering opposing players with soda bottles and stadium trash at the end of a game (which has happened more than once this year) is uncalled for.


Stick Salutes

• To head coach Nate Leaman of Union, who knows that building a program over the long term is more important than chasing a couple of conference points in the short term. For last weekend's games, one of Union's best offensive players, Joel Beal, was held out of the lineup for a violation of team rules. That sends a message to Beal, but also to 25 or so other players around the program that nobody's above the rules.

• Vermont fans don't buy tickets just because the team is winning. The enthusiastic support in Burlington, including eight sellouts in 13 games this year, is nice to see even with a 4-19-4 record.


Bench Minor

Harvard's loss to Northeastern in the Beanpot consolation negatively affects other ECAC teams (and helps Hockey East teams) in the Ratings Percentage Index, which is a component of the NCAA Tournament selection criteria. It hurts the league's chances of getting an at-large bid to the NCAAs.
FRIES AT THE BOTTOM OF THE BAG
• This is getting a little freaky. With Rensselaer's comeback win over Clarkson on Saturday night, the Engineers are now 10-0-4 in the last 14 Big Red Freakout! games. Just imagine your college alma mater's trophy game or high school homecoming game, and not losing ... ever.
• Dartmouth visits Clarkson's Cheel Arena on Saturday night seeking its first-ever win in that particular building. The Big Green hasn't won in 11 games (0-10-1) since the Golden Knights moved to Cheel from Walker Arena. Dartmouth's last win in Potsdam was a 7-5 triumph at Walker Arena in February of 1990.
• Colgate senior centerman Kyle Doyle plays an interesting role. As the center on one of the Raiders top-two lines, he's responsible for helping the team's output. But since his wingers are a pair of sophomores — Kyle Wilson and Ryan Smyth — Doyle's also playing the role of mentor toward two of Colgate's key players in the future.
"I try to teach them to be patient with the puck and know that the chances will come over the course of the game," Doyle said. "They're two very talented players, Wilson is more of a playmaker and scorer and Smyth is a physical player and a grinder. We're going pretty well right now and I just try to lead by example."
• Colgate scored all three of its goals in a 3-3 tie with Vermont while on the power play. In the game between the teams two weeks earlier, the Raiders put four PPGs on the board, making it a grand total of seven over two games. If these teams are to meet in the playoffs, you can be assured that UVM coach Kevin Sneddon will stress the importance of staying out of the penalty box.
• By allowing just nine shots on goal against Vermont, Cornell tied a school record for fewest shots allowed in a game. The last time it happened ... 35 years ago.
• Princeton lost its only game of last weekend, 5-2 to visiting Brown. Milestones, however, were achieved as freshman Max Cousins scored the first goal of his collegiate career and senior Dan Hursh tallied his first goal of the season.
• A staple of St. Lawrence's hockey history, Sports Information Director Wally Johnson, will work his 919th Saints men's hockey game on Friday night. He has missed just two games since the 1985-86 season. One was due to illness, the other due to the school's men's soccer team participating in the 1999 NCAA Division III National Championship.
A variety of sources were utilized in the compilation of this report.