November 13, 2002
East Notebook
ECAC | HOCKEY EAST | MAAC
The toughest schedules thus far
By Nate Ewell
When I talked to Freddy Meyer this week, the BU captain and I looked at the Terriers' schedule: BC and Maine this weekend, with upcoming trips to Cornell and the Great Lakes Invitational on top of the always-challenging Hockey East and Beanpot slates.
It's enough to make you wonder – who came up with this murderer's row?
"I don't know," Meyer admitted. "It's tough. I don't know if somebody's out to get us or what."
Playing a tough schedule, of course, mathematically helps a team's chances for an NCAA Tournament bid – and, theoretically, should prepare players for the intensity of the tourney itself.
With that in mind – and with conference schedules taking over this weekend – it seemed like an opportune time to look at which teams in the East have played the toughest schedules thus far. Here's a subjective look at the eight toughest schedules to this point, with each team's overall record and record against teams in this week's INCH Power Rankings:
| | | |
| --- | --- | --- |
| 1. Merrimack | 2-5-1 (1-5-0) | Trip to Michigan highlights brutal slate for Warriors |
| 2. UMass Lowell | 4-5-0 (1-5-0) | Under .500, but without a bad loss |
| 3. Princeton | 0-4-0 (0-3-0) | Nearly beat Colgate; otherwise outscored 16-3 |
| 4. Rensselaer | 5-5-0 (1-2-0) | Schedule tougher than that 1-2-0 suggests |
| 5. Vermont | 2-4-2 (0-3-1) | Opened with four tough Hockey East foes in a row |
| 6. New Hampshire | 5-1-2 (1-1-1) | Next three (PC, BC, Maine) get even tougher |
| 7. Mercyhurst | 3-4-1 (0-2-0) | Swept at LSSU, Maine; Iona's schedule a close second in the MAAC |
| 8. Northeastern | 2-5-2 (1-3-1) | Biggest tests have come at home |
So who stands to benefit most from these early-season challenges? Of the eight, only New Hampshire is a virtual lock to take the experience into the NCAA Tournament. Others – like UMass Lowell, Rensselaer and Mercyhurst – should be better over the course of the season, even if they aren't among the ranked teams right now.
Young teams like Merrimack and Princeton may not see results when it comes to the NCAA Tournament, but playing top teams can help that youth mature – as long as the experience wasn't too humbling.
As an aside, the only teams in the East with winning records against opponents in the INCH Power Rankings – not surprisingly – are Boston College (2-0-0) and Cornell (1-0-0).
FIVE MORE NOTES NO FAN SHOULD BE WITHOUT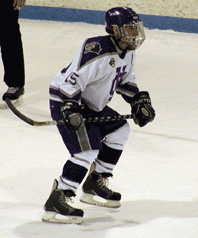 Holy Cross senior Brandon Doria (7-6—13) leads a group of seven Crusaders with at least three goals this season. Doria has 112 points in 109 career games.
1. Say cheese! – Holy Cross goaltender Tony Quesada has given head coach Paul Pearl reason to smile.
The rookie has a 5-1-0 record with a 2.12 goals-against average and a .918 save percentage, keying the Crusaders' five-game winning streak (tied with Colorado College for the longest in the nation).
"We had a pretty good idea coming in that he would be a good goaltender," Pearl said. "But we never thought that a freshman would walk in and win five of six starts. Certainly that's got to be a surprise.
"He's big (6-foot-2, 185), and he gets out of his net to cut down a lot of angles," Pearl added. "He does everything he can to get his body in front of the puck."
Pearl has received contributions from more than just Quesada, however. Brandon Doria (7-6—13) and Jeff Dams (2-11—13) lead the offense, which boasts seven players with at least three goals and two others with 11 assists.
Holy Cross has certainly proven that there is life after Pat Rismiller, now a regular with the AHL's Cleveland Barons.
"We've had very balanced scoring and gotten something out of all four of our lines," Pearl said. "It's really been distributed well – big goals have been scored by everyone from freshmen to seniors."
Despite Holy Cross's lofty second-place standing in the MAAC and the votes it has received in national polls, Pearl said it's too early to think about championships.
"For us to start talking about MAAC titles would be distracting," he said. "We really do try to break it down on a game-by-game and week-by-week basis. If we get to February and we're in position to make the playoffs or get home ice, we'll focus on that then."
Yeah, What They Said
"You'll get nothing and like it!"
– Judge Smails
We're hesitant to keep hyping Maine's Jimmy Howard, since he's just a freshman.
And we're really hesitant to make the comparison we're tempted to make – to another goalie who always seemed to have a shutout streak going, who also wore a jersey with the school's name on the front in script.
No, Ryan Miller's a long way off, but Howard's got a running start. He's posted three straight shutouts, a GAA of 0.83 and a save percentage of .959. He brings a school-record shutout streak of 187:43 into this weekend.
Like Miller, he boasts impeccable positioning, and excellent quickness. And the necessary intangibles.
"He maintains a very positive attitude, even if he has a bad practice or lets in a tough goal," head coach Tim Whitehead said. "He's very resilient. Those are all great qualities for a goalie, in addition to him being very talented."
"He won't be around here too long because I'm going to tell every pro scout in North America how good he is," Massachusetts coach Don Cahoon told the Bangor Daily News, after his team suffered a 1-0 loss to Howard last Saturday in Orono.

2. Better than Bob – Don't have tickets for Bob Dylan at the FleetCenter Saturday? No matter – you can head back there in February and March. Walter Brown Arena will be the House of the Rising Sun as far as Hockey East is concerned this weekend.
Boston University has won four in a row after a tepid 1-1-2 start, with Boston College and Maine coming to town. Between BC's Eaves-Eaves-Voce line and Maine's Colin Shields, the vaunted BU defense will face two tough tests.
"We need to play well in our defensive zone," said Terrier captain Freddy Meyer. "Both BC and Maine are really explosive, so we need to try to slow them down in their offensive zone. We know (goaltender) Sean (Fields) will play well, we just need to play well in front of him. And if we play good D, that will lead to offense for us.
"This is a great weekend for us early in the season," he added. "It's two ranked teams, and two important Hockey East games. It's great for everyone to see what kind of character your team has."
3. North Country Blues – Clarkson comes home for the first time this season, and while the Golden Knights valiantly earned three points last weekend, it's hard to believe it will be a happy homecoming.
A television report out of Potsdam suggests that the situation surrounding head coach Mark Morris – currently on administrative leave while the university investigates an incident between Morris and a player at a Nov. 2 morning skate – could be resolved before the team hosts Brown Friday night.
In the meantime, the players and first-year assistant coaches Fred Parker and Jason Lammers work to improve on the team's 1-3-1 record.
"We talked a lot about not bringing emotion into the game," Parker said after last Friday's win at Rensselaer. "You want to at a certain point, but if the emotion gets taken away from you, then you don't do too well. They were very level-headed and worked hard for 60 minutes."
Meanwhile, the college hockey community expresses surprise over the allegations against Morris – and in the case of rival coach Joe Marsh of St. Lawrence, support.
"I think everyone feels bad about the situation" at Clarkson, Marsh told the Albany Times Union. "We are arch-rivals, we're only 10 miles apart and we know what Clarkson means to the ECAC. You really have to feel for Mark in this situation. He's obviously pretty down. Coaching hockey is more than a job to him. He has been there 15 years."
4. Veteran's Day – The most amazing thing about Brown's 3-0-0 start?
It's not that the Bears have already surpassed their ECAC win total from all of 2000-01 (when they were 2-16-4). Or the well-documented heroics of goaltender Yann Danis, who posted back-to-back shutouts to open the season (see last week's notebook).
Try this: Brown has posted its 3-0-0 record with a lineup consisting entirely of sophomores, juniors and seniors. Not a single freshman has stepped on the ice yet (although goaltender Kevin Kliman has dressed as a backup).
Nearly every team, since freshmen became eligible to play on varsity teams in the 1970s, has relied on their contributions, at least minimally. But head coach Roger Grillo boasts what has to be the nation's most experienced lineup.
That's yet another reason to believe in the optimism of sophomore forward Les Haggett.
"We're 3-0 and we're not playing as well as we can, which is scary," Haggett told the Providence Journal. "When it all comes together we'll be one of the top teams in the nation."
Three Great Weekend Getaways
1. Boston College at Boston University (Fri.)
Few things divide the city of Boston like a BC-BU hockey game – not even a Globe vs. Herald debate. After all, you can't go wrong with those choices, as long as Kevin Paul Dupont or John Connolly are around.
While You're There: Help us sort out this question … where do Good Will Hunting guys Matt Damon and Ben Affleck fall in the BU vs. BC debate? We know they don't like Harvard guys. And more importantly, if Affleck's a fan – who's J-Lo rooting for?
Runners-up:
2. Brown at Clarkson (Fri.) – The Bears get a test as they pursue a fourth straight win. An uneasy reception could await Clarkson in its first regular season game at Cheel.
3. MAAC Connecticut Challenge (Fri.) – UConn and Sacred Heart both seek their second wins Friday evening, before Quinnipiac's offensive juggernaut takes the ice against Fairfield.
• UMass Lowell's Ed McGrane is averaging two points per game this season and has an impressive 15-game point-scoring streak, dating back to last year.
• Bentley's two-game sweep of Iona and Army last weekend marked the Falcons' first weekend sweep since joining Division I. They suffered a 5-2 loss to Sacred Heart Tuesday to fall to 2-2-0 in the MAAC. Sacred Heart has won back-to-back games after starting the season 0-3-2.
• The Quinnipiac power play leads Division I at 36.5 percent. The Bobcats have scored 19 power play goals in nine games, led by Ryan Morton's five extra-man markers.
Three Stars
3. Dominic Moore, Harvard
The senior star got the Crimson untracked with a five-point weekend, including his 100th career point.
2. Eaves-Eaves-Voce line, Boston College
BC's top line doesn't cease to amaze. Here's hoping Ben Eaves was right when he said he thinks his rib injury is gone for good.
1. Mike Ryan, Northeastern
The sharpshooter has one-third of the Huskies' 18 goals in Hockey East games this year. He's had four two-goal games already, including a pair in last weekend's split with PC.
• Top-ranked Boston College is unbeaten through eight games for the first time since 1980-81, when the team started 6-0-2.
• Twelve of the 18 Hockey East league games thus far have been decided by one goal or tied.
• The four Yale players suspended for Friday's game at Cornell due to fighting majors the week before combined for eight points Saturday night at Colgate. Star forward Chris Higgins had two goals and an assist.
• Quinnipiac forward Matt Craig recorded his first career hat trick against American International, and leads the MAAC with 10 goals. The sophomore is just one goal shy of his goal output for all of last year.
• American International's Guillaume Caron (5-6—11) is the lone player among the top 10 MAAC scorers not from Quinnipiac or Holy Cross.
• BU will commemorate the 25th anniversary of its 1977-78 NCAA championship team Saturday night at Walter Brown Arena.
• Clarkson has killed off 93 percent of its short-handed situations, but its power play is converting on just 10 percent of its chances.
• Ray Bourque spoke at Colgate's Silver Puck Dinner Saturday night. Think Ray isn't enjoying retirement? So far this season he's been spotted at New Hampshire, Northeastern and Colgate.
A variety of sources were utilized in the compilation of this report.