November 13, 2003
Big Red Reloaded
By Joe Gladziszewski
When you lose a Hobey Baker finalist in between the pipes, as Cornell did when David LeNeveu opted to sign a pro contract with the Phoenix Coyotes, there are obvious off-season questions surrounding the goaltending situation.
But with all of the commotion and concern around 'Lenny's' departure, the loss of seven highly regarded seniors to graduation was understandably overlooked. Newspapers covering last year's Big Red regularly featured the senior class – its leadership qualities and work ethic.
That's where Ryan Vesce comes into play. The senior center at Cornell, also the team's leading returning scorer, inherited the captain's 'C' from Doug Murray and Stephen Bâby. With that distinction comes the responsibility of leading a team through transition. Five freshmen have played in all four Cornell games this year.
Helping the team get on track started over the summer.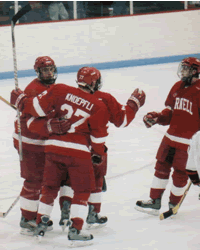 Plenty of celebrations surrounded Cornell's Ryan Vesce last weekend, as he had nine points against Yale and Princeton. (Photo by Roman Uschak)
"For us it's been more than the preseason. We had 17 guys stay over the summer and that helped us establish some chemistry and work ethic. Once the preseason started we got into more systems and worked with that. Coach had me lead some of the guys in chalk talks early on," Vesce said.
The first regular-season test came against Western Michigan at Lynah, and it wasn't anything that the Faithful were accustomed to viewing. The Big Red tied 5-5 and lost 3-2 against the CCHA's Broncos.
"Anyone who watched the games could see that was not the Cornell team people were used to seeing," Vesce said. "We were young and our systems weren't where they needed to be yet. The next week we worked on that in practice."
It certainly made a difference. The Big Red rolled through Princeton and Yale in the opening weekend of conference play, led by Vesce and linemates Matt Moulson and Byron Bitz. That trio combined to score 8 of Cornell's 13 goals. Vesce was in on the scoring for each of Cornell's seven goals against Princeton. He had 9 points on the weekend.
"As a line we're starting to come together and knowing where each other is going to be. Things are coming, but we'll keep improving. There's room for improvement," Vesce said.
This weekend, it's another conference road trip as Cornell heads to the North Country. While Cornell loves playing at Lynah, where it enjoys an incredible home-ice advantage, there is also a positive to playing back-to-back weekends away from home.
"Getting away is good. We get a lot of attention from our Lynah Faithful and our home crowd up here," Vesce said. "When you get on the road all you've got is your team. That really helps build team togetherness and team commitment."
SEEN AND HEARD IN THE ECAC
Saints Snap Skid – OThe groundwork was put in place during Friday's third period. On home ice, St. Lawrence trailed Union by three goals with 10 minutes remaining. T.J. Trevelyan and Rich Peverley scored in a span of 63 seconds to bring the Saints to within one. Down the stretch, Union's Kris Mayotte held the fort and helped kill off a pair of SLU power plays. Even though the Saints lost the game, which marked their ninth consecutive outing without a win (0-6-3), the momentum carried over to Saturday's game against RPI.
Senior goaltender Mike McKenna stepped in for the Saints and earned the shutout with 20 saves. Trevelyan scored yet again. He's got 8 goals on the season. Senior defenseman Tony Maci scored the first two goals of his collegiate career while playing in his 50th career game.
"First Annual" – Under the category of not having enough of a good thing, we present Rensselaer and the inaugural Black Friday game, which will be celebrated this weekend when Vermont visits Houston Field House. With an eye on RPI's hugely successful Big Red Freakout that virtually guarantees a sold-out building and vibrant vocal support for the men's hockey team, athletic director Ken Ralph set his sights on replicating that in the first half of the season.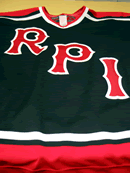 RPI's Black Friday jerseys
"I was thinking that we needed to do something to get RPI fans excited about hockey in the first semester because we have the Big Red Freakout, which is a great event, but it's at the end of the year," Ralph told Ken Schott of the Schenectady Daily Gazette. "So I decided we needed to put something at the beginning of the year to introduce people to the sport early in the season."
Ralph's long-range goal is to continue with the Black Friday celebration every season for RPI's first ECAC home contests.
Several peripheral activities surround Black Friday, including a game-worn jersey raffle. During the first and second periods of the game, fans can bid on the special black jerseys (pictured at right) that the players will be wearing. Winning bids will be announced during the third period and fans will have their jerseys presented by the players immediately following the game.
Great Weekend Getaway

Vermont at Rensselaer (Fri.), Vermont at Union (Sat.)
Our road trip recommendation this week sends ECAC fans to the Capital District. Rensselaer hosts Black Friday when Vermont visits. On Saturday, the Catamounts cross the Hudson River and visit Union, marking the return of UVM's Kevin Sneddon to Messa Rink, where he coached the Dutchmen for the previous five years.

While you're there: Pizza, wings, and beer. Yummy. For the best of all three, stop into the Notty Pine Restaurant on 15th street in Troy, located just two blocks from RPI's Houston Field House.


Stick Salute

We're going to stray a bit from the men's college hockey side of things, and recognize Nicole Corriero of the Harvard women's team. In Friday night's 13-0 win at Union, she had six goals and four assists. Yes, 10 points. Her totals slipped a bit on Saturday, with only three goals and three assists. For a comparison between her weekend and the entire 2002-03 season for the Harvard men's team – Corriero's nine goals would have ranked sixth and her 16 points would have ranked tied for eighth on the stat sheet.

Bench Minor

Folks checking in from Princeton's Baker Rink share some disappointing news of a protective net in front of the facility's famous balcony, one of the best vantage points in the venerable building. Then again, these days, an obstructed view of the playing surface might not be such a bad thing.
FRIES AT THE BOTTOM OF THE BAG

• Cornell's Ryan Vesce comparing freshman winger Byron Bitz to Stephen Bâby, who skated in that spot last year: "The biggest similarity is in their size and strength, but they are two different players. Byron is very, very good around the net. He's one of the best finishers I've ever played with. Stephen was more of a playmaker than a goal scorer."
• One of Union's top guns, junior center Joel Beal, suffered a shoulder injury versus St. Lawrence on Friday and missed Saturday's game at Clarkson. He will be back in the lineup this weekend as the Dutchmen host Dartmouth and Vermont.
• Further injury news comes from Burlington, where the Catamounts lost sophomore Spencer Morton to an ankle injury suffered during a recent practice, forcing Morton out for the season. UVM will pursue a medical redshirt. Senior captain Oriel McHugh, who is ailed by an assortment of injuries, will miss this weekend's games.
• Harvard lost winger Kenny Turano to a broken ankle, but 6-foot-5 winger Dennis Packard moved into Turano's spot on the top line with Tim Pettit and Tom Cavanagh. Packard scored twice in a 6-4 win against Vermont, and that line contributed both Crimson goals in a 2-2 tie at Dartmouth on Saturday.

• When Princeton and Yale visit Brown this weekend, it should bring happy memories of last season's playoff run to Roger Grillo's team. The Bears defeated both schools to advance to the league championship weekend in Albany.
• Princeton's 0-4-0 start probably isn't much of a surprise, but with some good fortune the Tigers could be sitting at .500 and opening some eyes. Princeton has suffered overtime losses on each of the last two Fridays (at St. Cloud and vs. Colgate).
• Dan Fleschner, a 2001 graduate of Yale, is a published author. His first book, titled Bulldogs on Ice is a pictorial history of the Bulldog hockey program. The book is on sale during home games at Ingalls Rink, through the athletic department, and at major bookstores.
• Staying in New Haven, when a team's top two goaltenders are sporting goals-against averages of 6.99 (Josh Gartner) and 10.43 (Peter Cohen), you might as well give 'the other kid' a shot. Freshman Mike Modelski took full advantage, making 41 saves in his collegiate debut as Yale defeated Colgate 3-2 in overtime.
• For folks in upstate New York, a reminder to set the TiVos, DVRs, and VCRs if you won't be able to see the live telecasts of this weekend's games at Clarkson's Cheel Arena. Cornell visits Friday and Colgate stops by on Saturday. Both games start at 7 p.m. and will be shown live on Time Warner Sports channel 26, which is distributed from the Finger Lakes to the North Country and all points in between.