February 19, 2004
(Bull)Dog Days of February
By Joe Gladziszewski
It's getting to be that time of year when you see fewer of the 5-3 and 6-4 type of score in the weekend results. As the playoffs approach, defensive hockey becomes the norm. Mistakes are magnified, and one simple error could be the difference between a one-goal win and a one-goal loss.
So what to make of Yale? The Bulldogs are in the hunt for a top-four finish in the league, and seem to be a lock for home ice in the first round, should they not move into those bye positions. All of this despite yielding the most goals in the league through 18 conference games. Yale's given up 69 goals in ECAC play which is tied with 11th-place Princeton for the worst defensive record in the league.
"We have an amazing record given that last stat," head coach Tim Taylor said. "I've never seen anything like it, quite frankly."
More times than not, Yale's been able to use its own strength — goal scoring — to combat any defensive shortcoming. Practically everyone around the Yale program has raved about the performance of sophomore goaltender Josh Gartner all year long.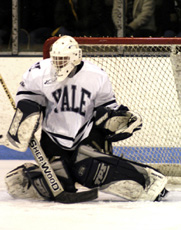 Yale goaltender Josh Gartner has helped the Bulldogs climb to the upper half of the ECAC standings. (Don Clark photo)
"He's doing a great job," senior captain and defenseman Jeff Dwyer said of Gartner. "Those 10-goal and nine-goal games at the beginning of the year are more of a team reflection than a goalie reflection. I think once we tightened up our defense and let him see the puck he's stopped them."
Defensive play has been a point of emphasis in New Haven since the turn of the New Year and it's starting to pay off. The Bulldogs allowed 37 goals in their first eight conference games (4.625 per contest) and had a 3-5-0 record to show for it. In 10 games since then, they've reduced their goals allowed by nearly a goal and a half (3.2 per game) and are 7-3-0 over that stretch. In Yale's last three games, they've allowed only three even-strength goals against.
"We've obviously come a long way and we're feeling like we've improved a lot. We're still playing a lot of young guys and we're getting better and better, so I'm optimistic," Taylor said. "We're a much different team. A lot of those goals against came early in the year."
The defense corps led by Dwyer, and featuring junior standout Joe Callahan, also regularly includes a pair of sophomores in Mike Grobe and Matt Craig, and freshmen Shawn Mole and Matt Cohen or Bill LeClerc.
"I think we've come along," Dwyer said. "Callahan, Grobe, and Matt Craig, and myself have been around and we have three young guys that are doing a great job. It's kind of tough when you're young, especially on defense, but I think they've really improved themselves."
The overall defensive improvement has been seen both on the ice and on the score sheet.
"You can't argue with the statistics but I think it's weighted more toward the first half of the year than the last half of the year. It's something we've really worked on, and I think since Christmas on our defense has been as good as anybody's," Dwyer said.
With its league-leading offensive output to rely on, steady goaltending from Gartner, and a defensive corps that's gaining in confidence and proficiency, this defensive-minded time of year might not be such an awkward time after all for Yale.
SEEN AND HEARD IN THE ECAC
Hooray for Hanson – Undoubtedly, the sport of hockey outshines all others when it comes to taking care of its own players. In times of crisis, uniform colors are disregarded. Concern for the well being of hockey colleagues, rather than opponents, is the overwhelming sentiment.
One needs to look no further than the injury to Merrimack's Joe Exter last season, or more recently to the NHL ranks and Jeremy Roenick's fractured jaw in a game against the New York Rangers. New York's Bobby Holik visited Roenick in the hospital, and Ranger head honcho Glen Sather was one of the first to call JR with wishes for a speedy recovery.
Unfortunately, it usually takes extreme circumstances to bring out this kinship, and it happened this week in the ECAC community. You probably know by now that Vermont sophomore goaltender Matt Hanson was seriously injured during a practice incident last Thursday. He sustained a fractured cervical vertebra and underwent surgery to stabilize the fracture. The surgery was a success, and Hanson has been released from the hospital to his parents' home in Peabody, Mass. where his recuperation is ongoing.
The Catamount team rallied in the midst of adversity and swept its weekend trip to Clarkson and St. Lawrence, mainly due to the efforts of netminder Travis Russell, who was particularly close to Hanson as the sophomore duo shared the netminding duties in Burlington with junior Scott Sortal.
"Matty was in our minds in between every whistle, during every play," Russell said.
With the Catamounts holding a one-goal lead in Saturday's contest at St. Lawrence, and Hanson's sweater hanging on the bench, UVM put forth its most determined 13-second stretch of play this season.
"When we called a timeout with 13 seconds left, we just got together and said 'This one's for Matty.' We all wanted the four points for him. We all needed the four points for him. The whole team just can't wait to get back to Vermont to give those two game pucks to him," Russell said.
Thursday's Boston Globe has more on Hanson's recovery, and we at INCH would like to extend our wishes for Hanson's speedy return to the ice.
Catching Up With Kent – Game results in recent weeks haven't brought many smiles to the fans of Clarkson's Golden Knights, as the team is mired in a five-game losing streak — its longest in five years. But the mention of the name Kent Huskins should elicit a fond memory or two among the folks that follow Clarkson.
Huskins is one of the best defensemen ever to suit up for the Golden Knights. In the 2000-01 season, his senior year, Huskins captained Clarkson and had a stellar season in earning first team All-American recognition and being a Hobey Baker Award finalist.
He's gone on to a professional career and is spending his third season in the American Hockey League, where he's currently employed by the San Antonio Rampage, affiliate of the Florida Panthers. There's no doubt that his college career helped prepare him for a professional career, where young defensemen regularly struggle.

"The systems that they had us playing at Clarkson are very similar to a lot of pro systems, and we learned a lot," Huskins said. "There was a big emphasis on defensive zone coverage and how to play in your zone. That's translated well to the pro game, with a lot of similarities."
His fondest memory of his time in Potsdam centered on the 1998-99 season when Clarkson won the ECAC's regular season and playoff titles and went to the NCAA Tournament. That year's post-season included defenseman Willie Mitchell's improbable long-distance goal in the closing seconds of a 6-5 ECAC semifinal win over Princeton.
"We had a really great team that year and the whole year was a really fun ride," Huskins said.
And his thoughts on the differences between hockey in Potsdam and hockey in San Antonio?
"Winter's a little different without the feet of snow and freezing cold temperatures but both places have their upsides," he said. "I really enjoyed the time I spent at Clarkson and the people are what makes it a special time for you. There were great people at Clarkson and we have great guys on this team. Both places have been great to me."
Great Weekend Getaway

Yale at Dartmouth (Sat.): The Bulldogs and Big Green sit just outside of the top four in the standings heading into the weekend, and on Friday there's a game between Rensselaer and Cornell (currently tied for third) being contested at Houston Field House. That means it's a chance for one of the next two teams in the pecking order to pick up ground on the Engineers or Big Red and possibly move into the top four heading into the last weekend of the year.

While you're there: Lou's Diner in Hanover is an absolute must for the fan of the traditional greasy spoon American breakfast ... or a simple lunch or homestyle dinner.

Stick Salutes

• No surprise to hear about this classy move by St. Lawrence coach Joe Marsh. Following SLU's 3-2 loss at home to Vermont on Saturday, Marsh visited the Catamounts locker room and talked about how the Saints handled a situation similar to the Hanson. Last year, the Saints' Allie Skellie, a defenseman, suffered a similar injury.

Bench Minor

Just how famous does one have to be in order to be considered a famous alum? In Yale's media guide, the famous alumni pages list Josh Saviano under distinguished Yalies in the entertainment industry. Of course, he's most "famous" for his role as Paul Pfeiffer on "The Wonder Years."
FRIES AT THE BOTTOM OF THE BAG
• Senior center Ryan Vesce was back on the ice last weekend for Cornell. He had a goal in each game as the Big Red picked up its first four-point weekend of the year at Lynah. Vesce said he "felt very good" after missing three straight games due to a nagging injury, and sees the team gaining momentum. "We're starting to put it together now," he said. "We're playing better hockey every week. We knew we were going to get it, it was just a matter of time."
• Traditions are hard to start, and even harder to stop. But the Dartmouth hockey team is sick and tired of the tennis ball shower at Thompson Arena when Princeton comes to town. The team took out a full-page advertisement in the student paper, and published this letter urging fans to put an end to the tennis ball tradition.
• A reminder to readers in central and northern New York that tonight's Harvard-Clarkson game at Cheel will be televised on Time-Warner Sports Channel 26, beginning at 7 p.m. Clarkson won the first meeting at Bright 3-0, and the teams tied 3-3 in the Dunkin Donuts Coffee Pot.
• Last weekend saw Dartmouth break through and win for the first time in Potsdam since 1990. This weekend, Colgate has a chance to end an unflattering streak as the Raiders visit Union's Messa Rink at the Achilles Center. Colgate hasn't won there in four straight contests.
• A weekend sweep by Brown in the North Country will guarantee a top-four spot in the league standings and a first-round bye.
• Get 'em early. Rensselaer is 11-3-1 in Saturday games this year.
• The streak continues. Princeton's winless skid now stands at 11 games, dating back to a mid-December victory against Harvard.
A variety of sources were utilized in the compilation of this report.