March 4, 2004
Golden Momentum
By Joe Gladziszewski
In the grand scheme of things, Clarkson's late-season wins over Brown (Feb. 21) and Colgate (Feb. 27) didn't mean a whole heck of a lot.
The Golden Knights still finished in ninth place, they're still forced to travel for this weekend's opening round of the ECAC Playoffs, and they're still, at the end of the season, three games under .500.
All of that being said, it still marked a pair of wins against first-place teams. Those Ws may not have helped Clarkson's standing very much, but it did help Clarkson's psyche. Those back-to-back victories came on the heels of a six-game losing streak. Coach George Roll said it was important for his young team to taste success heading into the postseason.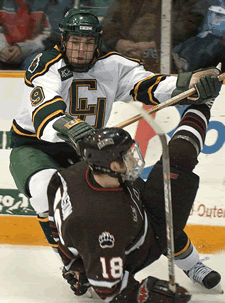 Jean Desrochers and Clarkson upended first-place Brown on Feb. 21. (Photo by Christopher Lenney, Clarkson University)
"It was obviously very important for us to go in there (at Colgate) with a lot on the line for both teams. Our goaltender had a big part in the win but I thought we were very solid in all aspects of the game," Roll said. "To beat Brown at home when they were in first place, and then Colgate, really gave us a boost of confidence."
Clarkson's youth, especially on the blueline, has been a factor in its up-and-down season. Eight freshmen have been regulars in the Golden Knight lineup, including four defensemen. One lesson they've been learning is how to play in close games.
"We've been in 25 one-goal games this year, when you count the empty-net games," Roll said. "Whether we've won or lost, that's tough. To have some late-season success really raises our confidence."
That boost in confidence, and great play down the stretch by Dustin Traylen, have Clarkson in good spirits, even if it isn't reflected in the standings.
First-Round Matchups
No. 12 Princeton at No. 5 Rensselaer
PU: 5-15-2 ECAC, 5-22-2 overall
RPI: 13-8-1 ECAC, 19-13-2 overall
Season Series: RPI won 2-0-0
Tiger Fact: Princeton hasn't won in the calendar year of 2004. The last Tiger victory was a 2-1 win over Harvard on Dec. 16.
Engineer Fact: Sophomore Kevin Croxton leads the team in scoring for the second straight season, as he has 16-21-37 in 34 games.
How Princeton Wins: The scouting report from Captain Obvious says Princeton has to score some goals. The team's leading scorer is freshman Grant Goeckner-Zoeller with 18 points on the year. Yes, that's 18 points, not 18 goals.
How Rensselaer Wins: Take control of these games early, as they did in two regular-season wins against Princeton. The Engineers scored five first-period goals in those games.
No. 11 Vermont at No. 6 Harvard
UVM: 7-14-1 ECAC, 9-20-4 overall
H: 10-10-2 ECAC, 12-14-3 overall
Season Series: Split 1-1.
Catamount Fact: Vermont defeated Harvard at the Bright Center last weekend 6-4. It was an exact reversal of Harvard's 6-4 win in Burlington in November.
Crimson Fact: Harvard hosted Vermont in the quarterfinal round of last year's playoffs and swept the Catamounts by scores of 4-1 and 5-3.
How Vermont Wins: This young team has improved all year long and is playing its best hockey of the season. The Catamounts need to find the form that saw them defeat Harvard last Friday, not the team that was routed 6-0 by Brown the following night.
How Harvard Wins: The Crimson have underachieved all season but are starting to turn the corner. Too often during the regular season, good performances were followed by clunkers. They'll need to find some consistency, as a clunker in March ends your season.
No. 10 St. Lawrence at No. 7 Yale
SLU: 7-12-3 ECAC, 11-19-6 overall
Y: 10-12-0 ECAC, 12-17-0 overall
Season Series: Yale won 2-0-0.
Saint Fact: The Saints are 2-12-2 on the road this season, and lost at "The Whale" 4-3 in overtime on Jan. 10.
Bulldog Fact: Yale is the only team in the ECAC that didn't have a single tie throughout the regular season (one of two nationally, with Ohio State).
How St. Lawrence Wins: The top line of T.J. Trevelyan, Rich Peverley and John Zeiler each has eclipsed the 30-point plateau. They'll need to be at their best to counter Yale's offense, which ranks third in the league.
How Yale Wins: Playoff time is a time for defensive hockey, which may not favor Yale, which allowed 4.0 goals against in league play. Limiting SLU's scoring chances will be necessary for Yale to advance to the quarterfinals.
No. 9 Clarkson at No. 8 Union
CU: 8-12-2 ECAC, 13-16-5 overall
UC: 8-11-3 ECAC, 15-14-5 overall
Season Series: Split 1-1
Golden Knight Fact: Clarkson senior co-captain Tristan Lush has never missed a game (141 straight) in his four-year career. He'll break the school record of 142 games played with two games this weekend. Among the three current record-holders is current Clarkson assistant coach J-F Houle.
Dutchmen Fact: Union lost nine consecutive games in December and January (one was later forfeited). Take away that stretch and the Dutchmen were 14-6-5.
How Clarkson Wins: By bringing the overall effort and intensity it showed in two late-season wins against Brown and at Colgate. Clarkson's been tested with 25 one-goal games, which should have them ready for playoff time.
How Union Wins: By bearing down on scoring chances. When Union's been focused and committed around the opposition's net, it's led to big goals from Scott Seney, Jordan Webb, Olivier Bouchard, and Jason Visser.
SEEN AND HEARD IN THE ECAC
Throughout the season, in interviews with coaches and players, they've been kind enough to share their thoughts on a wide range of subjects, some of which didn't make it into that week's particular notebook. As the regular-season comes to an end and the playoffs begin, a smattering of thoughts on topics around the league:
• One of the unheralded, yet most important, roles in the game these days is the so-called defensive defenseman. They're sent out to shut down the opposition's number-one line. Playing at a plus or even rating for a night is a measure of their success, not the glory that comes from going end-to-end and racking up a ton of points.
"When you win it's always the offense that gets the credit for scoring the goals and when you lose it's because of defensive mistakes," Rensselaer coach Dan Fridgen said.
Among the best in the league at accepting this role, Brent Booth (Union), Peter Hafner (Harvard), Vince Macri (Brown), and Charlie Cook (Cornell).
• Yale coach Tim Taylor was impressed with Cornell's enormous line combination of Matt Moulson (6-1, 195), Byron Bitz (6-4, 200), and Mitch Carefoot (6-1, 210). "What they do is wear you down, number one, physically. And number two, even though they maybe can't get out into the slot or get wide open chances with little give-and-gos, they grind you and grind you and grind you. They get so much in-zone puck time and obviously Moulson's a great goal scorer. You don't see a lot of lines like that in college hockey," Taylor said.
• Talk about golf during the hockey playoffs is dangerous. It implies that your season is over. But, it should be noted that Vermont goaltender Travis Russell is quite accomplished on the links. He finished fourth in last summer's Vermont State Amateur. If he could only play one more round of golf his choice for that round would, of course, be Augusta National.
• The ECAC's defensive record, as a whole, is quite impressive. A roster of the league's goaltenders is headed by Brown's Yann Danis, Cornell's David McKee, and Colgate's Steve Silverthorn. But there's not much of a drop, if at all, to the next tier of goalies including Nathan Marsters (RPI), Josh Gartner (Yale), Dov Grumet-Morris (Harvard), and Dan Yacey (Dartmouth). Sophomores such as Traylen, Russell, and Kris Mayotte round out a very formidable group.
"Goaltending, as a whole, is by far the strongest position in our league right now," Roll said.
FRIES AT THE BOTTOM OF THE BAG
• The ECAC announced an arrangement with Comcast CN-8 to broadcast a quarterfinal game from a campus site, and both semifinals and the championship game from Albany's Pepsi Arena.
• The second annual ECAC fan festival will be held outside the doors to the Pepsi Arena on South Pearl Street during championship weekend. The event will feature music, pep bands and cheering squads from the participating colleges and universities, interactive games, food, a giant screen projection television, strolling entertainment, face painters, and much more. Fan fest hours are March 19 from 2:30 p.m. to 10:30 p.m. and March 20 from 3 p.m. to 11 p.m.
• You've likely noticed the trading spree by the Washington Capitals. They've unloaded several big names in recent weeks, such that Jeff Halpern currently ranks as the team's leading scorer. The last team to say that was Princeton. Caps ... second-to-last place in the NHL. Princeton ... last place in the ECAC. Might make for a decent exhibition game.
• Brown stumbled down the stretch, and locked up third place with a 6-0 win over Vermont on Saturday. First-place was there for the taking, but Brown's third-place finish is the best since the Bears were second in the ECAC in 1995.
• Colgate's stalwart defenseman Joey Mormina, who missed 10 games in the second half due to a concussion, returned to the lineup on Friday night against Clarkson. His injury woes continued, however, as he hurt a finger in his first game back and missed Saturday's Cleary Cup-clinching win over St. Lawrence.
• Dartmouth finished just behind Brown in the standings, but it wasn't due to their head-to-head contests. The Bears and Yale were the only teams in the league that Dartmouth swept this year, although the Big Green were not swept in any series themselves.
• Two of Cornell defenseman Jon Gleed's three goals this year are game-winners.
A variety of sources were utilized in the compilation of this report. Next week's ECAC Notebook will feature a look at the regular season in review, plus the quarterfinal matchups.